Claimed
A Daring Rescue
Emma Paulsen is a geneticist driven by science. But she's also a psychic, so when a dark, good-hearted vampire frees her from the clutches of the evil Kurjans, she realizes he must be the man who's been haunting her dreams. But with a virus threatening vampires' mates, Emma may discover a whole new meaning of "lovesick"…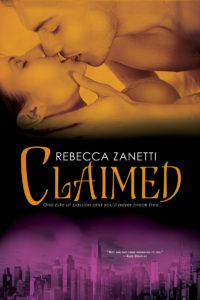 A Deadly Decision
As King of the Realm, Dage Kayrs has learned to practice diplomacy. Still, it's taken three hundred years to find his mate, so he'll stop at nothing to protect her—even if it means turning his back on his own kind…
Other Books in the Dark Protectors Series
Emma sighed. "Do you think the Kurjans are near?"
Dage shook his head without opening his eyes. "No. I don't sense evil anywhere near us. We're probably safe for a couple of hours, then we should move again."
A couple of hours? Damn. She needed him in fighting shape. "Will drinking my blood help heal you?"
His lids flipped open, revealing those silver eyes that had haunted her dreams for fifteen years. Hunger, raw and pure filled them. "Yes."
Emma gulped in air. The husky timber of his voice caressed nerves she didn't want to own. "I won't become a vampire?"
His dimples winked at her. "No. Vampires are born, not made."
Fear and her damn curiosity blended until she could only whisper. "Okay." She held out her wrist and shut her eyes. And waited. The breeze picked up outside the cave, rustling pine needles and leaves inside the small entrance, and she shivered. Finally, she opened her eyes in exasperation. "What?"
Reaching out with his good arm, he lifted her chin with one knuckle, waiting until her gaze met his. "I want your neck."
Low and rough, his voice skittered need through her midriff. Talk about direct. "Um, well, why?" Her mind reeled and she fought the urge to drop her gaze to his mouth. She lost the fight. He ran a tongue along those full lips and need rippled through her. How did he do that?
He waited again until she focused on him, her eyes widening on the pure confidence shining in his. "I've been waiting to taste you for centuries—I don't want you extending your wrist to me and looking the other way."
"What do you want?" She shouldn't have asked that. God.
For answer, he reached out with his healthy arm and lifted her until she straddled his lap. She should've protested, but the easy strength and warm hand on her hip caught the breath in her throat. Fascinating. Such true, raw power. She pressed both hands against the undamaged muscles of his chest, balancing herself. His erection lay thick and hard beneath her, and she fought the urge to clench her thighs against his legs.
He stared at her through half lidded eyes, his hands going to the buttons of her cotton shirt.
"What are you doing?" she breathed.
"I don't want to get blood on your shirt." His gaze dropped to the swell of her breasts over the plain white bra. Fire flared within those silver depths and she fought a moan.
"That's enough." She covered his hands with hers.
With a nod, he gently placed her hands on his thighs before clasping the shirt and drawing it down both arms. The lower buttons remained engaged, and the material trapped her arms at her sides.
He pinned her with a gaze so full of hunger she couldn't speak. "You'll give your blood?"
Emma nodded, her focus narrowing to the man before her.
Sharp fangs emerged from his canines and he growled, reaching one arm around to cup her head and pull to the side. Her neck stretched and vulnerability battled with arousal down her length. Every muscle in her body tensed to flee. His other hand gasped her hip, flexed, then slid up to her now bare shoulder, entrapping her.
There was no escaping him.
*   *   *
Emma slowly opened her eyes, her entire body loose and relaxed in the big bed. She inhaled the scent of sandalwood and snuggled her nose into Dage's hard chest. She felt totally relaxed.
Her wrist caught on the pillow. Or rather, the intricate golden cuff manacling her wrist caught on the pillow. Dage's cuff. She frowned, trying to yank the ancient jewelry off. When the hell had he put this on her? The band didn't move. With a sigh, she glanced at the king.
He breathed evenly next to her. Even kings needed rest. She fought a yawn and closed her eyes, letting peace waft over her. She'd argue about the cuff later.
Dage growled low.
Emma frowned, opening her mind to him. Pain. Agony. So much hurt. She gasped, fighting to draw in air, and anger surged. He'd held back. As devastated as she'd seen him while reliving the moment he thought she'd died, he'd held some of the pain back. Protecting her.
In his dreams, he failed to shield. She could feel every desperate thought to the second when he decided to die too.
Without her, life stopped.
The king ended.
The man perished. Tears pricked her eyes. Responsibility straightened her spine. She'd protect the king. She'd cherish the man. And if she needed to keep herself safe to do so, she would.
Cara and Janie had Talen now. Emma would always be there for them, but the king needed her more. She'd keep him safe.
She placed her hand flat against his heart. Hers.
International
"Sizzling sex scenes and a memorable cast."  Publishers Weekly
"Claimed is an adventure from the first page. It starts out strong and finishes even stronger…Between the action of fighting the Kurjans and the sizzling sex between the two antagonists, this book is hot from start to finish." Affaire de Coeur Book Reviews
"I cannot say enough great things about Rebecca Zanetti's CLAIMED. When you have a passionate romance, exciting drama and intriguing characters, what more can you really ask for? Prepare yourself to become completely absorbed in Ms Zanetti's Dark Protector series as it takes you for an exciting and enjoyable ride." The Romance Reviews:  A Top Pick! 
The very talented Cynthia Eden has provided a cover quote: "CLAIMED is paranormal romance at its best! With intense action, fiery hot scenes, and a hero worth dying for–literally!–CLAIMED is a book not to be missed."
"I would do bad things to get my hands on this book."  Nikki Brandyberry – reviewer
Wanda at Good Choice Reading declared Claimed to be a good choice to read.  To quote Wanda, "all the brothers are sexy. If I were one of their mates, I wouldn't let my mate out of my sight. The power they all possess will make any woman fall on her knees (Literally)."    Click here to read the entire review.
"This series is different and I just so happen to love different so this series is a win/win for me. The men in the story are sexy and so alpha that they will have you falling hard and fast. The story sucks you in from page one and just keeps on going. Not only is there action and heat but the sexual energy will capture you from page to page." Hanging with Bell's Review
"Emma and Dage burn through each and every page! His push and her pull creating an incredible friction that lights the page on fire! Rebecca Zanetti combines excellent story telling and incredible world building to give readers a sexy thrill ride wrought with action they won't forget!  I give Claimed by Rebecca Zanetti 5 stars!" Reviewer Nikki Brandyberry
"The science introduced in the changing DNA and the effects and development of the virus add a unique and very interesting aspect to this series which keeps it from being just another vampire story.  Add to that the impending war between the Vampires and the Kurjans.  This all makes for a very exciting series." EBook Obsessed  5 stars
"I really love Rebecca Zanetti's writing. So visual and engrossing, I can't put her books down until I've read just one more chapter (and lost hours of sleep!)" Lynn Rush:  5 out of 5 stars.
"I thought the first bookFated started off with a bang, well Ms. Zanetti must be determined to outdo herself because Claimed drops you into the heart pounding action on page one and doesn't let you take a breath until it's over.  I am awestruck at the outstanding visuals that propel these scenes to a higher level." Joyfully Reviewed:  A December Recommended Read – 5 stars: 

"You get pulled into the story and immediately feel called upon to take sides.  You will cheer when Emma pulls a fast one, or maybe you'll cheer when Dage wins an argument with his detractors. However you find yourself, it will be a real roller coaster ride of adventure, love, and thrills." NoraAdrienne's Reviews

"In this new addition to the list of top vampire novels, you will have to read Claimed, and be prepared to find enough sizzle to keep you up nights turning pages to learn more." Vampire Librarian

This site contains affiliate links to products. We may receive a commission for purchases made through these links. Specifically, this site is a participant in the Amazon Services LLC Associates Program and Apple Affiliates. These programs are designed to provide a means for website owners to earn advertising fees by advertising and linking to amazon.com, audible.com, Apple Books, iTunes and any other website that may be affiliated with the Amazon Service LLC and Apple affiliate programs.