Hunted
Ready or Not
Moira Dunne is a witch—the quantum physics kind. Time and space are her playthings. Which might explain why her one-night stand from a hundred years ago has turned up to "claim" her—and request her family's assistance with the war he's brewing. But the more she learns about Connlan Kayrs, the more she comes to think this is normal behavior for him…
There's Nowhere to Hide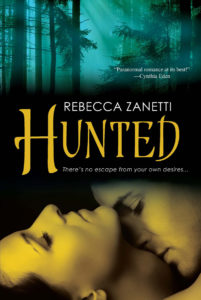 When Conn and Moira tumbled on the moonlit grass, Conn hadn't meant to mark her for his mate for all time. She was only twenty! But it wasn't easy to wait for her. It was even harder to forget her. So when he finally returns for his wicked-hot witch, he's ready to let the sparks fly. Even if he burns up in flames…
Other Books in the Dark Protectors Series
"Strong chemistry and steamy love scenes. The fast-paced third Dark Protectors adventure (after Fated and Claimed) sends vampire prince Conn to Ireland in search of Moira, the witch he claimed as a mate a century before. War between the vampires of the Realm and the deadly Kurjans is heating up, and the vampires need their witch allies more than ever, so it's vital Conn and Moira get over their differences once and for all. Moira's reluctant to give in to Conn's demands, especially when the leaders of her people are vanishing without a trace and she's the next likely target. Only together can these two unite their races against external threats and internal struggles. Zanetti continues to mix action, passion, and intrigue as she picks up on threads from the previous books." Publishers Weekly
"*Le sigh* I. Love. This. Series. So. Much! Rebecca Zanetti is a friggin genius and if I lived in her state I'd be her new bestie. Ok…wait…that sounds stalkerish. Let's start over. I love this series and it just keeps getting better and better! I think Zanetti is hitting her stride and I for one hope she can keep up the steam." Nikki at Ramblings: Made Hunted the April Book of the Month! 
"Zanetti has hooked me since book one to say the least. You get strong sexy vampires that will literally knock your socks off with their strength and sexuality. See; what I love about each of her novels is that each one has a different kind of romance to it. So do I need to tell you how great Zanetti is? I think not. As always 5/5 stars a definite Good Choice for Reading!" Wanda at Good Choice Readings (5 Stars)
"I so loved this story.  I love the world that Rebecca has created in this series.  I love all the different types of characters, the complexity of it all.  I am so in love with Conn & Moria.   Conn and Moria is a force to be wrecken' with.  Both are fiercely strong loyal warriors, stubborn to a fault, but above all else are willing to sacrifice themselves to save others.  But their greatest battle my just be each other. If you have read Fate & Claimed.  Hunted will not disappoint.  There is a lots of action, lots of emotion and even some mile high sex *wiggles eyebrows* If you have not started Rebecca's Dark Protector's series.  I would HIGHLY recommend you get started." Kelly at Books-N-Kisses
"As all with the Kayrs brothers I loved Connlan he just oozed sexual power, with his new found power from his mate, it only made him even more of a bad ass. He is very much a kick ass and take names type of alpha male…If you want hot sexy dangerous romance with powerful alpha vampires who rule the Realm, this series is for you." Athenna at Paranormal Haven:
"Hunted received 5 Hoots.  This series is truly hot to the touch.  Readers may want to wear oven mitts before putting their hands on this one because they may be burned from all the magic and pure unadulterated lust!" Tiffany at Nocturne Romance Reads:
"Even if you haven't read the previous books in the series, Hunted is absolutely a MUST-READ!  It is powerful, original, explosive, addicting, and stands on its own story arc.  And Connlan is to DIE for.  Seriously, he should be illegal." Grave Tells (5 stars) BOOK OF THE MONTH!
"I was highly anticipating this next novel featuring Moira and Conn, and it certainly did not disappoint. These two have enough passion and chemistry between them to start the brightest fire. Ms Zanetti has developed two characters who have a love/hate relationship fueled by a vigorous sexual appetite for one another. …The lengths they would go to protect each other because of their love was absolutely heartbreaking at times. The sacrifices and choices they were willing to make made you cheer for their romance and love and their happily ever after." The Romance Reviews: A Top Pick!
"I really liked Conn; he made such an impression that I thought of him even when I wasn't reading the book. Moira was my kind of heroine—strong, confident, smart, and willing to go after what she wants. There was a lot of page-turning action in the book and I couldn't wait to see what would happen next." Two Lips Reviews:
"This is a delicious paranormal story filled with steamy passion, run for your life excitement, and attention to details of the science and wicked witch kind… I loved every minute." Bring Back Desire
"This series is truly hot to the touch.  Readers may want to wear oven mitts before putting their hands on this one because they may be burned from all the magic and pure unadulterated lust! Zanetti has created a vampire mate whom is a true force to be reckoned with, on and off the pages. This third installment of the Dark Protectors series is full of nonstop action from one page to the next.  Zanetti will keep readers on the edge of their seat, never knowing which direction the next punch, or bite, will fly from." Tiffany at Nocturne Romance Reads (5 Hoots)   
"The blazing passion between the main characters is palpable as Rebecca Zanetti's fires up the heat in her forth Dark Protector book, Hunted. This book has the perfect blend of heat, paranormal and strong characterization that will have you addicted to this series!" Bookaholics Romance Book Club (4.5 stars) 
"The sex is hot and the characters are well defined." Red Hot Books (4 stars) 
"What a wonderful story with such great rich characters that drew me in effortlessly. I am officially hooked! This may just be a series to buy in paperback! If you are looking for a good paranormal book that will keep you guessing from the beginning to the end than this is the book for you. Rebecca Zanetti is an author to watch out for sure." Guilty Pleasures (4 stars)
"I love this series. … the characters are amazing and take on a life of their own. You fall in love with each Kayrs brother and you're hooked. I was hooked the entire book. I love each brother and I was on the edge of my seat the whole book waiting to see what will happen and how Moira and Conn would work out their differences. As all with the Kayrs brothers I loved Connlan, he just oozed sexual power, with his new found power from his mate, it only made him even more of a bad ass. I have to admit the first thing I did after I finished this book is I went on Rebecca Zanetti's website and looked to see whose book is next and when. I AM VERY EXCITED!!! I can't wait… So if you haven't read Rebecca Zanetti, I recommend you check it out. If you want hot sexy dangerous romance with powerful alpha vampires who rule the Realm, this series is for you. " Paranormal Haven (4 blood drops)
"Conn utilized his stoic countenance well as it was so fitting for this installment. Moira was a delight, I liked that she was not only strong but a warrior in her own right. The villains were diabolical enough for entertainment and the new elements introduced to the fight were interesting and threatening… multiple layers, influences and an overreaching arc." Pat at I Read That Book (4 stars)
"…I enjoyed Conn's character a lot. He was a great alpha man who knew what he wanted and was determined to get his way in the end. I loved this. Nothing is better than a man who has his mind set on something. Zanetti created an interesting word that was unique and held my attention. I enjoyed her mythology, but I think her writing stood out the most for me. This book flew by… I finished this book pretty quickly. That is because Zanetti has great pacing and a free-flowing writing style that made it easy to devour." Under the Covers Book Blog
"This was a fast paced, high octane, sexy read. And excellent read that has caused me to find Book 1 & 2, as I need to know how the storyline got where it did." Romancing the Book (4 stars)