Dark Protectors Box Set
Don't miss the first four volumes of the unforgettable Dark Protectors series: FATED, CLAIMED, TEMPTED, and HUNTED.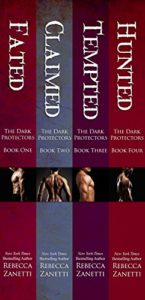 Driven by prophecy, the Dark Protectors are male vampires, fearless and born to mate with human females—for eternity. Talen Kayrs is on a mission, and once Cara Paulsen takes him as her mate, nothing can stop the force of his desire… Vampire king Dage Kayrs knows that when he encounters the brilliant geneticist Emma Paulsen, the power of their coming together will never be decoded… When bodyguard Max Petrovsky is sent to rescue Sarah Pringle from the evil Kurjans chasing her, he's willing to go far beyond the call of duty… It's taken over a century for ultimate soldier Connor Kayrs to consummate his union with the powerful witch Moira Dunne, but the time has come…
Ready or not, the Dark Protectors are turning up the heat!
Other Books in the Dark Protectors Series