Tamed
Caleb Donovan was never meant to be a prophet. At heart he's a conqueror, his appetites far more carnal than spiritual. He's not inclined to repress his passions and surrender to fate. After all, that's what cost him Lily—three centuries ago. She married another, because it was ordained. Now that he's in the same benighted calling—and forced into proximity with her—all the old desires are roaring back to life. . .
After w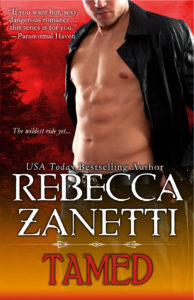 idowhood and centuries of celibacy, Lily is eager to explore the wild side of life, except now she's vulnerable to another forced relationship, with an enemy. But this time she's determined to choose her own path. And if hot, furious Caleb comes charging to the rescue, it might just change both their destinies. . .
Love is about to start conquering. . .
Other Books in the Dark Protectors Series
Lily Sotheby settled back into the worn leather of the booth, her fingers around the stem of a wineglass. "This cabernet is, um . . ."
"Piss." Hilde Freebird pulled the label off her longneck beer as Garth Brooks crooned from the jukebox. "You don't order wine at a honkey-tonk, Prophet."
"Shhh," said Janie Kayrs, the other accomplice, eyeing the peanut shells lining the tavern's floor. "Don't call her that."
"Oh yeah. My bad." Hilde pushed her glasses farther up her nose and nodded at a group of men playing pool. Fit and hard, several wore handmade silk suits. They seemed out of place in the dive bar as well. "Have you chosen?"
This was such an incredibly bad idea. "No." Lily tracked the distance from the booth to the door. "If the king discovers we're at a bar, he's going to kill me." What in the heck was she thinking, bringing the vampire king's niece to a public bar? Half of the immortal species wanted to kidnap Janie; the other half wanted her dead.
Janie snorted. "I know. We're safe because nobody in the world would expect to find us here. But I'm twenty-five, have been for several days, and I've always wanted a real night out with the girls— without vampires or bodyguards."
Hilde nodded. "That is important for a human woman, which you are. And getting the prophet laid is an admirable goal."
On all that was holy. Lily's face heated. "I'm sure I don't remember how to, ah, copulate." She'd mated a vampire three centuries ago, and he'd died shortly thereafter. Once mated, a vampire or mate could never become intimate with another being . . . until now.
"Well, first you need to stop using the word copulate." Jane took a swig of beer. "How odd is it that a virus created by our enemies now allows you a second chance at love?"
Forget love. Lily had just wanted a night free of work and worry. Having sex with some stranger was not the way for her to relax, regardless of her friends' attempts. "Virus-27 is designed to unravel our chromosomes until we become bacteria. . . no doubt I'll die before that happens." But, for now, the virus took away the physical repercussions of vampire mating, and she could actually touch a man again without inflicting a horrible allergic reaction upon them both. If she found a man. She smoothed down her long skirt.
"Speaking of copulation"— Hilde clucked her tongue—" did you have to dress like a puritan?" Lily examined her flowered gown. "This is how I dress."
"At least ditch the sweater." Without waiting for agreement, Hilde grasped the sweater's hem and yanked it over Lily's head. "Oh my."
*   *   *
He pivoted and blocked her way to gaze down at her stunning face. He'd never wanted a woman more. One night with her was all he asked. "Have you decided? My place tonight?"
She slipped her arm through his in a move as old as time and headed for the door. "I don't think that's a good idea."
No, it was a truly horrible idea.
They emerged into a chilly night. She shivered in the night air, and he quickly shrugged out of his jacket to drape it around her. The darn leather covered her almost to her knees.
The woman looked small, fragile, and definitely kissable.
He turned and pressed her against the worn brick building, startled yet again by the delicacy of her petite frame. He stood at least a foot and a half taller, but the woman had such a presence he often forgot her stature. Slowly, he slid his hand up to cup her chin. Curiosity and need glimmered in the depths of her mysterious eyes.
Even so, he allowed several seconds to pass in case she wanted to move away.
She didn't twitch.
Her chin held a delicate stubbornness that tempted him far more than he'd ever admit. Would she still taste like strawberries?
He lowered his head, giving her plenty of time to stop him. His lips met hers, and heat slid through his veins. The rightness of the connection clicked somewhere deep inside him.
Then she sighed, and his head spun.
He pressed harder, his tongue sweeping inside her mouth.
Fire, need, and strawberries became the center of his world. The leash he constantly kept on himself snapped. He stepped into her, his body caging her, his erection brushing against her warmth.
He tangled his hand in her silky hair, tethering her, taking all he could.
She sighed and kissed him back, a soft sound of surrender emerging with her breath.
Fisting her hair, he angled her so he could go deeper, invading her mouth. Possessive and fierce, he wanted all of her.
A car alarm went off blocks away, dragging him back to the present.
The woman might kiss like the devil, but she was a lady, and he wasn't going to take her the first time on a street corner. So he broke the kiss and slowly released her.
Her perfect blond hair was mussed and her lips swollen from his. Rosiness covered her cheeks, and desire burned bright in her eyes.
He bit back a groan at the need to bury himself in her. Even so, he couldn't help running his knuckles across the breasts pushed high by the underclothing. The softness almost dropped him to his knees.
She breathed in, her entire body shuddering, a vulnerable look of surprise flashing across her face. "Caleb."
His body rioted with the need to finish what they'd started. But his brain kicked into gear. One kiss, and reality had slapped him upside the head. He'd never be able to walk away this time, and the last thing he wanted was a mate— even one who couldn't wear his mark because of the virus. Lily was a sweet, kind, gentle woman who deserved protection. Right now, he was needed on the front lines, peace talks or not.
So he stepped back and zipped the jacket up and over those amazing breasts. "You ever ride a motorcycle, sweetheart?"
Her mouth formed a perfect O as she glanced behind him to the Ducati quietly waiting on the other side of the street. "A motorcycle?"
International
ARe Café Cat's staff pick for the week of 5/26/14
"I thoroughly enjoyed Tamed. Rebecca Zanetti never ceases to disapoint. I'm a huge fan of the Dark Protector Series and have been following this series since Fated." FIVE STARS  – Once Upon an Alpha
"Their courting is a sensual dance of passion and love tangled with nightmares and visions. Action, betrayal, and kidnapping are a few of the elements which can be found in this short novella, elements that manage to fill the rows of the pages and create a complex and complete story told at a fast pace without disappointing readers by leaving gaps." FIVE STARS – Confessions of Romaholics
"4.5 Hearts Seriously is there anyone better than Rebecca Zanetti for paranormal romance? I think not. I have enjoyed every one of her books in this series (and all her books in other series too). Zanetti has a way of bringing you right into the story and you don't want to let go.
If you haven't been reading this series what are you waiting for? The characters are great, the writing is great and the background stories are great.. in other words it is great so pick up the first one and you won't put the series down until you have read them all." Four and a half stars – Books-n-Kisses
This site contains affiliate links to products. We may receive a commission for purchases made through these links. Specifically, this site is a participant in the Amazon Services LLC Associates Program and Apple Affiliates. These programs are designed to provide a means for website owners to earn advertising fees by advertising and linking to amazon.com, audible.com, Apple Books, iTunes and any other website that may be affiliated with the Amazon Service LLC and Apple affiliate programs.