Please welcome guest author Debra Elise to the blog today!  Deb writes a sexy sports romance series called the Outlaws of Baseball – and those baseball players are YUMMY!  There are buy links at the bottom of the blog if you'd like to cozy up with a hard-bodied baseball player for a little while.  The first book in the series is on sale for the next few days.  So…on to Deb:
Greetings from the great white north! It's 15 degrees today and promises to get down to single digits tonight here in the forests and hills of the Pacific Northwest. Okay, so a bit south of the great white north, but it feels like it! And it looks like we're going to have a white Christmas this year (fingers and toes crossed). When you have kids of a certain age, the white stuff makes the season a bit more magical (bearable).  Most of my out of state friends think snow might be a given in our neck of the woods; especially around the holidays. Sometimes, but not always. And the last few years have been well, a bit skimpy in the fluffy, white stuff department. Not so this year. And to the delight of my two boys, they have a snow mountain in our yard thanks to the snow plow driver. It's all I can do to pull them off it come dinnertime!
Faces rosy, fingers and toes tingling, the boys remind me of my brother and sister when we were kids.  We weren't lucky enough to have a snow mountain, but we tunneled into the berms left behind from the plows and stockpiled snowballs while recruiting neighbor kids to pick sides for the war of all snowball wars. I was often out-numbered as I was the oldest and my friends lived a bit too far to draft into my one-girl army, but I had a distinct height advantage, and well, I was a bit under-handed too. I didn't have a great pitching arm, but I was fast and a good stuffer-of-snow down their backs, or in their faces. LOL. Gosh, I haven't thought of those days in years. Not until the snow finally came last week and I watched as my youngest son take great joy in throwing himself off a six-foot white behemoth that would most definitely have given me pause in my youth.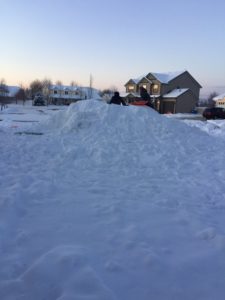 Funny how you forget things until your children remind you of much simpler times. I will hold close the memories, old and new, to be brought out when the boys are older and too busy with girls to care about tons of snow in their front yard. Hopefully, it'll be a few more years before that happens and they outgrow the desire to propel themselves off a tower of snow or blast each other with frozen missiles. It's so fun to watch them!
So, with less than two weeks till Santa loads up the sleigh and gives a pep talk to the reindeer, I'm wishing you all a season of cherished memories and well-plowed roads. And if your neck of the woods is a bit south and never sees the white stuff, please know that I would gladly trade you a day (or a week) when the subzero temps arrive. In the meantime, I'm more than happy to stay snug in the house, curled up on the couch with a hot drink and a good book while the kids conquer the snow mountain and rejoice in the gift mother nature has finally delivered just in time for Christmas.
Stay warm!
Debra Elise
In my spare time when I'm not herding kids or reading Rebecca's books, I write romance novels. My latest novel is CATCHING LUKE, Book Two, from the Outlaws of Baseball series. You don't have to be a fan of baseball to read this series; just enjoy a steamy HEA. J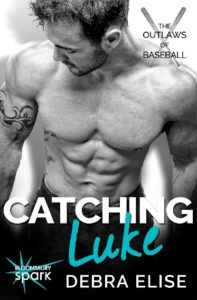 AMAZON: http://amzn.to/2gBOEOW
BARNES & NOBLE: http://bit.ly/2e5sTHx
iBook's: http://apple.co/2fTSeFQ
KOBO:  http://bit.ly/2edKzkz
GOOGLE PLAY:  http://bit.ly/2dNzU1P
When the hottest catcher in the league gets sidelined by an accident, the only one who can help him heal is the one woman he can't have.   He needs someone like her …   Luke Garibaldi is a member of the Outlaws' dugout of bad boys and the league's premier catcher. On the diamond, he plays to win, but when it comes to his private life, what the league doesn't know won't hurt, right? He spends his off hours breaking the rules: riding his motorcycle and putting his legendary arms too close to the asphalt, and playing the field. After all, with his body and his skills, he can have any woman he wants. Except Lara. 
She needs to stay far away from guys like him … 
Sports therapist Lara Andretti doesn't have time to play around with baseball players. Especially baseball players as hot as Luke Garibaldi. (Okay, maybe she has a little time to play around with a guy as hot as Luke Garibaldi.) But Lara's not looking for anything serious, especially with Luke's playboy reputation and cocky attitude. Besides her heart's still hurting from the last man who crushed it, and she's ready to leave town and make a fresh start.    But when an accident brings their lives together, and their attraction turns into something more, it becomes clear that the road to happily ever after is never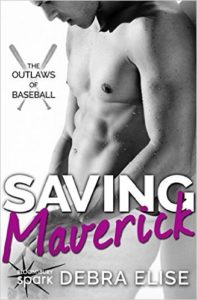 SAVING MAVERICK – Book One, Outlaws of
Baseball, is just $1.99 through December 17th!
 AMAZON:  http://amzn.to/2huwF1D