Broken
Dangerous: Former Navy SEAL Clarence Wolfe's unit was taken out with a land mine. Injured and devastated, he hasn't been quite right since. Worse, the tragedy was no accident. All Wolfe wants now is to take down the man responsible. In the meantime, he's good with being the muscle for the Deep Ops team—and leading a steamy no-strings-attached personal life. Until one intriguing woman changes everything . . .
Determined:  Reporter Dana Mulberry is on a mission to avenge the death of a fellow journalist. She's finally hot on a trail—right to a sex club—where she runs into . . . Wolfe? It seems both their leads have led to the same spot. To keep from blowing their covers, they'll have to at least pretend to have a little fun. Trouble is, they genuinely like each other. And that's way too risky for Wolfe, especially when, to his surprise, Dana agrees . . .
Complicated:  Drawn to each other in ways they can't understand, Wolfe and Dana keep it professional—until they're shot at one night. And when their adventures land them both at the heart of corruption in D.C.—and at odds in their missions—they'll have to dig deeper than ever to succeed in their quests—and with each other . . .
Other Books in the Deep Ops Series
"In the fiery, action-packed third romantic suspense novel of the Deep Ops series (after Fallen), Zanetti gleefully revisits the rough and ready (and sometimes ridiculous) Homeland Defense Department's band of merry misfits…Their chemistry inevitably ignites into all the blistering sex scenes fans expect, and Zanetti introduces some exciting new faces along the way. Series readers will be chomping at the bit for what comes next."
– Publishers Weekly
"If a team of misfit agents, a dog with a drinking problem, and a swoon-worthy romance with an intense case sound like your kinda thing…. run don't walk to grab Broken by Rebecca Zanetti. Part of the Deep Ops series, I love this group of agents and their romances…The perfect escape read." 
—Caffeinated Book Reviewer
 
"This is definitely my favorite Rebecca Zanetti series." 
—eBookObsessed
 
"It kept me sitting on the edge of my seat."
—Maureen's Books
 
"I believe that most readers who have followed the 'Deep Ops' series have been waiting for Wolfe's story – I freely admit that he's been on my radar since I first met him and his story went beyond what I was hoping for… Always fast-paced action, intriguing clues, the sizzling chemistry between Wolfe and Dana, and a plot that flows smoothly while always keeping me on my toes waiting for what happens next."
—Keeper Shelf
 
"RZ always does a great job of throwing in unexpected plot twists, and this book was no different. There were many times I actually gasped out loud. The action was crazy, and the climax of the story was INTENSE—all caps…. Overall, Rebecca Zanetti is one of my favorite authors for a reason! She brings the heat, the action, and the character depth every time. I can't wait to see where the next installment takes us."
—Romance Reader
 
"It's Rebecca Zanetti of course the book was great! Zanetti is easily one of my favorite authors."
—Books 'n Kisses
 
"BROKEN is a thrill ride just as all books by author Rebecca Zanetti are, but this is one readers have wanted for a long time… it is exactly everything expected and desired. Readers will get hit with various emotions, action, danger and drama, but we also get to hints of what is normal for the team."
—Fresh Fiction
 
"Between Wolfe's no-nonsense snark, Dana's stubborn feistiness and the raging attraction blazing between the two of them, it's a recipe for awesome, and we get an intense, exciting, banter and chemistry-filled story."
—Escapist Book Blog
 
"BROKEN is a story of betrayal and vengeance; family, friendships, relationships and love. The premise is fast-paced, energetic and dramatic; the characters are strong-willed, energetic and captivating; the romance is seductive and hot."
—The Reading Café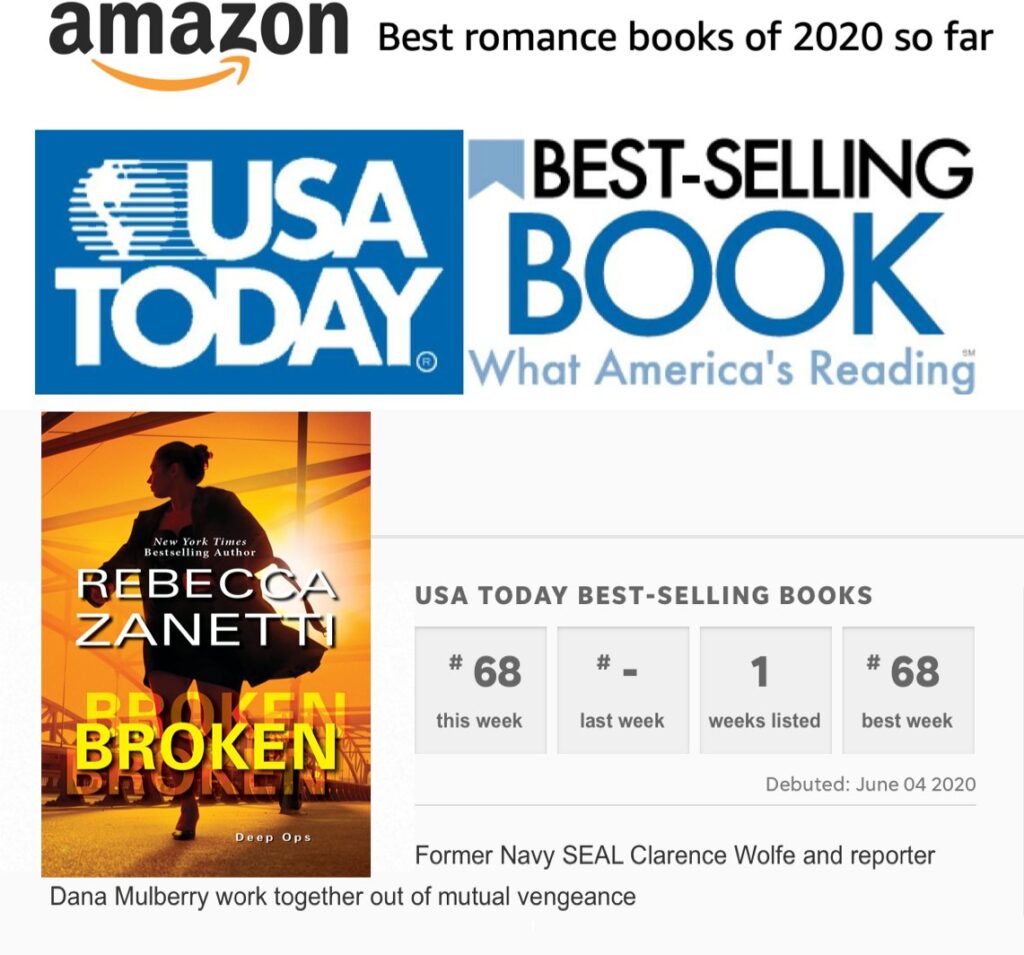 This site contains affiliate links to products. We may receive a commission for purchases made through these links. Specifically, this site is a participant in the Amazon Services LLC Associates Program and Apple Affiliates. These programs are designed to provide a means for website owners to earn advertising fees by advertising and linking to amazon.com, audible.com, Apple Books, iTunes and any other website that may be affiliated with the Amazon Service LLC and Apple affiliate programs.