Fallen
Too quiet. A talented hacker who got caught, Brigid Banaghan is now forced to work with a secret Deep Ops unit. But she won't reveal any more to these renegade Feds than she has to. Especially not to Raider Tanaka, her control freak of a bodyguard and handler. It's enough that his body is tensed for action and his heated gaze is always on her . . .
 
Too sharp. Raider knows there's more to his new assignment than he's been told. Why send a deadly agent of his experience to guard a computer genius—even a gorgeous, unpredictable, undisciplined one? But when Brigid's estranged father is named in an investigation into Boston's organized crime, Raider's mind switches onto high alert, just like his senses . . .
Too close. To clear her father's name, Brigid needs Raider's help. The Unit's idea that she bring a straight-laced Fed in as her "fiancé" won't fly, though—not unless Raider can release his inner bad boy and become the rebel Brigid can't resist . . .
Other Books in the Deep Ops Series
Chapter One – coming soon!
International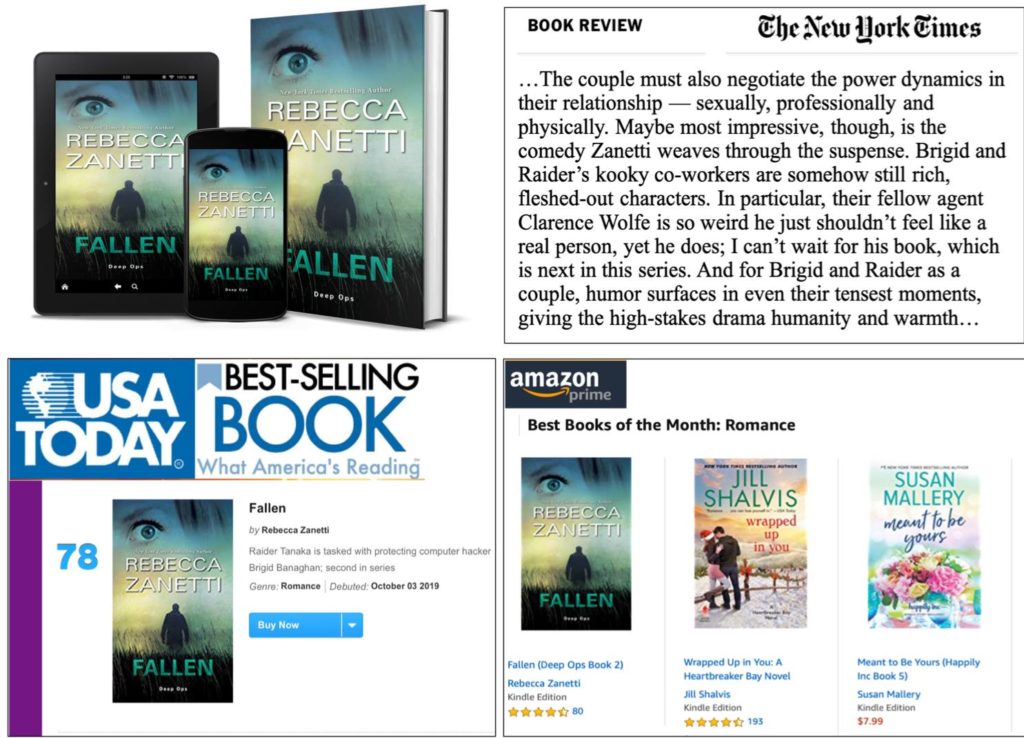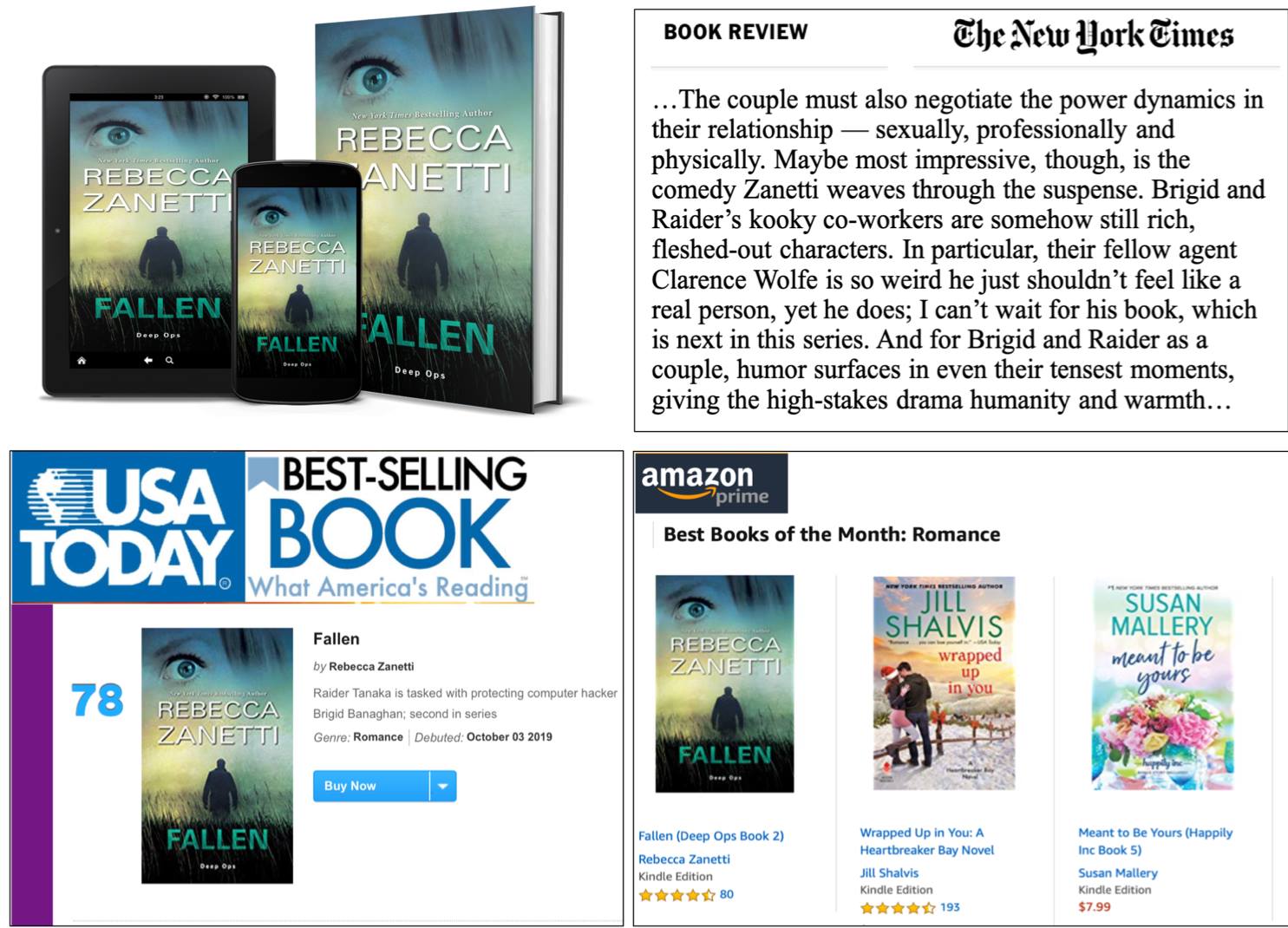 "Zanetti follows Hidden with another high-octane mix of action, romance, suspense, and the perfect amount of levity…The blend of memorable personalities found on the Deep Ops team, combined with a slowly teased-out bigger story arc, makes for a deliciously inviting and immersive story."- Publishers Weekly 
KirkusReviews.com – Included in Round Up "9 Romance Novels for People Who Don't Read Romance"
"Zanetti (Alpha's Promise, 2019, etc.) successfully balances the romance with the escalating mystery of why a U.S. senator is mixed up with a young Irish mobster. The Deep Ops team is made up of people who have been cast off from the mainstream FBI, and each team member is showcased as they work to crack the case. Brigid and Raider's love affair is the star of this carefully constructed and well-paced work of romantic suspense. The central romance is enhanced by a pleasingly tangled suspense plot." – Kirkus Reviews
New York Times Book Review (National print) – Review  in the 11/10/19 issue – view pdf
"All the hallmarks of a Zanetti book (which cause a Pavlovian response in me any time I see her books on the shelves) are present: richly developed characters, robust plots, exciting suspense and hot, sexy times. She is, quite simply, one of my favorite authors and the world is all the better for having her in it." – Bookpage
"Fallen gets a WELL ROUNDED FIVE ACTION PACKED STARS!" – Marie Brown, Marie's Tempting Reads
"Fallen is my favorite book of this series to date." – Five stars, Jessicas' Totally Over The Top Book Obsession
"This series just keeps getting better and better. With every story told I fall deeper into the lives of these characters and I feel so connected to all of them now." – Four Stars, Sabrina on Goodreads
"Danger, violence, romance, friendship, and humor all jam-packed together nicely." – Five Stars, Reading in Pajamas
"Fallen was the perfect blend of romance, humor and action-packed danger. I quickly lost myself within its pages and devoured this over the long weekend. I laughed, held my breath, and swooned." – Five stars, Kimberly from Caffeinated Reviewer 
"5 – You have to know who to trust, Stars!" – Lady Heather on Goodreads
"Oh my gosh! I absolutely loved this addition to the series!" – Love Stars, Carvanz on Goodreads
"4 – 'It's not the size of the weapon…' Stars!" – Claire Robinson on Goodreads
"Lots of humor, tons of feel good friendship, a heavy does of heat and lots of action, Zanetti brings it all in this the second edition of the Deep Ops Series, Fallen." – Five stars, Beth on Goodreads
"What makes this series so good are all the crazy and unique characters. The back and forth between the two main characters keep everything flowing. The chemistry is amazing." – Five Stars, Read All About It on Goodreads
Woman's World – 5-Minute Romance Feature with an original work of contemporary romance from Rebecca with promotion for Fallen – Confirmed for 12/9/19 issue 
Amazon – Chosen as one of the Best Romances of the Year for 2019 and of the Month for October 2019
Military Spouse Magazine – Featured in the October 2019 print issue as our Book Club Pick of the month
Frolic Media– Included in Romantic Suspense Round Up on 10/4
Prominent Blog Reviews at:
o Caffeinated Book Reviewer
o eBookObsessed
o Delighted Reader
o Books of my Heart
o Harlequin Junkie
o Romance-Reader
o The Reading Café
o Escapist Book Blog
This site contains affiliate links to products. We may receive a commission for purchases made through these links. Specifically, this site is a participant in the Amazon Services LLC Associates Program and Apple Affiliates. These programs are designed to provide a means for website owners to earn advertising fees by advertising and linking to amazon.com, audible.com, Apple Books, iTunes and any other website that may be affiliated with the Amazon Service LLC and Apple affiliate programs.