Holiday Rebel
It's not just the family match-makers they have to fear during the New Year…
Rory Albertini has survived in a world of espionage and danger by being patient and outwaiting any enemy. So, when his fiancé and the only woman he's ever love dumps him, he immediately creates an attack plan. He gives her time—with a deadline—to deal with the fact that he can't talk about his job but will give everything else in his life, including his heart, to her. Yet when danger comes for her, he might have to reveal the deadly skills he wants to hide and then possibly lose her forever.
Serenity McDerny is a stubborn Irishwoman who'd thought she had the ideal life with her hottie Italian fiancé in the best small town in the world. They even picked out rings, when she'd had no clue he wasn't actually with the forest service. The guy is some type of spy! He lied to her, way too easily, and she can't let that go. Now, like some arrogant James Bond, he's given her a deadline to figure things out and get back together with him? While she can handle Rory's stubbornness as well as the danger coming fast, not even Serenity can avoid the Albertini match-makers when they set their sights on her.
Paperback cover: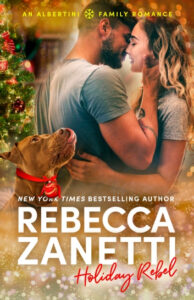 Other Books in the The Anna Albertini Files Series
This site contains affiliate links to products. We may receive a commission for purchases made through these links. Specifically, this site is a participant in the Amazon Services LLC Associates Program and Apple Affiliates. These programs are designed to provide a means for website owners to earn advertising fees by advertising and linking to amazon.com, audible.com, Apple Books, iTunes and any other website that may be affiliated with the Amazon Service LLC and Apple affiliate programs.