Adverse Possession
The plural form of Nemesis is Nemeses.
Anna Albertini never thought she'd have to look up the plural form of nemesis. In fact, she never thought she'd have one, much less three. But as she and her new partner try to make a go of their fledgling law firm, enemies come from every direction.
First, there's a newspaper reporter trying to make a name for herself by dogging Anna's every move. Second, there's a lawyer on the opposite side of every case who just doesn't like Anna. And third, there's Aiden Devlin's ex-girlfriend, who decides to descend upon the sleeping Idaho town like a bird of prey. It's too bad she's discovered dead…after finding herself on the wrong end of a potato gun, putting Anna top of the suspect list.
Anna deals with every day as it arrives while juggling her developing relationship with Aiden, trying to pay her rent by finding at least one client who pays, and finally by partnering with her Nonna Albertini in the world's most chaotic plan to match-make her sister with the Elk County's prosecuting attorney, Nick Basanelli. It's a good thing Anna has learned to thrive in chaos.
Paperback cover: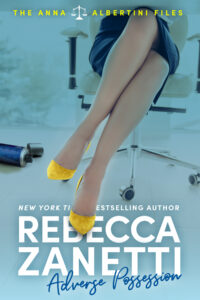 Other Books in the The Anna Albertini Files Series
ADVERSE POSSESSION
Rebecca Zanetti
Chapter 1
     My boyfriend was a sociopath.
     Well, if he could be called a boyfriend. There was nothing boyish about Aiden Devlin, and it wasn't like we'd actually discussed whatever it was we were doing together. But at the moment, as I stared at the one full and one empty air-tight cereal containers in his new and fairly empty pantry, I had other things to worry about. "I can't believe you did this." I turned around in his quaint kitchen as I spoke, and then I forgot, well, everything.
     Aiden lay shirtless on the floor with his head beneath the sink, doing something that clinked. What, I really didn't care. Jeans covered his long legs to his bare feet on the worn wooden floor, but my eyes remained on his very cut, very hard, very awesome chest. One that had more than its fair share of healed bullet and knife wounds.
     The tattoo over his bicep always caught me. Sexy and jagged, it was a compilation of his life so far, all within the outline of a deadly Eagle. Military, ATF Agency, Ireland, and small town Idaho.
     He wiggled his broad shoulders out from the cupboard, tossed the wrench into a battered tool case, and lifted one dark eyebrow. "Huh?" His blue eyes were so blue they always took my breath away.
     My mouth watered and I cleared my throat to appear nonchalant. "Huh?"
     "What did I do, Anna?" He sat up, shifted, and put his bare back to the dented dishwasher. His concentration was a hundred percent on me, and that always threw me, too.
     "Uh." I looked around and caught sight of the cereal holders. Oh yeah. "This. You did this." I gestured toward the full one.
     He stood and moved, his scent of leather and motor oil catching me as he looked over my shoulder. "I filled it. You said I had to have those plastic thingies to hold cereal, and that's what I filled it with." Then he wiped his hands off on his jeans and reached for a glass of water on the counter. "I thought cereal boxes were what you keep cereal in, by the way."
     "You took three different kinds of cereal and combined them into one container. Three very different kinds. That's crazy." One was peanut butter flavored, one plain flakes, and one looked like waffles. I mean, who did that?
     He leaned back against the counter, cocked his head, and gave me his signature Aiden look. The one that said he was partly trying to figure me out and partly wondering if he should take me to a shrink.
     "Don't give me that look."
     Both eyebrows rose this time. With his ruffled black hair and dangerous blue eyes, he was all Irish. Then he went in for the kill. "All right. What's bugging you?"
     I hated that. I mean, I really hated that he was such a grownup and could see right through me. The problem was, I had no clue what was bugging me. Plus, combining cereals into one container when there was another empty one was just so…male. So Aiden. Ug. I sighed.
     He crooked his finger in a 'come hither' motion. It was a move that should irritate me, but it was sexy and kind of sweet—and the look in his eyes was neither.
     So I trotted across his uneven floor and let him gather me into a hug. Being surrounded by heat, male, and muscle was a very nice way for a healthy woman like me to spend a few minutes. When he placed a gentle kiss on my head, easily since he was about a foot taller than me, I relaxed completely into him.
     "There you go," he murmured, holding me. "The opening of your law firm this week is going to be fantastic. Your help with my new place has been invaluable, even though I don't know why I need placemats or cereal containers. You're healthy, I'm healthy, and right now, nobody is shooting at us."
     I laughed against him. He'd just closed escrow on the spacious cabin on the lake, and he seemed okay with the fact that it was only a few miles away from my cottage. His was a fixer-upper, and that seemed to make him happy. Who knew that the ATF agent was so handy around the house? It seemed like being able to go undercover for years and then shoot people before they shot him was enough talent, but no. He was good at house stuff, too. "I guess I'm just waiting for the next shoe to drop," I admitted.
     He grasped my arms and held me away from him so I could meet his gaze. "It always does, Angel. Enjoy the good times. Trust me."
     I'd dreamed about him my entire teenaged years as well as years into my twenties, and now here he was, and he was holding me. Life was sometimes too much to grasp. But he was right that we should enjoy the good times. It was a lesson we'd both learned while young. "Are you nervous about work tomorrow?" I asked.
     "No." His grin was infectious. "I'm happy to be working out of the Spokane office. If they don't want my team there, we'll just find a satellite office here in Idaho."
     His team was the only ATF special response team allowed to work out of a satellite office instead of one of the main SRT offices, and it was just an experiment. If it didn't go well, he'd have to move. Or he'd just go undercover again, and I wouldn't hear from him for years.
     "Stop worrying," he murmured. "We control our lives."
     Ha. I learned that wasn't true a long time ago, as well. It was sweet the alpha male thought so. Or maybe he had to think so in order to shoot people before they could shoot him. Who knew?
     My phone buzzed and I tugged it out of my jeans to see a text from my sister, Tessa.
     Aiden unashamedly read the text. "Quint 911?"
     My heart sank, but I straightened my shoulders. "Yeah." I read the second text. Meet at Tratto's at six. T.
     "Your cousin, Quint?" Aiden asked.
     I nodded. "He's a smokejumper and also performs search and rescue missions. He's been in Cali at a fire looking for remains with his dog, and apparently it was a rough one, and he's home at the family barbecue today." I'd skipped the barbecue to help Aiden out with his new home.
     Aiden turned me and pulled my back to his front, settling his arms around my waist. "When he gets home, you and Tessa check in?"
     "Yeah. Donna, too." I stared at the floor that needed to be sanded and tried to ignore his hard body behind me. Both of my sisters were great at cheering people up or just listening to them. "When Quint has a rough one, we usually bug him until he gets back to his sunny disposition."
     "I was in high school with Quint. Great wide receiver as well as golfer," Aiden said. "I didn't know he'd gone into smoke jumping. Doesn't he have a bunch of brothers? I played baseball with Rory until I got suspended from high school for a week."
     "He has five brothers." The Italian side of my family procreated well. Heck. So did the Irish side. I had a lot of cousins. "Quint's girlfriend broke up with him right before he left, and then he had to find dead bodies in rubble, so he's going to need some meddling from us." As cousins went, Quint was a good one. He was also a good man, and he deserved some fun as well as peace. Plus, he was better with a project going on, so we'd have to think of something to preoccupy his mind for a bit. I looked around the kitchen that needed work.
     "No," Aidan said, resting his chin on my head. "I want to do this myself."
     I got that. Plus, the idea that Aiden was setting down roots gave me tingles in my abdomen. The more work he did himself, the more he'd want to stay put. "Maybe you guys could go golfing? Do you still golf?"
     "Yeah. I went undercover in Mississippi at a Country Club dealing drugs and worked pretty hard on my handicap. I'll ask Quint to go golfing if that'd help." Aiden felt solid and sure behind me.
     This was all too good to be true. We should probably talk about us or what we wanted or something. "Aiden—"
     A pipe groaned beneath the kitchen sink and then water burst out.
     Aiden moved instantly, setting me aside and dropping to his knees. "Damn it." He reached for the wrench and ducked under, swearing in Gaelic. "Hey. Hand me the plug wrench, would you?" His voice was muffled.
     "Sure." I walked in the water pooling on the floor and dug into the toolbox, handing over the plug wrench. This wasn't my first leaking pipe.
     "Thanks." Aiden fiddled as water continued to pour.
     "Sure." Yeah, I was a little smug I could help fix the sink. I stepped over his legs and my heel caught on his jeans. Crap. I scrambled for balance but slid farther, landing on his legs and hitting my head on the side of the counter. Water sprayed me right in the face, and I turned away to cough.
     Aiden grasped my arm and set me out of the spray. "You okay?" He didn't even sound surprised.
     "Yeah." I shook water out of my hair and it sprayed everywhere. My head didn't even hurt. My entire front side was soaked, however.
     A sharp knock sounded from his door.
     "That's the pizza. Get money from my wallet." He ducked back under the sink, his muscles moving nicely. The spray of water trickled and then stopped.
      I wiped water off my face and shook out my shirt before taking cash out of his wallet, which was on the counter. I'd pay, but I didn't have any personal cash right now. Even in the bank. Then I wiped off my feet before walking out of the kitchen and through the empty living room to the door. I opened it, more than ready for dinner.
     "Hi." A stunning and very curvy redhead stood on the porch—without a pizza.
     I blinked water out of my eyes, acutely aware of the feeling of mascara running down my face. "Hi." I wiped off my cheeks and looked past her for a pizza car. Nope. "Can I help you?" New neighbor? Wonderful. She really was pretty.
     Her eyes were a light blue that matched her frilly shirt that was tucked into dark jeans. She had the ability to look dressed up in jeans, which was something I'd always admired. The Chanel handbag over her shoulder completed a perfect look, along with the four-inch red checkered wedges. When she spoke, she had the perfect southern accent. The one that sounded like warm molasses sliding over your skin. "I'm looking for Aiden Devlin. Rumor has it he lives here."
     Of course she was. "Yes. Can I tell him who's here?" More importantly, I wanted to know who she was.
     She smiled full and red lips. "Tell him his wife needs to talk to him."
International
ADVERSE POSSESSION is a page turner from the very amazing mind of author Rebecca Zanetti. If you love danger that includes a couple of speeding car scenes; intrigue; some really hilarious moments provided by loving grandmothers (that also involves a sister who isn't about to be pushed – which intrigues the other party also being pushed); a sweet and steamy romance and family scenes that include Bailey's Irish Cream and ice cream get-together and Sunday cookouts – then ADVERSE POSSESSION is all that and more. Bravo Rebecca Zanetti! ~ Fresh Fiction
ADVERSE POSSESSION is a story of family and friendships, suspense and intrigue, passion and love. The premise is detailed, quirky, and intense; the characters are sassy, charismatic and realistic- the camaraderie, and back and forth is furious and frenetic; the romance is captivating and emotional. Rebecca Zanetti's Anna Albertini Files is an edgy, decadent and thrilling series –get started today. ~ The Reading Cafe
The third Anna Albertini book, and it's another crazy, exciting, and wildly entertaining ride for Anna and the people in her life. It's fun and frantic, and I loved every moment of it! ~ The Escapist Book Blog
Adverse Possession gets an EXHILARATING FIVE GOLD STARS! I tried to make this book last. I really REALLY did. It was AMAZING! —Marie's Tempting Reads
This series is fantastic and after each book, I wish I was an Albertini. This third book in the series gets a must read recommendation from me! ~ Bourbon, Books and Brenda's Review
This site contains affiliate links to products. We may receive a commission for purchases made through these links. Specifically, this site is a participant in the Amazon Services LLC Associates Program and Apple Affiliates. These programs are designed to provide a means for website owners to earn advertising fees by advertising and linking to amazon.com, audible.com, Apple Books, iTunes and any other website that may be affiliated with the Amazon Service LLC and Apple affiliate programs.