The apocalypse is here!!!  Well, Mercury Striking is here, and it's a post-apocalyptic romance.  🙂
MERCURY STRIKING
The Scorpius Syndrome, Book #1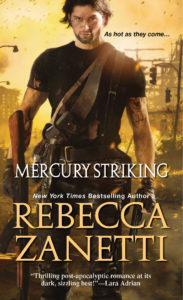 January 26, 2016 print and eBook release
With nothing but rumors to lead her, Lynn Harmony has trekked across a nightmare landscape to find one man—a mysterious, damaged legend who protects the weak and leads the strong. He's more than muscle and firepower—and in post-plague L.A., he's her only hope. As the one woman who could cure the disease, Lynn is the single most volatile—and vulnerable—creature in this new and ruthless world. But face to face with Jax Mercury…
Danger has never looked quite so delicious…
"Thrilling post-apocalyptic romance at its dark, sizzling best!" —Lara Adrian
"Nothing is easy or black or white in Zanetti's grim new reality, but hope is key, and I hope she writes faster!" —New York Times bestselling author Larissa Ione
Here's a quick blurb:
Lynne swallowed and stepped back inside to shut the door.  Tears pricked her eyes.  How silly.  What the hell did she care about some crazy woman who didn't like her?  Nobody liked her, and she'd always be alone.  She placed the soup on the table, no longer hungry.

Even her bones were exhausted, and sometimes she wondered why she hadn't just died.  What had she done that was so terrible to have deserved this?  Her heart beat steadily, the small glow showing blue through her heart.

A tear fell.

Of course, Jax Mercury chose than minute to walk inside. 

He paused, an 'oh shit' expression crossing his rugged face.  She would've laughed, but the struggle to step the tears was too hard.  A frown lowered his eyebrows, and he shut the door, placing several guns on top of the useless refrigerator.  "Did I hurt you that badly?" he asked.

She paused and waited until his words sank in. "No."

He blinked and glanced around the apartment. "Stop crying."

At the order, a loud sob erupted from her chest.

He stilled.  "Ah, what's wrong?"

It was a simple question.  A nice question.  One a civilized person would ask.  The easy words ticked through her, and something exploded deep inside.  "Everything."  She threw out her hands.  "Everybody hates me, the world is dying, and you fucking spanked me earlier."  She doubled over as the emotional hurt overcame her.

"Well, hell."  A second later she found herself lifted and cradled in very strong arms.  Jax held her against his hard chest, his mouth near her ear.  "Nobody hates you."

"Yes, they do," she hiccupped, crying harder, her body shaking.

He sighed and dropped onto the sofa, holding her closer, tucking her face into his neck.  "We fear things in direct proportion to our ignorance of them."  His breath brushed her ear, and his size provided safety.
Now for the contest:
Answer the following question in the comments below.  I'll draw five names, and those winners will get to choose whether they want an ebook of Wicked Ride or Wicked Edge.  Good luck!
Question:  If the apocalypse does come, are you prepared?  If so, how?  🙂