Hi all!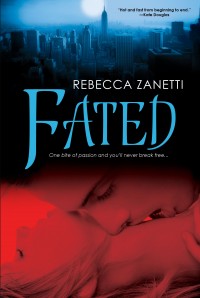 First, I wanted to let you know that FATED is on sale for $1.99 right now on online stores.  (That's $12.00 off).  The print is on sale for $5.60.  I have no clue how long the sale will last.  Maybe spread the word if you get the chance, will you?
And…I made it safely to Atlanta.  We had a veerrrry long layover in Minneapolis since our plane "was broken," and they had to fly in a new plane for us.  So, I ended up arriving at the Atlanta Marriott Marquis at 2:00am. 
Yikes!  I'm a bit tired.  But look at the very cool picture I took last night from my hotel room.  Pretty, right?
The conference kicks off soon, and I'll be signing books at the RWA Literacy signing
on Wednesday, which is open to the public.  It's here at the hotel, and I believe it begins at 5:30-7:30.  If you're anywhere in the vicinity, drop by and say hi.
I'm also participating in both Kensington and Grand Central's publisher signings during the conference.  You have to be attending the conference to go to these.  But if you're here, drop by.
Also, the fabulous Cynthia Eden and I are giving a workshop on Saturday at 3:15 about:  The Serial Killer Next Door.  It's how to write realistic and multi-dimensional villains.  We're expecting to have tons of fun, so if you're attending the conference, please pop in to
see us.
So, in addition to tons of meetings, a couple of cocktail parties, and a few workshops I can't wait to see…that's my week.  Well, and writing.  I have a couple of deadlines coming up.
Have a wonderful week…and I hope to have time to update throughout.  Also, thank you for the wonderful feedback and reviews on FORGOTTEN SINS.  There's a great buzz going on right now from that, and I know many of you have helped to make that happen.  You're the best!  🙂