How is everybody doing?  I feel like I've been buried under deadlines for the last couple of months and can now finally breathe a little.  It's fall where I live, the leaves are turning, and it's not unusual to have rain, sun, and hail in the same day.  I'm hoping for an early snow, but I don't think it's going to happen this year.  I need to organize my thoughts, so I thought I'd do a quick update here to figure out where I am and what I should do now.  🙂
MARKED, Janie's story, is in the pipeline and is ready to go.  (Release date: 12-22-14). I've finished page proofs, which means I won't see the book again until it releases.  As you might know, Marked is the tenth and final book in the main Dark Protector series.  It was both the most difficult and the easiest book to write so far.  It was the most difficult because so many questions had to be answered and so many threads completed.  It was the easiest for the same reason–I had tons to write and didn't stop for a second to wonder what to add.  I have to admit, I'm very happy with how Janie's story turned out, and I hope you like it, too.  I was also really nervous to write it initially because readers have known Janie since she was a child, and now she's all grown up, so it was a little like watching your niece fall in love with a badass Alpha male.  But I think it worked out nicely.  🙂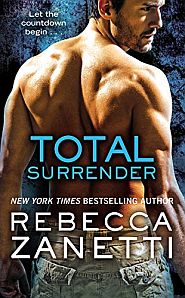 I hit send on TOTAL SURRENDER edits this morning, and it's the longest book I've written at 102,000 words (approx. 400 pages).  (Releases 3/14).  This is Jory Dean's story, and he was so much fun to write about.  My editor says it's the best book yet, and of course, this makes me both nervous as hell and happy.  I hope you all like it.  This one choked me up a couple of times because those lost, dangerous, wounded soldiers can do that to you.
I'm finishing up Hawk and Dawn's story (Maverick MT book 4) now, and I'm hoping it has a release date of early next year – but I probably won't know the date until early next year.  The first scene is really fun with Dawn teaching Hawk a little lesson.  I hope you like it.  The last Maverick MT book hit the NY Times, so of course, I have high hopes for this one, too.
Did you know we contracted for a spin-off series for the Dark Protectors?  We did, and it's called the Realm Enforcers.  The first book, WICKED RIDE, is already turned in and should have a release date soon.  I'm thinking it'll be June of next year.  Wicked Ride is about Kellach Dunne (cousin to Moira and Brenna), badass witch enforcer and motorcycle club member.  The book takes place in Seattle, and a few of the Dark Protectors show up, including Dage and Garrett.
Also, I have a brand new series coming out.  We don't have a name for the series yet, but it's going to be something different for me.  Yes, it's still a romance with some pretty hot Alpha males, and I'd tell you more, but I don't really know more.  A novella will kick off the series, and it'll be in an anthology with Alexandra Ivy to be released around next September.  Then the three books will be released January, February, and March of 2016.  These will be in mass market print and available at bookstores, online, etc.
Finally, if any of frequent BAM stores, keep an eye out for CONSUMED and SHADOWED from the Dark Protectors, would you?  (They should be available for preorder end of October).  Those books are part of a brand new program between Lyrical Press and Books-A-Million to be in print, with gifts for people who buy them.  I'd love to see those do well so the other DP books could be in bookstores. 
Also, there's going to be a big party for the program in York, PA at the BAM store on November 8th starting at 2:00pm.  If you are anywhere near York on that day, I will be there, and I'd love to see you! 
Other than that, there's a boxed set of the first four stories (Fated, Claimed, Tempted, Hunted) in the Dark Protector series releasing on October 13th, Blind Faith (Sin Bros 3) releases in print in January, and then Total Surrender releases in print and digital in March.
Whew.  Okay.  Now I feel organized. 
If you subscribe to my newsletter, you received a new contest to caption a funny picture for the chance to win $50 at Amazon.  If you don't subscribe, the button is over to the right.  🙂