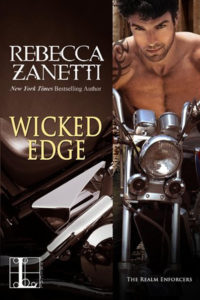 Hi all!  I know not all of you have FaceBook, so I wanted to put our reader poll and contest here on the blog, too.  (I'll choose one winner from FB and one from here in the comments…so you probably have a better chance of winning here.  But you can enter both places if you want! )
** HELP—READER POLL—** Win a book!
Hi all! I have three quick questions for you – if you answer them, you're automatically entered to win one of my backlist ebooks – your choice.
1. Did you know that the Wicked books (The Realm Enforcers) is actually more of the Dark Protectors?
2. Are you aware that many of the Dark Protectors, Dage, Emma, Conn, Garrett, Zane, Janie…all make appearances in the Wicked books? Does that make a difference in your reading those?
3. What could we do to tie the two series together better? (I think many folks take a look at the Wicked books and think they're contemporary MC books?)
Take a look and tell me what you think. Thanks!
(If your comment doesn't show up right away, no worries.  We might need to approve it, and we will.  If you've commented before here, then yours should show up, but we did just do updates, so maybe not.  We will approve it, though.)  🙂