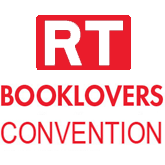 05/15/2018 - 05/20/2018
All Day ET
Location
Peppermill Resort

The RT Booklovers Convention is the book-industry event where you can mix business with pleasure. Attend more than 100 workshops as well as numerous parties and reader events that will keep you informed and in touch while having fun. It's where friends new and old come together to learn about the industry we love and to have fun with authors and fellow book lovers. Fifty percent of conventioneers are first-time RT Convention attendees, and many travel by themselves. However, almost all leave having made new friendships they'll cherish for years to come.
Who attends the RT Booklovers Convention?
READERS, BLOGGERS, REVIEWERS, BOOKSELLERS and LIBRARIANS who share a passion for books and are eager to meet more than 800 of their beloved authors who attend. These fans also enjoy the hundreds of FREE books given out at various events and the opportunity to win book-related prizes and baskets full of goodies! They also enjoy a special three-day Reader Track led by bestselling authors who go the extra mile to make readers feel special. An informative Bookseller/Librarian track is also offered to help booksellers and librarians improve sales and visibility in a changing marketplace.
ASPIRING AUTHORS interested in refining their craft and who want to learn about the book business in general. Writers in all stages of their career enjoy more than 200 workshops led by bestselling authors and industry professionals covering craft, media & marketing, self-publishing, social media and business plus workshops led by star authors in genres including Romance. Urban Fantasy, Erotica, Mystery/Thriller/Suspense, Young Adult, New Adult, Inspirational, SF/Fantasy and Mainstream Fiction.
PUBLISHED AUTHORS who want to meet more than 2,000 readers, network with fellow authors and industry professionals and who want to know more about opportunities in today's changing market. There are many promotional opportunities available for authors, including branding and sponsorships. The Giant Book Fair, which is open to the public, is one of the highlights of the RT Convention. Thousands of fans come to meet more than 600 authors and purchase their books. Due to space restrictions, spots in the Book Fair are limited and reserved for authors on a first come, first served basis. Contact Jo Carol Jonesif you are interested in sponsoring a party or event. Contact Tere Michaels if you would like to participate on a panel or want to know more about promotional opportunities.
Weekday passes are available, as well as a weekend pass and multiple-day passes, including tickets to our all-day FAN-tastic Day and Teen Day programs. There's an option to fit everyone's busy schedule.
Come for the entire six-day extravaganza or come for a day' but don't miss out on all the fun. 
Visit their website for all the information: