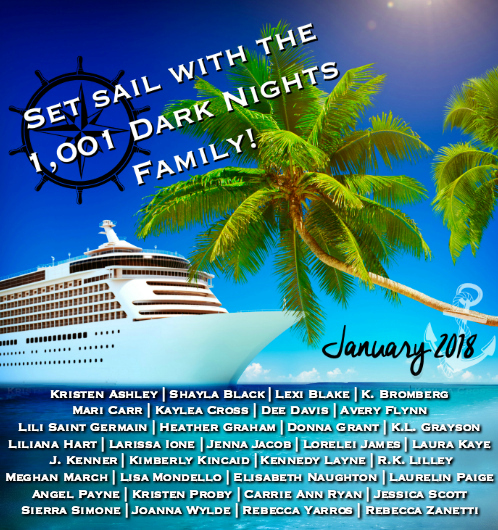 01/11/2018 - 01/15/2018
All Day ET
​SET SAIL WITH THE 1001 DARK NIGHTS FAMILY!
Join

​
Kristen Ashley, Shayla Black, Lexi Blake,
Kaylea Cross, Dee Davis,
Avery Flynn, Heather Graham,
Donna Grant, Liliana Hart,
Larissa Ione, Lorelei James,
Laura Kaye, J. Kenner,
Kimberly Kincaid, R.K. Lilley,
Lisa Mondello, Elisabeth Naughton,
Laurelin Paige, Kristen Proby,
Carrie Ann Ryan, Jessica Scott
Susan Stoker, Joanna Wylde,
​& Rebecca Zanetti
​on this once-in-a-lifetime getaway!
AND Introducing Attending 1001 Dark Nights Discovery Authors!
Mari Carr, K.L. Grayson,
Jenna Jacob, Kennedy Layne,
​Meghan March, Angel Payne,
Sierra Simone, & Rebecca Yarros
4 Night Caribbean Cruise on
Royal Caribbean's
"Brilliance of the Seas".
​
​Departing 11 January 2018
from Tampa, FL
​Port of Call: Cozumel, Mexico.
​
Total cost:
$899*pp Interior Cabin,
$999*pp Oceanview Cabin,
​$1099*pp Oceanview with Balcony
* based on double occupancy
Each guest will receive the following: 
Welcome package including:
​    * 1001 Dark Nights Collector tote bag
* Two – 1001 Dark Nights novellas from attending authors (print versions)
* One-of-a-kind 1001 Dark Nights Cruise t-shirt
*  VIP Lanyard that provides entrance to all 1001 Dark Nights onboard events
* 1001 Dark Nights swag, including limited edition cruise memorabilia
* Lots of author goodies!
And More!

* Exclusive panel discussions and book signings
     * Personalized activities with the authors (specific events TBD)
     * Dinner each night with a different author – authors will rotate among attendee dining tables each evening
* Special meet and greet time with Dark Nights Discovery authors
     * Individual and group photo with all authors
* Exclusive mingle events with the authors
​     * Entry into final-day drawing for exclusive gift baskets filled with Dark Nights goodies and more!
More details to follow!