Shadow Falling
"Sexy, tough, and deftly sprinkled with dark humor." —New York Times bestselling author Larissa Ione
Before the Scorpius Syndrome tore through North America and nearly wiped out the population, Vivienne Wellington was the FBI's best profiler. The bacteria got her anyway. But she survived. She recovered. And when she woke up from a drug-nightmare of captivity, her skills as a hunter of men
had gone from merely brilliant to full-on uncanny. Her mysterious rescuer wants her to put them to the test. But no matter how tempting he is, with his angel's eyes and devil's tongue, Vinnie knows she shouldn't trust him.
If the FBI were still around they would rate Raze Shadow as one of the bad guys. His military training can't wipe out his association with the Mercenaries, the most feared gang in a thousand miles. His loyalties are compromised. He won't even tell Vinnie his real name. But there's no FBI in the new America of fear and firepower, only instinct and risk. And the way his arms wrap around her tells its own story. Whatever else Raze is concealing, he can't hide his desire . . .
Other Books in the The Scorpius Syndrome Series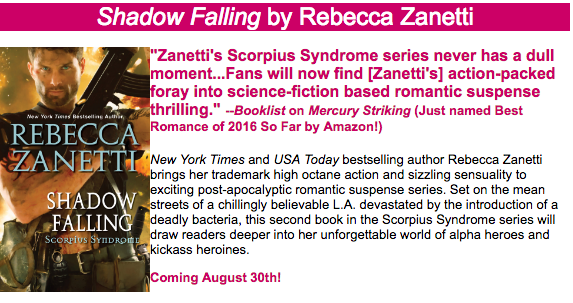 "Thrilling post-apocalyptic romance at its dark, sizzling best!" —Lara Adrian
"This second entry in the series maintains it high level of anxiety and promise for the future of humanity. Even though the women of Vanguard have been stricken with and beaten the contagion, their survival represents hope for the remaining population. Trust is a commodity that is difficult to come by and presents the biggest challenge. This is a heart-pounding tale that is well told."- RT Book Reviews, 4 Stars
"Saying I love this series is an understatement. Rebecca's books are filled with no-stop action, couples worth rooting for, and rich, diverse stories that make readers desperate to read more books in her series." FIVE STARS Jessie from Night Owl Reviews 
"SHADOW FALLING is an action-packed, character-driven, emotional adventure that will have you turning the pages late into the night and hanging on the edge of your seat so many times that you wonder if you'll survive along with the characters." Amy from Unwrapping Romance
"I haven't been this excited about a virus since Stephen King's The Stand. Rebecca Zanetti has me looking forward to the end of civilization. There has to be something wrong with that…" FIVE STARS Lucy from ebook obsessed
"This is one of those books I had to clear my calendar and rest up to read. I knew I was going to pull an all-nighter reading it because once I started, there was no stopping." FIVE STARS The Jeep Diva
"Shadow Falling maintained the same high level of excellence that started in Mercury Striking." FIVE STARS Yearwood La Novela
"I really like the way the action and suspense is written, it made me feel the urgency of the situation. I also loved the budding camaraderie between Jax and Raze as well as the dynamic between the secondary characters. I also loved those quotes at the start of each chapter!" FOUR STARS Zebra from A Fortress of Books
"The characters in this romantic suspense series are interesting, intelligent, and at times, somewhat quirky…This series continues to be quite exciting and intense. While romantic suspense and post-apocalyptic stories abound, this one rises to the top." FIVE STARS Lynn from Outlander Book Club
"Shadow Falling has a sense of familiarity in the plot, but has a nice twist that makes it fresh and highly engaging to read. Add in the always present alpha males and smart capable women. It's a signature Zanetti read." Tanja from KT Book Reviews
"SHADOW FALLING is a breathtaking return to Rebecca Zanetti's vision of a post-apocalyptic world wrecked by the Scorpius virus and a brilliant one at that, unravelling the breadth and depth of the ruinous landscape, its core players and the divided camps where sides must be taken." FOUR STARS Pip from The Romance Reviews
"There were so many things going on this book! It was insanely good!…I adored Raze! He was everything I thought he would be and he definitely lived up to my expectations! I actually really like all of the major characters so far, including those introduced in this book!" FIVE STARS Sofia Loves Reading
"Strong solid plot with just as strong and solid characters, Zanetti does a magnificent job creating this post-apocalyptic world for us to devour. Shadow Falling was an absolute nail biting, page turner read that I highly enjoyed." FOUR STARS Beth from Tome Tender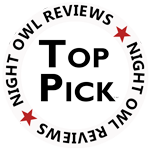 This site contains affiliate links to products. We may receive a commission for purchases made through these links. Specifically, this site is a participant in the Amazon Services LLC Associates Program and Apple Affiliates. These programs are designed to provide a means for website owners to earn advertising fees by advertising and linking to amazon.com, audible.com, Apple Books, iTunes and any other website that may be affiliated with the Amazon Service LLC and Apple affiliate programs.