on July 25, 2023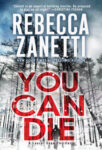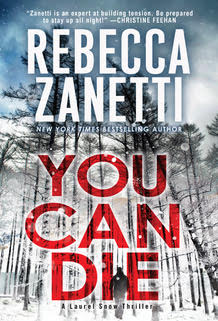 As the scorching July sun beats down, a world of frost and intrigue unfolds within the pages of the newest Laurel Snow Thriller, YOU CAN DIE!
With this new release, FBI agent Laurel Snow, a blend of fierce intelligence and undeniable courage, finds herself in the cold clutches of a peculiarly sinister case. She is drawn to a serial killer with a grim fascination for successful men, Valentine's Day candy, and holy places.
In the midst of this frosty landscape, Wildlife Agent Huck Rivers is drawn even closer to Laurel, turning his grumpiness into a bit of charm. In fact, the warmth of his character, his undeniable toughness, and his strong bond with Aeneas offers an enchanting contrast to the chilling circumstances. I have to tell you…he made my heart flutter a bit in this one.
And let's not forget Abigail Caine—who does not like to be ignored. Oh, she's back and with a vengeance!
While the unmasking of the serial killer may seem far removed from the current summer heat, this killer is closer than anyone anticipates and might chill things down a bit.  Until Huck and Laurel heat up the pages, of course!
I hope you enjoy this one!  😊