ON THE HUNT – SCORPIUS RISING
SCORPIUS RISING – The Scorpius Syndrome, prequel novella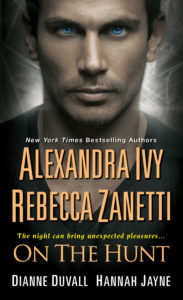 Four of today's most intriguing paranormal authors entice readers deep into the shadows, where vampires, immortals, and other supernatural creatures heat up the night…On The Hunt by Alexandra Ivy
"Chock-full of action, drama & passion. An excellent way to spend your time!"
—Romantic Times
Mika Tanner has loved Bailey Morrell, a beautiful Healer, since childhood. But his duty as a Sentinel, a supernatural guardian of an ancient race, clashed with her rebellious spirit. Now a dangerous new anarchist group not only threatens life as they know it—but any chance of their being together again…

Scorpius Rising by Rebecca Zanetti

With a deadly disease spreading like wildfire across the country, microbiologist Nora Medina needs to focus all her energy on stopping the pandemic. Playing with dynamite—in the form of her way-too-hot ex—is the last thing she should be doing. ?But forced to work with Deacan McDougall against unexpected enemies with the seconds ticking by, she knows the explosion is coming…

Phantom Embrace by Dianne Duvall

Immortal Yuri Sokolov was born with the ability to see spirits, yet he's never seen one as lovely as Cat Seddon, the woman who haunts his home and his dreams. But amid their star-crossed love, a new danger may have Yuri facing a different kind of eternity.

Stake Out by Hannah Jayne

Vampire fashion designer Nina LaShay has a lot on her plate—just two days until fashion week and the model who was flirting with her photographer boyfriend is now a corpse in her studio. But when dead turns into undead and dangerous, Nina must find out who's responsible…before the beautiful baby vamp takes too many bites out of the Big Apple.
Book Buy Links:
Scorpius Rising Excerpt 1:
Wind whistled a mournful tune around aluminum buildings and across the jagged tarmac. Dr. Nora Medina shivered in the damp night air and ignored the water splashing over her flip-flops. The soldiers around her, armed to the nth degree, merely added to the pressure building in her chest.
Her nearly bare chest.
She fought to keep her balance while hustling up the metal steps to the third private plane of her day.
Enough.
She might be the only unarmed person on the quiet tarmac, and the only woman, but enough was fucking enough, because she was also the only person wearing a borrowed white blouse over a pink bikini top, barely-there wrap around her bikini-clad butt, and sandals.
Temper roared through her, and she planted her feet at the top of the stairs, only to slide across the wet surface.
"Ma'am," said the nearest faceless soldier, reaching for her arm.
She jerked free and rounded on him. "I swear, if one more person calls me 'ma'am' or apologizes for the inconvenience of dragging me off a very nice beach in Maui several hours ago, I will take his gun and shoot him."
The man's expression didn't change. "Yes ma'am."
She bit down a scream. "All right. Listen up. We are in Seattle, and I know we're in Seattle." She pressed her hands against chilled hips and tried to stand taller. "Do you know how I know?"
"No ma'am." Well trained, definitely at ease, the soldier kept his gaze above her right shoulder.
"I know," she said slowly and through gritted teeth, "because I looked out the bloody window when we were landing. The next time you kidnap somebody, you might want to blacken out the windows."
"Yes ma'am." He nodded, ever so slightly, toward the doorway to the plane.
"This is kidnapping, and I've had it. We're in Seattle, and yep, guess what? I live here. So I'm going to head home, take an incredibly hot shower, change my clothes, and then call—well, somebody. Anybody who will tell me what the hell is going on." Her rant would end perfectly if she could just get past him on the steps, but he easily blocked her way.
"All apologies, ma'am, but our orders are to escort you. Please embark." He kept his voice level and polite.
She swallowed. There were six of them, one of her, and no way would she win a physical altercation. "Not until you tell me where we're going."
"Nora?" a voice called from inside the plane. "Get your ass in here."
Every nerve she owned short-circuited. Her gut clenched as if a fist had plowed into her solar plexus. Slowly, spraying water, she pivoted toward the opening. It couldn't be. It really couldn't be.
The voice she knew well. Male, low, slight Scottish brogue a decade in the states hadn't quite banished. Her heart thundered, and fire skidded across her abdomen to flare deep. How was this even possible? She steeled her shoulders and approached the plane opening as if a bomb waited inside. So many thoughts rioted through her brain, she couldn't grasp just one..
Scorpius Rising Excerpt 2:
After a useless day of trying to penetrate Scorpius's protein shell, Nora had left her nanoparticle experiments to do their thing. Hopefully there would be results within sixteen hours.
For now, she stood outside Deacan's apartment door, not moving. Her knees wobbled. Agreeing to dinner had been a mistake. A huge-ass, what was she thinking, larger-than-life . . . mistake. She knew better. God, did she know better.
Yet when he'd asked, her heart had leaped. A hard thud against her rib cage—one she hadn't felt in eight years. The previous night, as Zach had battled the fever, she'd actually slept curled up into Deacan's side, feeling safe. Deke had awoken her around dawn with the good news that Zach's fever had passed. She'd waited for a while to talk to Zach, and the second he made a lame joke, she'd known. He would be all right, and more than willing to donate blood and get his brain scanned for a closer look at Scorpius.
So she'd returned to the lab to double her efforts to beat the crap out of Scorpius. The nanostructured materials so far hadn't worked, but she'd only tried silver and titania. She'd try ceria next.
Now, after a full day in the lab and a quick shower in her temporary apartment, she hovered like a weenie outside Deke's place.
If she went inside, she knew exactly where the night would end. Where she wanted it to end—satisfying her curiosity about their past. Had it been as good as she remembered?
She lifted her hand to knock, but the door opened before she made contact.
"I gave you long enough to change your mind." Deacan grasped her arm to lead her into cool air.
She'd forgotten. The way he had of taking charge, of touching, of instantly enfolding her into his space. Even in his early twenties, he'd ruled the atmosphere around him. Now, in his thirties, seasoned and somehow calm, he still made air adjust to him.
Some things never changed.
She stumbled by him and shoved a bottle of wine into his stomach. "I bought red."
He lifted one eyebrow and shut the door, accepting the bottle and releasing her arm. "Thank you."
She swallowed and nodded, her gaze darting around a sprawling room decorated with masculine leather furniture. The room even smelled like him. Spicy and male.
He grasped her chin and lifted her face. "Nora, take a breath."
She tried to appear calm and meet his gaze, but her heart thundered in her ears. "I'm fine."
He blinked, his thumb brushing across her chin. "I won't hurt you, baby."
She frowned and tilted her head to the side, allowing his fingers to remain on her skin. "I'm not afraid of you."
He sighed and released her to run a hand through his thick hair. "Sure you are, and I don't blame you." He turned toward a spacious kitchen decorated with dark granite and stainless steel appliances.
Heat rushed into her lungs, and she grabbed his arm. Hard and sculpted, his muscles moved beneath her palm.
But he didn't turn back, and his shoulders remained stiff.
What was he thinking? She kept hold and walked around to face him. "Deacan?"
His gaze met hers, green and dark. "I remember how it was, and so do you. I've changed, but I don't expect you to believe just my words."
She shook her head, her mind fuzzing. "You're confusing me. I was never afraid of you." Afraid for him, sure. Definitely. But not one minute of their time together had she spent thinking he'd hurt her. Ever.
Reviews for Scorpius Rising and On The Hunt:
** "Four wonderful, unique and intense stories." Four Stars – Cocktails and Books
** "Scorpius Rising by Rebecca Zanetti is going to be one of her biggest hits! It is a nail biting, ripped from the headlines kind of a read. Smart, exhilarating dialogue keeps you turning the pages into the night. Simply put I adore book one and can't wait to get into this series again!" Five Stars – Tanja from KT Book Reviews
** "Four fascinating worlds draw readers in and holds them spellbound thought this anthology. Each story has lots of sizzling passion and romance, danger and excitement and capture the heart as the strong captivating characters strive for their happily every afters and the fast paced smooth flowing plots are well written with vivid details that capture the imagination bringing each one to life while intriguing events keep readers glued to the pages." – Five Stars Paranormal Haven
** "Rebecca Zanetti takes us away from the Realm and into the human world where Kryptonite effects more than just Superman. A meteorite has touched down on earth and its more than just an innocent rock. And those who survive the infection are the most dangerous to society at large. While scientist Nora Mendina struggles to find an antibiotic that will kill it, she also must come to terms with how she still feels about her ex-husband. There might not be any fangs in this one, but enough excitement, action and heat that paranormal fans will still be very happy with this read." Five Stars – Gothic Moms