UPDATE:  Congrats to the following winners! Barbara, Jeana Ross, Wendy R, Sherry Barker, Judy Contino
Hi all!  How is 2016 going for everybody?  Mine has been busy and filled with lots of snow!  Today is the release of the Dark Protector novella bundle, and I thought we should celebrate here with a couple of giveaways.  I will draw names a week from today, during the celebration for the Mercury Striking Release.
Speaking of which, we're going to have a HUGE Facebook Party on January 27th (Wednesday) to celebrate, and I have tons of guest authors, book giveaways, a $100 gift card giveaway, a Versace purse giveaway, etc.  If you click that you're going, you're automatically entered into a drawing to win a Sephora survival kit, even if you eventually can't make it.  Here's the link:

Here's the info on today's release: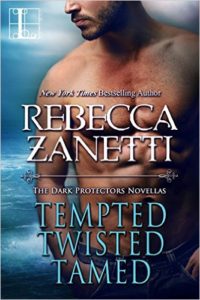 Tempted
On the run from a mental institution and her vindictive half-brother, it's safe to say that Sarah Pringle's happy life as a schoolteacher is on hold. Too bad that as far as self-defense goes, "run and hide" is the best she's got. And with the monsters that started her escape hot on her heels, that's not going to cut it for long…
That is, unless Sarah has a bigger, badder, hotter monster on her side. Max Petrovsky is right at the top of the list of alpha male ass-kickers. And he knows exactly what Sarah's up against. Good thing, because the minute he sees her something primal kicks in, turning everyday attraction into red-hot desire. As long as they're cooperating, why not mix some pleasure with business? Of course, Max should probably tell Sarah he's a vampire himself…
Twisted
In human form, Terrent Vilks is all male animal–dark, ripped, predatory. As wolf, he's unforgettably dangerous, unforgettably hot. Yet Maggie can't remember him…
Not even when she learns she once agreed to mate him. Yeah, that was years ago, before she was kidnapped and tortured, before she lost her memory. Now she knows just one thing about herself–she'll do whatever it takes to bring down the monsters who took her, even trust her ex.
He's got her right where he wants her…
Tamed
Caleb Donovan was never meant to be a prophet. At heart he's a conqueror, his appetites far more carnal than spiritual. He's not inclined to repress his passions and surrender to fate. After all, that's what cost him Lily—three centuries ago. She married another, because it was ordained. Now that he's in the same benighted calling—and forced into proximity with her—all the old desires are roaring back to life…
After widowhood and centuries of celibacy, Lily is eager to explore the wild side of life, except now she's vulnerable to another forced relationship, with an enemy. But this time she's determined to choose her own path. And if hot, furious Caleb comes charging to the rescue, it might just change both their destinies…

Love is about to start conquering…
Also, while I have you, don't forget to check out MERCURY STRIKING, which releases next Tuesday!  Here's the info:
MERCURY STRIKING 
January 26, 2016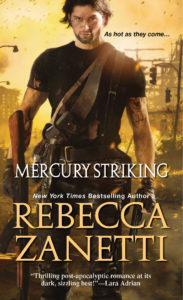 Book #1 of The Scorpius Syndrome series
With nothing but rumors to lead her, Lynn Harmony has trekked across a nightmare landscape to find one man—a mysterious, damaged legend who protects the weak and leads the strong. He's more than muscle and firepower—and in post-plague L.A., he's her only hope. As the one woman who could cure the disease, Lynn is the single most volatile—and vulnerable—creature in this new and ruthless world. But face to face with Jax Mercury…
Danger has never looked quite so delicious…
"Thrilling post-apocalyptic romance at its dark, sizzling best!" —Lara Adrian
"Nothing is easy or black or white in Zanetti's grim new reality, but hope is key, and I hope she writes faster!" —New York Times bestselling author Larissa Ione
Now, for the CONTESTS! 
I will draw five names, and the winners can choose if they'd like a print copy of Consumed, Provoked, Shadowed, or Marked…or ebook copies of Wicked Ride or Wicked Edge.
To enter, you  must answer ONE of the questions below.  (You can answer all of them if you want.)  Good luck!
If you've read the novellas before, which was your favorite and why?

If you haven't read the novellas, which television show are you addicted to right now?

If you're not addicted to a television show, what's your favorite food?