Guest Blogger-Michelle Sharp
Hi all! I'm Charly, Rebecca's assistant. We thought it'd be fun to do a 'Romance: The Good, the Bad, and the Disastrous' theme with guest bloggers throughout the summer months. Every Monday and Thursday, we'll have a guest blogger talk about fun stuff like horrible dates, good dates, etc. Some bloggers will have a contest, and some won't – it's totally up to them. If there is a contest, I'll randomly draw a winner from the post comments, send the winner's email address to the guest blogger, and they'll take it from there. Rebecca will jump in and blog when she can. For now, enjoy as we play!


Woo-Who!!! It's the day after Thanksgiving and I can officially say, "The holiday season is here!"
See, I couldn't say it (or shout it) before today because I'm married to one of those Ebenezer Scrooge types, a bah-humbugger that doesn't believe the Christmas tree should be dug out the day after Halloween. Can you believe that? He's the guy who grumbles when radio stations start playing holiday music before Thanksgiving. Really? How did we even end up together? Why would anyone complain about Dean Martin singing that jazzy little version of Rudolf? I found a picture on Facebook that pretty much sums our whole dynamic in the Sharp household into a neat holiday nutshell.
I am so "Elf." But this year I'm feeling it more than ever. The truth is, I think I need to feel it. Winter of 2014 was a rough year for us. I lost my step-dad to lung cancer. Soon after, my middle son was recovering from a sixteen day stay in the ICU with Pneumonia-let's just say that whole experience was a mother's worst nightmare.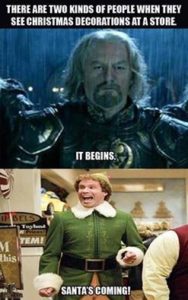 By mid-December, to say that I was feeling drained to the bone would have been a huge understatement. For the first time in 22 years of marriage, the holidays passed for us with none of my usual crazy mom fanfare that my kids love to make fun of. My children put up the Christmas tree, my husband cleaned for the holiday, and me… well, I existed.
2015 came, and as I struggled to climb out of the funk, I inadvertently discovered something most interesting. There is one thing that my family hates worse than Mom's insane holiday overkill—Mom being sad. A few days after Halloween we began talking about the upcoming holidays, my ten-year-old daughter said, "It's not going to be like last year, is it?"
Awe. My heart skipped a beat. Not only was I sad last year, I had made her sad as well. And boy did she remember it. "No baby," I said. "We're having Thanksgiving at our house this year. That means Daddy has to dig out the Christmas tree and put all the lights on the house soon. Very soon." And guess what? He did. Without even one eye roll. Gives a whole new meaning to the saying, "If Momma ain't happy, ain't nobody happy!" Don't you think?
So really, I learned three things last year. First, no matter how hard you try to hide it, children can always sense our moods. Second, even through turmoil, the holidays are a time to be thankful for the wonderful life I do have. And last, most surprisingly, I have a family who depends on my insane (and albeit a tad annoying) holiday cheer.
Well stand back, people. This year: GAME ON! Demanding that everyone participate in decorating the house until it appears as if a Christmas present threw up is my calling. Making everyone wear red Santa hats Christmas morning is my job. The dogs will just have to get over it. Santa CANNOT be everywhere, that is why I am here. To wake you up with holiday bells every morning in December. To perform the female half of "Baby, It's Cold Outside" with Barry Manilow every time it comes on the radio. My holiday enthusiasm is a service I provide—and you're welcome.
My name is MOM. But you may call me ELF.
Michelle Sharp
www.michellesharpbooks.com
ABOUT MICHELLE:
Award-winning author, Michelle Sharp, has been nominated for a 2014 National Readers Choice Award for Best Romantic Suspense and Best First Book. In addition, her debut novel Dream Huntress has been selected as a finalist in the 2015 Daphne Du Maurier award for Excellence in Mystery and Suspense. Although she has a degree in Journalism from Southern Illinois University, she finds weaving tales of danger, deception, and love much preferable to reporting the cold, hard facts. Her goal in life? To team resilient, kickass heroines with the sexy Alpha's who love them.
As most authors probably are, she is an avid reader. Her family may even call it obsessive. Growing up in St. Louis has made her a die-hard Cardinals fan, and having a child with Down Syndrome has made her passionate about any issue regarding special needs kiddos. She's also a fairly big sucker when it comes to anything with fur or feathers.
Michelle is a proud member of Romance Writers of America and Missouri Romance Writers. You can learn more about her at michellesharpbooks.com, where you will also find links to her social media.
FAVORITE QUOTE:
from Michelle's newest Jordan Delany – Dream Seeker Series:
1)  "I don't need therapy. I have a gun." –Jordan Delany in DREAM CALLER
LATEST RELEASE: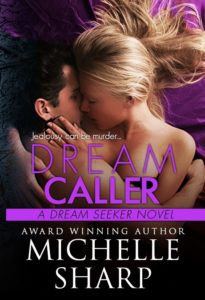 Dream Caller
Jordan and Ty are finally together, as in living together—mortgage and all. Now they intend to enjoy a little down time. They've purchased an aging horse ranch with plans to renovate, but their domestic bliss is put on hold when Ty is called in to investigate a murder case.
Coincidently, an unusually graphic nightmare about a young college student's murder catches Jordan by surprise. In the dream, Jordan can see the girl's pretty blonde hair. She can see the snowy ravine the girl was strangled in. Most shockingly, this time she can even see the killers face.
Being at home and still on vacation is making it challenging to figure out how to connect with this latest victim, until Jordan visits Ty's precinct and recognizes a young man in interrogation as the murderer.
When Ty insists the suspect is innocent, Jordan debates just how far into Ty's career she can interfere. Influencing another cop's investigation on the basis of a dream is a line she's never dared to cross. Even if the other cop is the man she loves.
Making the situation all the more frustrating is the sexy, red-headed Isobel Riley from Missouri Highway Patrol who is partnering with Ty for the duration of the case. And Isobel is a lot more than a mere detective consultant—she's Ty's ex-lover.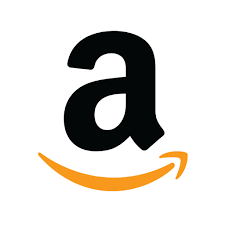 GIVEAWAY:
Leave a comment for one of three chances to win an e-copy of DREAM CALLER.