Guest Blogger-Boone Brux
Hi all! I'm Charly, Rebecca's assistant. We thought it'd be fun to do a 'Romance: The Good, the Bad, and the Disastrous' theme with guest bloggers throughout the summer months. Every Monday and Thursday, we'll have a guest blogger talk about fun stuff like horrible dates, good dates, etc. Some bloggers will have a contest, and some won't – it's totally up to them. If there is a contest, I'll randomly draw a winner from the post comments, send the winner's email address to the guest blogger, and they'll take it from there. Rebecca will jump in and blog when she can. For now, enjoy as we play!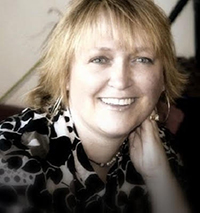 Dating my husband was hazardous to my health. There were numerous death-defying outings over the course of our relationship, but our first date was the one that set the tone.
I'd just arrived in Barrow, Alaska. If you're not familiar with where Barrow is, it's at the top of the world, above the Brooks Range in the Arctic. I'd taken a job and was excited to start my adventure. I met my husband on the first day in Barrow, but we didn't have our fateful first date until a few weeks later.
It was September and already getting cold. For the most part the tundra was frozen and my husband thought it would be fun to go on an Argo ride. An Argo is an all-terrain vehicle that looks like an enclosed golf cart with tracks like a tank. Perfect for the Arctic landscape. Like any single woman, approaching thirty, I wanted to look irresistible. We'd be inside the Argo and I figured I'd be warm enough. It never dawned on me we'd end up in a Survivor-type outing. Still, it was the Artic and had been told repeatedly to be prepared. At the time my definition of being prepared equated to a pair of long johns under my jeans and a thick pair of socks. I wore a shearling coat that had one button around my cleavage area and a knit headband instead of a full stocking cap. After all, I was trying to look cute and in order to do that I couldn't smash down my hair. I also wore hiking boots and mittens. No scarf. No snow boots. No clue.
A thrill of excitement raced through me when we started across the tundra, driving along the Arctic shore. My husband pointed out different sights of interest, including Hollywood, which was the location for a movie they'd shot years before. At Hollywood we turned inland, chatting, laughing, and flirting. The date was amazing, better than I could have hoped for, and I was definitely feeling adorable in my knit headband and stylish jacket.
Then disaster struck. The Argo dipped into a ditch, but instead of coming out on the other side, the tracks spun uselessly in midair. A chunk of ice jammed against the center and hung up the machine. In a word, we were going nowhere fast. The obvious solution was to get out and push. When we stepped out of the Argo our feet plunged into calf-deep, icy water. The frigid liquid flowed over the tops of my boots, soaking my feet and instantly chilling me. So not good. Undaunted, we slopped through the water and pushed, feeling we'd be all right if we could get unstuck and drive back to town.
Unfortunately, no amount of pushing was going to get that machine off the ice. We also attempted to MacGyver it with planks of wood we found.  After breaking them into chunks, we plunged our hands into the chilling water, shoving the wood under the tracks for lift and traction. Here's the problem with wood—it floats. Keeping the pieces under the tracks was like trying to herd frogs. After several valiant, and frankly praiseworthy, attempts we abandoned the Argo and headed toward town. Let me remind you that I was wet up to the elbows and drenched to the calves? Thankfully, temperatures were above freezing and I was wearing real mutton, which held in the heat even though I was wet.
Before starting out, my husband slung a large gun across his back. Unnerving, but not unexpected. But as we walked, I noticed his gaze constantly scanned the area. When I asked what he was looking for, he calmly replied, "Polar bears." I think I might have peed myself a little bit at that point.
About that time the weather turned on us. A thin, icy mist blanketed everything, including me. The hairstyle I'd spent considerable time on drooped down my forehead and slicked to the sides of my face. How I wished I had a stocking cap when tiny chills began racing through my head and down my neck.
Five hours we walked, scanning for predators, my body temperature plummeting, and the visibility dropping to a mere few yards in front of us. I didn't even know if we were headed in the right direction. It wouldn't have been surprising if we had walked in a hug circle or wandered even farther onto the tundra.
About a mile out of town we were able to catch a ride from a couple in a pick-up. Of course we had to ride in the back, but anything was better than walking the rest of the way.
Nearly six hours later we arrived home. Not once during our arduous trek back did I complain. Not a peep. Not a negative barb. That very fact is talked about in hushed tones of awe even today. It was an amazing feat I probably couldn't repeat today, but for that excruciatingly long and chilling trek across the tundra I was the perfect date. Little did I know it wouldn't be the last time he tried to kill me on an outing, but I married him anyway.
 ABOUT BOONE:
As a bestselling author, Boone Brux's books range from high fantasy to humorous paranormal.
Boone has lived all over the world, finally settling in the icy region of Alaska, where she writes full time. Always looking for the next adventure, it's not unusual to find her traversing the remotest parts of the Alaskan bush. No person or escapade is off limits when it comes to weaving real life experiences into her books.
LATEST RELEASE:
Bridesmaid Blues: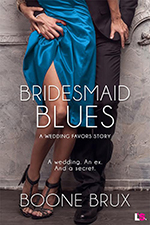 Maid-of-Honor Dani Brown can handle anything that comes her way when it comes to her best friend's wedding. That is, until the bride asks for a huge favor-D
ani needs to distract the best man, who happens to be Dani's ex. The ex she has fantasized dismembering for a year now. The ex she'll have to suck it up and play nice with if this wedding is to go off without a hitch.
Businessman Jamie Kingsland is back in Seattle for a wedding. There's just one problem – the maid of honor wants him dead. Except she doesn't. Even though he knows he broke her heart last year when things got too serious and he panicked and left, she's being way too nice about it now. And it scares him.
Something is up with his favorite bridesmaid, and he's determined to find out what…