Guest Blogger-Jolyse Barnett
Hi all! I'm Charly, Rebecca's assistant. We thought it'd be fun to do a 'Romance: The Good, the Bad, and the Disastrous' theme with guest bloggers throughout the summer months. Every Monday and Thursday, we'll have a guest blogger talk about fun stuff like horrible dates, good dates, etc. Some bloggers will have a contest, and some won't – it's totally up to them. If there is a contest, I'll randomly draw a winner from the post comments, send the winner's email address to the guest blogger, and they'll take it from there. Rebecca will jump in and blog when she can. For now, enjoy as we play!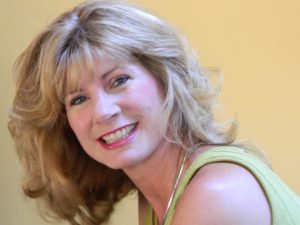 I was in the middle of revisions for my second book in my small town contemporary romance series when I got stuck. I was reworking a section where my hero was in a mood, annoyed with his man part for acting up whenever he thought about the heroine and how it was disrupting his daily routine. You know, the typical hero problem. Anyway, the scene was in the hero's perspective and he was mulling over the situation when I got to the place where I'd need to write the word he'd use for it. Hmm? I know what I'd call it, but what about him? Would he use the medical term? I hope not. I avoid that word. It's sort of like the word moist. Ick. That left me with slang. But which term to choose?
As you might've guessed by the title of this post, I chose the C word. Yes, that one, the term made popular in erotica and now gone mainstream. Some of you may not blink twice upon seeing it, others may pause and say, oh, okay, depending on who uses it how and where in a particular story, while others may screech to a halt and not finish the book. I get it. Readers have generational and cultural differences that cause them to react differently to the same word. Believe me, I pondered long and hard over the C word before I chose it. (No pun intended here nor anywhere else in this post. Seriously.)
To put my ultimate decision into perspective, here's Exhibit A: I was reading a book by one of my favorite romantic comedy authors and noticed she used the C word throughout her novel. I was surprised, as it's not a word I'd seen much anywhere outside erotic romance prior to that story. Had I missed the romance author memo about this newest trend? I did have to admit that I'd also been recently cautioned by my lovely editor to tweak my twenty-something characters' dialogue to ensure it reflected their ages. If I recall correctly, she wrote something about one of their conversations sounding like they were channeling their grandparents. Ouch. I know I'm not as young as I once was, but I'm not that old either. We'll label my editor's feedback as Exhibit B. Then there's Exhibit C, an email from my publisher sharing marketing stats indicating readers want more descriptive love scenes (i.e, the more graphic, the better).
Those factors led me to more research. I turned first to my twenty-something daughter, away from home, but always available via text. Gotta love technology. Keeps me from missing her to the point I can't breathe. Since she and I are very busy and very close, I figured she'd know where I was coming from when I got right to the meat of it: You know a lot of guys at med school. Can you ask them what they call their man part? Now, before you think I'm a prude or are wondering why a young woman at med school can't tolerate reading penis in a text from her mother, understand that I purposely didn't use the word to avoid tainting my survey results. I'm a professional, you see.
Daughter responded immediately. TMI, Mom. No can do. Sorry.
Maybe I should've prefaced my question with more information. Why not? It's for my book.
I figured, but no. I'm not going to ask my friends that. Love you though.
Love you too, I responded, realizing at that moment that perhaps I'd raised a very old-fashioned-minded girl like me. Not that it's a bad thing, but it meant I'd have to brave asking someone else for the answer I so desperately sought.
Many authors use social media to ask questions related to their writing quandaries, and I agree it can be a great venue for certain topics, but I hesitated posting a question on my VERY public author page about men's private parts that some may construe as an invitation to send me pictures or diagrams along with their favorite terms. No, thank you. I wanted the information, but not at the cost of my vision.
I know, I know, my significant other would've seemed like the most logical person for me to approach before going to such lengths everywhere else. However, at that late stage in the revisions process, I'd sadly overstayed my welcome with my soulmate in the can-I-ask-you-a-quick-question-about-my-book department. Not to mention he has been known to remind me on occasion that I'm the romance writer in the family, not him. So I sucked up my discomfort, evaluated all the collected data, and inserted that four-letter word into the story, reassuring myself Mom and Dad would forgive me. I was doing my job, staying relevant in a changing world. It's not like my hero was yelling it in the schoolyard or even thinking it in the presence of others. So there the C word stayed, on page X of my manuscript. I was okay with it. Really.
Until one day a few months later…
My husband was bored (or so he said), and he read my newest release while I was away at a writer's conference. The morning after I returned home, we were enjoying a breakfast of eggs and bacon in our sunny kitchen as a couple when he asked, "Why'd you use the C word in His Kiss?"
I stopped mid-bite. "I was writing in the guy's perspective."
"Guys don't call it that," he replied, rolling his eyes.
"Yes, they do." I set down my fork.
He laughed. "Maybe that's what women think guys call it or want to call it themselves, but I'd never use that word, and I'm a guy."
I couldn't argue with that. "You're a middle-aged guy. My hero was thirty. He'd use it."
"Did you ask a thirty-year-old guy?"
I scrunched my nose at him.
"Yeah, I didn't think so," he said, knowing me all too well. "I just don't get why you wouldn't have him call it a dick." He smiled over the rim of his coffee mug.
"Oh." In my quest for the perfect term, I hadn't given that one much consideration. "Are you sure?" I asked, not one to let things go until I'd analyzed them to death. "I thought about that word, but couldn't imagine a guy referring to it that way. It's so…normal, derogatory even. Don't you guys call each other a dick when you're ticked off?" I tried not to fret over ticked and whether that word would be used by a thirty-year-old guy.
"Trust me. That's what guys call it."
Our sixteen-year-old son walked into the kitchen. "What're you two talking about?"
"Nothing," we answered.
A few weeks later, my husband arrived home with a bunch of his golfing buddies, guys we've known since we were teens. You know, like family. The topic of my writing came up and they asked about the latest release. I used the opportunity to conduct a follow-up study and asked them what they would call it—to themselves, not anyone else. They all gave the same answer. Every. Single. One.
Now, just because they all agreed with my husband doesn't make him right. It could've been an elaborate set-up, for all I know. None of those friends are thirty either. If they were, I certainly wouldn't have been bold enough to ask. The guys I do know in their late twenties or early thirties are either my nephews or my nieces' husbands. Wouldn't that be a great conversation starter at the annual family picnic? Oh well. I suppose I could ask a friend to survey random guys in the appropriate age range for me, but that seems so grade school.
FYI – I'm writing another book. This one doesn't include the C word. I've graduated to the letter D.
ABOUT JOLYSE:
A country girl at heart, contemporary romance author Jolyse Barnett is living her own happily-ever-after in Long Island suburbia with her real-life hero, two incredible children, and furry feline that thinks she's a dog. When she's not reading or writing, she enjoys a fulfilling day job and exploring the world one getaway at a time. Connect with Jolyse and find all her book news at http://jolysebarnett.com.
FAVORITE QUOTE:
"I'm here for you Abby. You're not going to scare me away."
Was that a catch she heard in his voice? She opened the truck door, plopped onto the leather seat, and promptly burst into tears. Great, he'd totally ruined everything. He was too damned sweet. With her luck, she'd fall for him like she had from that infernal machine. Hard.
~ Quote from One More Sunset
LATEST RELEASE:
One More Sunset: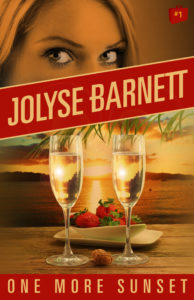 Some people run for exercise. Others run for fun. Abby Stone spends most days running for her life.
After Abby Stone's ex-boyfriend shows up at her new hideout and she uses a bottle of wine as an impromptu weapon, calling the police is out of the question. His family has a knack for erasing charges and pesky restraining orders. Desperate, she prays for help. A magical suitcase appears and she's compelled to play an unsettling game involving a sexy, kind stranger while staying one breath ahead of her stalker.
Dylan Reece has overcome tragedy and enjoys life as a single Key West handyman and fisherman. Yet Abby's sad, wary eyes hold secrets and a chance for his redemption, if not more…
Will the magic of their love be enough to save them?
GIVEAWAY: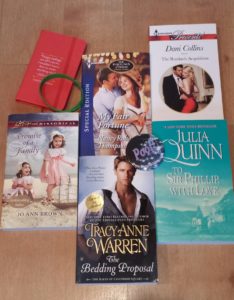 Now it's your turn! What's one of your embarrassing moments OR a time when you didn't follow your gut and later regretted it? Leave a comment for a chance to win…
One lucky commenter of this post will receive a signed paperback of my newest release, One More Sunset, AND a selection of romance books I gathered in New York City at RWA15 (see photo) PLUS bonus swag (some not included in picture—it's a surprise).
Can't wait to hear your stories!
*US residents only, with valid mailing address. My apologies to international readers.