Guest Blogger-Ayesha Patel
Hi all! I'm Charly, Rebecca's assistant. We thought it'd be fun to do a 'Romance: The Good, the Bad, and the Disastrous' theme with guest bloggers. Every Friday, we'll have a guest blogger talk about fun stuff like horrible dates, good dates, etc. Some bloggers will have a contest, and some won't – it's totally up to them. If there is a contest, I'll randomly draw a winner from the post comments, send the winner's email address to the guest blogger, and they'll take it from there. Rebecca will jump in and blog when she can. For now, enjoy as we play!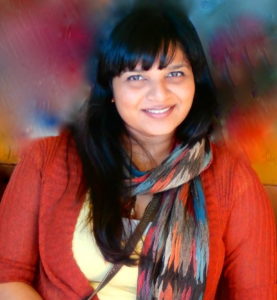 Thank you so much for of having me today, Rebecca! I wanted to share a little something about a weekend date my husband and I had. We share a million funny moments, but we're not date people. We always just go out and do what we want, but I guess those could be considered dates. However, when we make weekend getaways, we dub them "dates". But no pressure!
For the longest time, and I have no idea why, I've wanted to attend high tea. (As it turns out, there's a big difference between high tea and afternoon tea, and the latter was actually the image in my head.) After much persuasion, he agreed. I found this quaint little tea place in Victoria Canada called The White Heather Tea Room. You guys have to go there! You won't be disappointed. It's much smaller and cheaper than the big touristy tea room at a nearby famous hotel, and this is where the locals go. If we've learned anything about being tourists, it's eat where all the locals eat, and everything here is delicious!
Hubs had to offset all this daintiness by going to an Irish pub the night before and get manly. But let me tell you about this favorite place of his. Yes, it has a great atmosphere, not too rowdy, great live Celtic music after 8, delicious food, lovely architecture…and bartenders. In. KILTS. No joke. The girls were short kilts, too, yeah, yeah…whatever…but handsome men IN KILTS. Plus I love plaid. And the hero of my last book is Irish. Yes, please.
I'm not the sort of girl who ogles other men or has eyes for anyone other than my sweetie, but hubs is the biggest joker. So guess what he does? Tries to get me to drop my fork when the bartender brings drinks to the table. He has the camera. He's ready to film. And I'm mortified. He's laughing so hard because I just don't think to do things like that, much less actually do them! I didn't drop my fork. Sorry, ladies. I didn't have the guts to play along.
The next day, we skip breakfast and head to afternoon tea. The biggest three-tiered silver platter sits in between us. One layer full of delicious scones, the next little sandwiches and mini-quiches, and the top filled with an assortment of itty bitty desserts. We have lemon curd and clotted cream and raspberry jam. We have an assortment of house teas and honey and sugar and cream. You think that between a girl who can eat and a man who eats three times as much as she does, that we would devour it, right? We never finished. Desserts are to take home. But let's not forget the big picture. We have photo proof of a six-foot tall, athletic, jack-of-all-trades, meat-loving, beer-chugging, nobody-better-mess-with-my-woman man with a cloth napkin on his lap, a hand on lace tablecloth beside a tiny spoon, and drinking tea out of a delicate teacup with pinky up. Yep.
The man loved it. And he's man enough to admit it. Not even that, he tells everyone about it and why they should try afternoon tea. A few days later, I heard him leave the house and went outside to see what he was doing because he'd been outside for so long. I kid you not, I walk outside and see hubs chatting with a Hell's Angel still on his motorcycle, telling him why afternoon tea should be on the top of his list of things to try. Here is a tattooed, burly man rubbing some intimidating facial hair in contemplation of how to get his girlfriend to try this, because as he said, his old lady is a beer chick and wasn't going to go for some frilly tea. I can believe that my husband is talking to just anyone like they're best friends. He's just that outgoing. But I couldn't believe he'd just convinced this random bad you know what with an equally bad you know what girlfriend to get excited about afternoon tea.
The power of dates. It changes lives.
Blog: www.ayeshapatelwrites.com
Twitter: ByAyeshaPatel
ABOUT AYESHA:
Ayesha was born in colorful Gujarat India, raised in Texas, and now wanders nearby Hawaiian beaches for the next breathtaking picture. With a love for literary things, diversity, culture, and food, she intends on stepping foot in as many corners of the world as time allows. Her head is always in the clouds but she occasionally comes back down to pen her next piece of multicultural fiction.
LATEST RELEASE: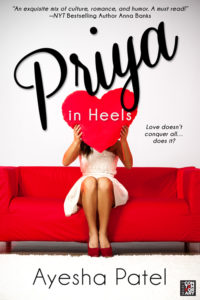 Priya in Heels
Priya Patel strives to be the perfect daughter for her traditional Indian parents. With her medical residency underway, she faces the inevitable pressures to marry an Indian man of her parents' choosing. She's perfectly content to do so until the Irish-American musician down the hall gets her attention and destroys everything she has worked so hard to build.
Tyler O'Conner can't stop thinking about the beautiful doctor who treated his sprained ankle in the ER. But between weekend band gigs, an intense workload at NASA, and trying to lower Priya's barriers, he doesn't expect to fall in love…with a woman who is meant to marry another man.
Priya struggles to maintain her relationship with her parents, to be their source of happiness, but falling for an American might be the one thing that unravels their world and leaves her in tattered pieces.