Guest Blogger-Debra Elise
Rebecca, thank you for hosting me today and allowing me to corrupt, …. er I mean share with your readers some of my thoughts and pictures of hot bad boys.
Hi everyone, my name is Debra Elise and I write contemporary and romantic suspense. My debut novel, Saving Maverick, a sports romance, just released on April 4th. Since my hero is a hot bad boy baseball player, I thought it'd be fun to discuss the best ah, parts of the game. Like the sometimes form-fitting jerseys that show off the players muscled biceps and triceps or the tight pants which hug the gluteus maximus and show off the thigh muscles ever so fine. Or the difference between a cut ball pitch and a slider, but I digress.
Now don't get me wrong I watch the players, I mean the baseball game for many reasons. For example, I really enjoy it when they run the bases and if in doing so I notice how that action showcases the for mentioned derriere and thigh muscles, well who am I to complain? However, in all seriousness I grew up around a baseball field. My family spent all our time at games either coaching, playing, keeping score or most importantly, watching.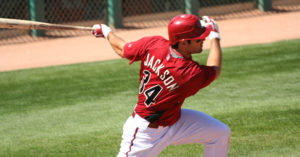 To this day the smell of freshly mowed grass brings back childhood memories of heading to the ballfield at the crack of dawn for tournaments and concession stand hotdogs and Fritos smothered in chili (which still makes me nauseous just thinking of that combo, but that's a whole different story).
So, who here loves baseball? But more importantly the men who play the game? You can't see me, but my hand is raised and waving frantically. Right now I'm thinking about a few of my favorite players, one in particular. He's fictitious, and looks a lot like Chris Pine. He's a bit broken but where women are concerned, he's quite the catch.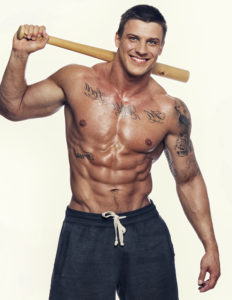 His name is Maverick Jansen and in my book, Saving Maverick, he's the star pitcher who goes through a life changing event which sends him reeling and he handles it… not so well. The team owner needs the help of a top public relations expert, Kelsey Sullivan, who has some issues of her own when it comes to egotistical playboy baseball players.
Mav and Kelsey's attraction is instant, yet too many obstacles stand in their way. Baseball brings them together, but it also might be the very reason that keeps them from their happily ever after.
In the comments below, share with me your favorite team or player, if you have one. And if you just watch the game for the… uniforms, who am I to judge? 😉
In my house, we root for the Mariners and right now, Robinson Cano is killing it with four homeruns just five games into the season. And he fills out his uniform quite nicely. Not that I've noticed or anything.
Happy reading!
Debra
PS – Be sure to visit me on my website and check out the giveaway page (I'm giving away a Kindle Fire as well as other great prizes) and/or sign up for my newsletter.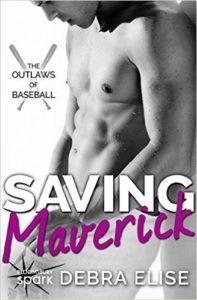 SAVING MAVERICK by Debra Elise (The Outlaws of Baseball, Book One)
Maverick Jansen and Kelsey Sullivan fall into a complicated game of PR strategy by day and searing passion by night where they both find a new meaning to fast and hard.
He needs someone like her …
Rand 'Maverick' Jansen has what it takes to be the star pitcher of the Idaho Outlaws—talent, talent and more talent. Trouble is, since his younger brother's death in a car wreck, a mysterious 'injury' to Mav's throwing arm has him sidelined. And trying to find solace in a series of all-too public drunken parties isn't aiding his cause with the league, or the team's owner. If Mav doesn't accept help to work out his grief and repair his reputation, he may end up in the dugout for good. He just didn't expect that help to come from a gorgeous little spitfire in sexy stiletto heels.
She needs to stay far away from guys like him …
Kelsey Sullivan is a publicist, and a good one. She's not a big fan of bad boy baseball players. But when the owner of the Outlaws, a close friend, asks her to take his star pitcher from media strike out to home run, she has to say yes. But she'd rather eat her favorite Chanel purse. Mav Jansen is everything she's spent her adult life staying far, far away from—a sports celebrity who seems to consider the world his personal playground. She just didn't expect him to be quite so gorgeous and irresistible.
When life throws them a curve ball, is it too late to learn that love can save them both?
Saving Maverick is available at these retailers:
Amazon: http://amzn.to/1Re486Y
Nook: http://bit.ly/1UVOwLZ
Kobo: http://bit.ly/1YhkZe3
iBooks: http://apple.co/23fsitA
PPS – I'll be in Las Vegas from April 13th-16th at the RT Booklovers Convention. I'll be signing at the Giant Book Fair on the 16th from 10:30-2:00p at the Rio All-Suite Hotel and Casino, and I would love to see you! If you're in the area, they have day passes still available. https://www.rtconvention.com
Debra Elise lives with her husband and their two sons in the beautiful Pacific Northwest. She loves to read, nap, write, and watches entirely too much T.V. (Blacklist and Mr. Robot are two of her current obsessions). She also enjoys hanging out with other author-type individuals and teasing her three 'boys' into displaying their killer smiles. Most days find her carpooling, avoiding laundry and daydreaming about her characters and how to make them come alive for her readers.