Guest Blogger-Shoshanna Evers
Hi all! I'm Charly, Rebecca's assistant. We thought it'd be fun to do a 'Romance: The Good, the Bad, and the Disastrous' theme with guest bloggers throughout the summer months. Every Monday and Thursday, we'll have a guest blogger talk about fun stuff like horrible dates, good dates, etc. Some bloggers will have a contest, and some won't – it's totally up to them. If there is a contest, I'll randomly draw a winner from the post comments, send the winner's email address to the guest blogger, and they'll take it from there. Rebecca will jump in and blog when she can. For now, enjoy as we play!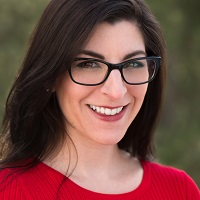 At heart, I'm an old-fashioned girl… after living with my best girlfriend for six years running, and a year of serial-dating men I met on an online dating website, I was done. Ready to settle down— but not ready to settle for anything less than a man who would be the perfect husband for me.
DH had just moved to Los Angeles, and I was the first date he had from the dating website. He was my…(ahem) 100th? But DH immediately stuck out from the crowd. He brought me flowers on our first date at Coffee Bean (I never met up at a bar or at night—too dangerous. Coffee for twenty minutes in the afternoon, in public, was my first-date modus operandi).
He paid for my coffee and held the door for me. Bonus points for that, because chivalry.
He asked me questions and actually listened to the answers! Who does that anymore? Not the men I had been dating. Double bonus points.
He had some dog hair on his shirt. I LOVE DOGS. Triple bonus points.
That first date went beyond the twenty minutes of coffee-time I had originally allotted him. We hung out all night talking. From that moment on, we were a couple. He texted and called me every day, without me having to wonder if he was into me or not. No games (crazy, right?!).
After six weeks, on the same day he first told me he loved me, he proposed marriage. I said yes! It was fast— really fast. But it just felt like a perfect fit. Eleven years, one child, and numerous dogs later (we have 3-4 at all times), I am still so grateful to God for dropping this incredible man in my lap.
If you're looking for a relationship but haven't found The One yet, keep the faith! They're out there, looking for you, too.
xoxo Shoshanna Evers
Sexily *Evers* After… ShoshannaEvers.com
New York Times and USA Today Bestselling Author
Sign up for my newsletter to hear about new releases first, and read excerpts you won't find in the sample pages!
 ABOUT SHOSHANNA:
New York Times and USA Today bestselling hybrid author Shoshanna Evers has twenty-plus romance novels and novellas published, including I Am Not Your Melody, The Enslaved Trilogy, The Tycoon's Convenient Bride…and Baby, and How to Write Hot Sex.
In the past she was a syndicated advice columnist in New York and a registered nurse, but now she's a full-time writer and a home-schooling mom in the mountains of northern Idaho. Evers is also the cofounder of SelfPubBookCovers.com, the largest selection of premade book covers in the world.
Books on Amazon | B&N | iBooks | Kobo | ARe
Twitter | Facebook | Goodreads
UPCOMING RELEASE:
Shoshanna's Short Shorts: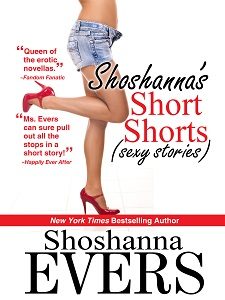 If you're in the mood for a quickie (ahem), you'll love this collection of eleven sexy short stories from New York Times and USA Today bestselling erotic romance author, Shoshanna Evers — "Queen of the erotic novellas." (Fandom Fanatic). This collection pulls Evers' published stories together from nine different anthologies into one volume. Includes a never-before-published story, plus the bestselling Overheated!
On preorder for just 99c! Releases 7/28/15
(Direct buylinks coming soon. These links take you to the author's books at that retailer.)
From Shoshanna's Short Shorts (Falling Ashes)
© 2015 Shoshanna Evers. All Rights Reserved.
The lust in Shayne's eyes made her believe him. Tonight, she was beautiful.
"You lay back now," he ordered. "It's celebration time. I ain't stoppin' till I hear you scream my name so loud the neighbors can hear."
"Ain't no neighbors," she said breathlessly, slipping easily into his casual way of speaking. Her fingers gripped the cool sheets beneath her hands, grasping as if the world had tilted on its axis.
"That's what I'm talkin' about."
GIVEAWAY:
Shoshanna Evers will give away an ebook of The Tycoon's Convenient Bride…and Baby from Entangled Indulgence to one commenter!