Guest Blogger-Audra North
Hi all! I'm Charly, Rebecca's assistant. We thought it'd be fun to do a 'Romance: The Good, the Bad, and the Disastrous' theme with guest bloggers throughout the summer months. Every Monday and Thursday, we'll have a guest blogger talk about fun stuff like horrible dates, good dates, etc. Some bloggers will have a contest, and some won't – it's totally up to them. If there is a contest, I'll randomly draw a winner from the post comments, send the winner's email address to the guest blogger, and they'll take it from there. Rebecca will jump in and blog when she can. For now, enjoy as we play!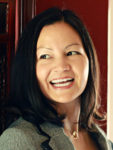 I confess to not dealing very well with summer weather in the Northeast. Having grown up in a part of Texas where summers were so dry that my legs would be covered in dust after walking for just a few minutes outside, the muggy damp yuck of Boston still baffles me. It's invariably so humid that all I want to do is build a blanket fort around the air conditioner, crawl inside, and refuse to come out until September. So it's no surprise that I often find myself escaping to the beach almost daily during July and August. There are some gorgeous stretches of coastline along the Atlantic, with beaches ranging from tide-pool-strewn rocky to shining-white sandy.
The water is cool and the air is fresh along the shore, but the best part about going to the beach is that I have an opportunity to add to my Collection of Creepy Things. That's what my hus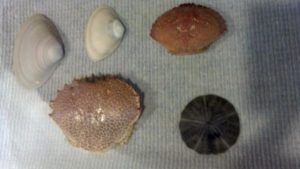 band calls it, anyway. I think my assortment of crab shells, bird bones, and polished rocks is actually pretty awesome! And my kids think it's cool, too. We love picking up strange-looking items from the beach and taking them home to display on a special shelf. One time, we even found some fish teeth!
Right, so…at this point you're probably either completely grossed out, or you're just kind of wondering what this has to do with books. (Or both.) Well, another thing I like to do at the beach is read romance novels, of course! And this year, I'd love to get some recommendations for romances that feature characters who collect things. Maybe it's shells, or rare coins, or beer bottles. Maybe it's cats. Or even books (that person would be my instant BFF)!
But no matter what the collection entails—even if it's creepy—I'd love to hear your suggestions for good romances in which a character is a collector of something. I'm looking forward to taking those books to the beach…maybe it'll even inspire me to start a bookmark collection!
AudraNorth.com
twitter.com/AudraNorth
facebook.com/AudraNorthAuthor
 ABOUT AUDRA:
Audra North fell in love with romance at age thirteen and spent the next twenty years reading as many romance novels as she could. Even now, after having read over one thousand of them, Audra still can't resist the lure of a happily ever after, and her collection continues to grow. She lives near Boston with her husband, three young children, and a lot of books.
FAVORITE QUOTE:
"He ignored the temptation to reach out and touch her, to show her that his hands weren't soft, but if she begged nicely, they could be gentle in just the right ways."
~Excerpt from IN THE FAST LANE, upcoming release by Audra North
UPCOMING RELEASE: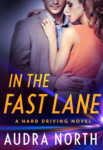 IN THE FAST LANE:
LIFE IN THE FAST LANE
Racing cars is in Kerri Hart's blood–literally, since it's the family business. But Hart Racing is in dire financial straits, and as the only female rookie driver, Kerri's sponsorship offers always tend to be of the unzipped racing-suit variety. It's a message she'd rather not sell to her young fans. But how can she afford not to?
LOVE ON OVERDRIVE
Ranger Colt knows how to make a woman's heart race. But when his voice pops up on Kerri's headset–while she's in mid-tailspin–she's in no mood for his charms. Colt Hardware now has a significant stake in the Hart family business, and Kerri has no choice but to work with him. But when her ex-boyfriend makes a very public, tabloid-fodder scene that threatens to tarnish her image, it's Ranger who comes to the rescue. Pretending to be engaged to generate some good publicity seems like a good plan. In fact, it works–all too well. What begins as a ruse is revving up to feel a whole lot like the real thing. Will Kerri and Ranger's fake-lationship take a wild turn. . .and lead them toward the finish?
"The type of book that keeps you up late into the night, In the Fast Lane is utterly addictive and completely satisfying. Audra North has her finger on the pulse of contemporary romance-flawless writing, smart heroines, and sexy-as-sin heroes."- Lauren Layne, USA Today bestselling author