Guest Blogger-Kate Meader
Hi all! I'm Charly, Rebecca's assistant. We thought it'd be fun to do a 'Romance: The Good, the Bad, and the Disastrous' theme with guest bloggers throughout the summer months. Every Monday and Thursday, we'll have a guest blogger talk about fun stuff like horrible dates, good dates, etc. Some bloggers will have a contest, and some won't – it's totally up to them. If there is a contest, I'll randomly draw a winner from the post comments, send the winner's email address to the guest blogger, and they'll take it from there. Rebecca will jump in and blog when she can. For now, enjoy as we play!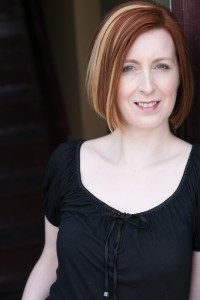 Hey, everyone, Kate Meader here, writer of sexy, contemporary romance about chefs and firemen and Texans, to name a few of my hottie subjects. Now that we've hit summer in full stride, I thought it might be fun to talk about something that usually happens when the weather turns warmer: weddings. Not just beautiful, perfect weddings, however, but weddings where it didn't go quite as planned. I'm sure everyone has been to a disastrous one—or perhaps had disaster strike their own. Mine, while I wouldn't call it disastrous, definitely had a hiccup or two.
It all started in Italy… that's where Mr. M. popped the question and über-romantics that we are, we decided to head back there a year later with thirty of our closest family and friends to make it official. I'm from Ireland, he's a Bostonian, and Italy was neutral territory. Our story—sticking to it. Bonus: "It would keep the riff-raff out", pronounced Mr. M, who didn't want to splurge on 300 chicken dinners for a bunch of third cousins, twice removed. This way, the people who really wanted to celebrate with us would make the journey and get a fabulous vacation to boot. And it worked! We had a lovely mix of guests, a cosmopolitan bunch, all of whom wanted to stay with us at the villa we rented in Tuscany and none of whom wanted to actually drive in Italy. So twenty villa guests, four cars, you do the math. My future brother-in-law crashed an Alfa Romeo into the villa's three hundred year old stone wall. Our honeymoon was spent ferrying guests around Tuscan villages. But before that, we got lost on the way to the castle where the ceremony was to be held. My mother misplaced her hat during the reception (though "hat" was pushing it—a piece of gauze attached to a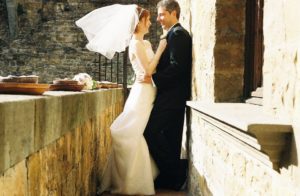 wafer-thin cap, really) and my new sister-in-law dumpster-dived in the trash cans behind the castle to try to find it. I'll tell you, nothing bonds two families like searching through Italian rubbish.
The wedding itself went off without a hitch, despite the fact it was entirely in Italian and the celebrant looked like Andrew Lloyd-Webber. Later I found out that two of my friends had broken up with each other rather spectacularly during the reception. It could have been much worse, I suppose. At least the maid of honor didn't drop the cake (that happened at my brother-in-law's nuptials). Ours was a fairytale wedding in a tenth century Italian castle in the hills overlooking Florence. Can't complain at all.
But I know you all have tales of wedding day horror. Tell me in the comments: what crazy thing almost upended your wedding or the wedding of a friend or loved one? One lucky commenter will get a digital copy of something from my backlist: choose from sexy chefs, alpha firefighters, or tortured Texans at http://katemeader.com/books/.
 ABOUT KATE:
Originally from Ireland, Kate cut her romance reader teeth on Maeve Binchy and Jilly Cooper novels, with some Mills & Boon thrown in for variety. Give her tales about brooding mill owners, oversexed equestrians, and men who can rock an apron or a fire hose, and she's there. Now based in Chicago, she writes sexy contemporary romance with alpha heroes and strong heroines who can match their men quip for quip.
FAVORITE QUOTE:
"Hold off on touching yourself until I see you again. Think you could manage that for me, Tess?"
Her breath caught. She wanted to remember this moment later after whatever was happening between them had flat-lined and died.
~Excerpt from From EVEN THE SCORE, releasing July 21, 2015
UPCOMING RELEASE: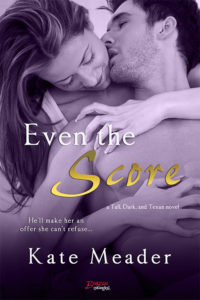 EVEN THE SCORE, releasing July 21:
He'll make her an offer she can't refuse…
Actress Tess McKenzie is performing in the Tenth Circle of Showbiz Hell—dinner theater. All she really wants is to start a theater of her own. Then Tess receives an offer she can't refuse. She'll get her funding . . . if she pretends to be the fiancée to her nemesis, Texan property tycoon Hunter Dade. If she's going to pull this off, she'll need all the luck she can get. Break a leg, indeed.
On the verge of a big business deal, Hunter needs to hire a fiancée. He hasn't quite forgiven Tess for ruining his wedding, but when their chemistry goes from combative to straight-up lust, the "no sex" clause in their mutually beneficial arrangement is tested. Which is a serious problem, because if Tess isn't careful, she'll go from breaking a leg to breaking her heart . . .
GIVEAWAY:
Leave a comment about your crazy wedding experience for a chance to win an eBook from Kate's backlist. You can see the entire list here: http://katemeader.com/books/. Open to international as long as Kate can gift it through Amazon.