UPDATE:  CONGRATS TO Rhonda Campbell  for winning!!!
Hi All!  Today I asked the awesome Jennifer Estep to come answer questions and play here on the blog.  Jennifer and I have an editor in common, and we usually meet up at conferences.  She's witty and a lot of fun!  She's giving away 1 copy each of Black Widow and Poison Promise to 1 winner — US only to a randomly chosen commenter on the blog.
So welcome, Jennifer! Please tell readers about your new book, Black Widow.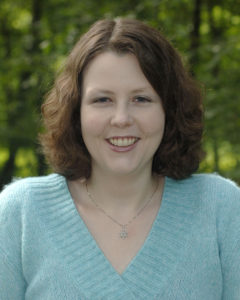 JE: Thanks for hosting me on your blog. I appreciate it! 🙂
Black Widow is the latest book in my Elemental Assassin urban fantasy series and will be released on Nov. 25. In this book, Gin Blanco is up against Madeline Monroe, an acid elemental who wants her dead. Madeline is a clever, cunning enemy, so Gin has to figure out what Madeline is really up – or Gin is going to wind up dead.
Here's the description:
There's nothing worse than a cruel, cunning enemy with time to kill—and my murder to plan.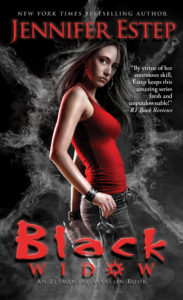 With wicked Fire elemental Mab Monroe long gone, you'd think I could finally catch a break. But someone's always trying to take me down, either as Gin Blanco or my assassin alter-ago. Now along comes the Spider's new arch-nemesis, the mysteriously named M. M. Monroe, who is gleefully working overtime to trap me in a sticky web of deceit.
The thing is, I'm not the only target. I can see through the tangled threads enough to know that every bit of bad luck my friends have been having lately is no accident—and that each unfortunate "coincidence" is just one more arrow drawing ever closer to hitting the real bulls-eye. Though new to Ashland, this M. M. Monroe is no stranger to irony, trying to get me, an assassin, framed for murder. Yet, as my enemy's master plan is slowly revealed, I have a sinking feeling that it will take more than my powerful Ice and Stone magic to stop my whole life from going up in flames.
This is the 12th book in your Elemental Assassin urban fantasy series–which is amazing and wonderful!  You've spent a lot of time in that world.  Can you tell us a little about the series?
 JE: My Elemental Assassin series focuses on Gin Blanco, an assassin codenamed the Spider who can control the elements of Ice and Stone. When she's not busy killing people and righting wrongs, Gin runs a barbecue restaurant called the Pork Pit in the fictional Southern metropolis of Ashland. The city is also home to giants, dwarves, vampires, and elementals – Air, Fire, Ice, and Stone.
The series features a strong heroine, magic, and lots of action and fight scenes, among other things.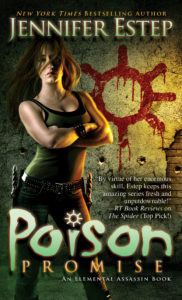 I love a strong heroine!  Yours are wonderful.  What appeals to you about the urban fantasy genre?
JE: I like books with a little bit of everything in them – action, adventure, magic, danger, and romance. Those are the kind of books that I like to read, and those are the kind of books that I like to write.
Urban fantasy is one genre that really incorporates all of those elements. It's such a varied genre, and you can do so many different things with characters, world building, and more. It's just a genre that I really enjoy writing in.
What inspired you to write the Elemental Assassin series?
JE: I've always enjoyed reading fantasy stories about assassins. In fantasy stories, assassins can be everything from cold to calculating to cruel. One day, I thought it would be fun to write my own assassin character with my own magic system and world building. So that was sort of the beginning of Gin Blanco and my Elemental Assassin series.
 What are some of your favorite books/authors and why?
JE: One of my favorite books is Beauty by Robin McKinley, which is a lovely retelling of the Beauty and the Beast fairy tale. I also like the James Bond series by Ian Fleming; the Dortmunder series by Donald Westlake; and the Parker series by Richard Stark. Other authors that I like include Lisa Kleypas, David Eddings, Robert Parker, and many others.
 Such a great list!  Have you always wanted to be a writer? What got you started on your writing journey?
 JE: My mom used to take me to the library every week as a kid, so that's how I fell in love with books and reading in the first place. I've always loved to read, and I think that lead me to wanting to write my own stories. I wrote my first book one summer during college, and I've been writing ever since.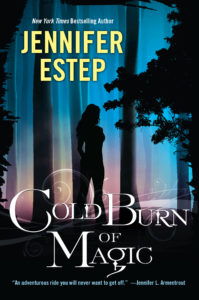 What's next for you? What are you working on?
JE: I'm working on Spider's Trap, the 13th book in my Elemental Assassin series, as well as the 14th book in the series. Spider's Trap is tentatively scheduled to be released on July 28, 2015, with the 14th book tentatively scheduled to be released on Dec. 29, 2015.
I also have a new young adult urban fantasy series that will be coming out in 2015. The first book is called Cold Burn of Magic and will be released on April 28, 2015, with the second book tentatively scheduled to be released in November.
Happy reading, everyone! 🙂
JENNIFER'S SOCIAL MEDIA LINKS:
So, just leave a comment below for a chance to win 1 copy each of Black Widow and Poison Promise to 1 winner — US only.  Give us one characteristic of your favorite heroine.