Guest Blogger-Jade Lee
Hi all! I'm Charly, Rebecca's assistant. We thought it'd be fun to do a 'Romance: The Good, the Bad, and the Disastrous' theme with guest bloggers throughout the summer months. Every Monday and Thursday, we'll have a guest blogger talk about fun stuff like horrible dates, good dates, etc. Some bloggers will have a contest, and some won't – it's totally up to them. If there is a contest, I'll randomly draw a winner from the post comments, send the winner's email address to the guest blogger, and they'll take it from there. Rebecca will jump in and blog when she can. For now, enjoy as we play!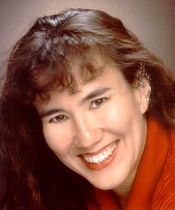 In the middle of plotting a new book, I get a reminder about doing this blog. It's a good thing because I don't remember to put on shoes without a reminder which makes it painful to go out for a morning jog. That must be why I don't jog.
Anyway, I'm skimming through the reminder email and I come across this at the bottom. "Weird legal disclaimer: We reserve the right to refuse any blog for any reason unless it's about unicorns. Unicorns always trump."
Well, if you know anything about me, it's that I can't resist a challenge even when it's not issued as a challenge. Also, you'll know that my blog posts are often in a multiple choice format and that I'm a Taurus who loves cats. (I figured I'd get any random animal connections right out there in front.) So…multiple choice format.
Guess what my reaction to the trumping unicorns:
A. An image of Donald Trump on a horse's body. Or was than an ass's body?
B. Maybe she meant trumpeting unicorns. That's a much nicer image, isn't it?
C. Damon Suede's fav tee shirt. I just lost an hour looking for a picture of it and failed. It shows a unicorn pooping marshmallows.
D. I shouldn't write about unicorns. Somebody has to have already done it.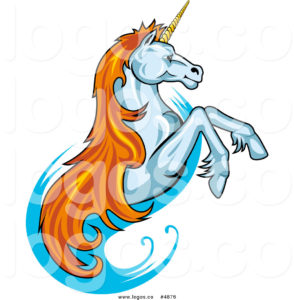 Answer: C – for some reason, Damon Suede comes to my mind whenever I think of unicorns. He just has that effect on me. For those who don't know him, run right now and pick up his book Hot Head. It's awesome. As for the other options, I'm throwing in pictures of unicorns because I can. I'm not going to attempt A. And I'm still terrified about D. Really, has anyone done this before? Gabbed about unicorns? No, don't tell me. I like thinking I'm unique.
So beyond gabbing about unicorns, I was told to share something about myself. Okay. I'm 52 years old and I've decided to go back to doing yoga. Ages ago, I used it to rehab my knees and even taught classes. These days…not so much. Here are three pictures. Guess which pose I'm attempting.
A. Middle aged woman unsuccessfully tying herself into a knot pose.
B. Unicorn pose. (I had to put that in so they don't delete this part of the blog)
C. Savahannsurikamitaawanki pose
D. The easy version of pigeon pose
Answer: D – Well, it could have been any of those. And yes, I made up C as a random collection of letters but I did especially love that the last bit is pronounced: a wonky pose. There is no unicorn yoga pose as far as I'm aware, though someone should make that up right now. Maybe Damon will. And yes, pigeon pose really does feel like I'm trying to tie myself into a knot. By the way, pigeon is really important for those people with sciatic pain. Which I do have and someday, if I ever get into the correct position, it may help alleviate that pain. (Honest aside: it already has helped and so I persevere. Also, I can do yoga barefoot so no problem if I forget to wear shoes.)
 ABOUT JADE:
Kathy Lyons is the fun, contemporary side of USA Today Bestselling author Jade Lee.  She loves sassy romance with lots of laughter and sex. Spice is the variety of life, right?  Okay, so maybe two kids, two cats, two pennames, and writing over 50 books has messed with her mind, but she still keeps having fun. Check her out at www.KathyLyons.com  Or hang out with her sexy historical half, Jade Lee. Titled heroes with dark secrets are Jade's passion.  Especially when they fall for women who add more than just spice to their lives.  Find her at www.JadeLeeAuthor.com.  Facebook: JadeLeeBooks   Twitter: @JadeLeeAuthor
LATEST RELEASES:
50 WAYS TO RUIN A RAKE by Jade Lee  – May 2015: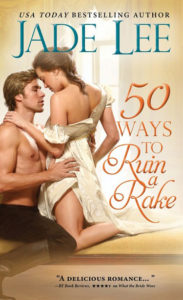 Mellie has a plan
Mellie Smithson is trapped in the country with no suitors and no prospects on the horizon except, perhaps, the exasperating—although admittedly handsome—guest of her father. She's looking for any excuse to go to London to meet more eligible men.
Trevor has a problem
Trevor Anaedsley's grandfather has cut off his funds until such time as he gets engaged. Trevor escapes to the country—ostensibly to visit his old tutor Mr. Smithson but actually to duck his creditors—where he meets Smithson's lovely daughter Mellie. The obvious solution is suddenly before him—but the lady has ideas of her own, and Trevor's going to have to measure up…
THE PLAYER NEXT DOOR by Kathy Lyons July 2015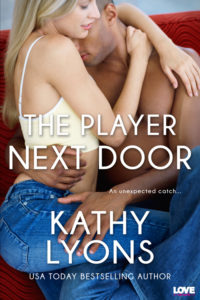 An unexpected catch…
NBA star Mike Giamaria doesn't mix basketball with love. Ever. Then Mike meets Tori Williams, his cute, quirky new neighbor who seems hell bent on refurbishing her death trap of a house on her own. When she falls from her roof and into his arms, Mike knows he's just caught a whole heap of trouble.
Trouble sums up Tori's life. Despite her academic success, no one believes she can take care of herself-not her family, not her ex-boyfriend. She's determined to live her life on her own terms, and if that includes a hot summer fling with the super-sexy athlete next door, so much the better.
But when Tori's around, Mike can't keep his mind on basketball. He wants…more. And to his horror, not just more time on the court. When training starts, it's game over-it hasto be-unless Tori can convince Mike that love doesn't belong on the sidelines.
GIVEAWAY:
So now it's your turn. Tell me something—anything—about yourself. Feel free to talk about unicorns. And one lucky commenter will win an e-copy of either 50 WAYS TO RUIN A RAKE by Jade Lee or THE PLAYER NEXT DOOR by Kathy Lyons.