Guest Blogger-Kalli Lanford
Hi all! I'm Charly, Rebecca's assistant. We thought it'd be fun to do a 'Romance: The Good, the Bad, and the Disastrous' theme with guest bloggers throughout the summer months. Every Monday and Thursday, we'll have a guest blogger talk about fun stuff like horrible dates, good dates, etc. Some bloggers will have a contest, and some won't – it's totally up to them. If there is a contest, I'll randomly draw a winner from the post comments, send the winner's email address to the guest blogger, and they'll take it from there. Rebecca will jump in and blog when she can. For now, enjoy as we play!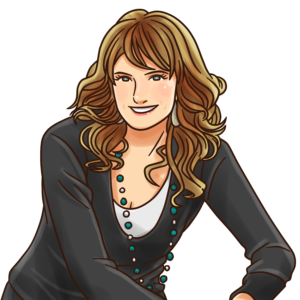 I was eighteen and a freshman at San Diego State University. One of my friends, Mike, had a brother, Jason, who was seventeen and was a senior in high school. Mike's brother could not find a date to the senior prom. He told me about this, and I was sympathetic to Jason's plight, especially since I didn't have a boyfriend my own senior year, and I also had trouble finding a date to prom the previous year.
I ended up going to my prom with a friend, Marty, but because I had a platonic relationship with my date, it wasn't as fun as it could have been, if you know what I mean. Lol.
Anyway, Mike told me that his brother was often told that he looked like Tom Cruise (Top Gun was the 1986 movie of the year at the time, by the way, and yes, I am totally dating myself), so I was more than eager to be Jason's date. At the time, I didn't wonder why Jason couldn't find his own date. I mean, hell, he looked like Tom Cruise, right? So why would he have a problem?
The night he picked me up, I finally understood why. Jason drove an old Chevy Nova – not that I'm a car snob and judge people by their vehicles (I've never been shallow like that), but it was a stick shift, and within five minutes, I realized that he didn't know how to drive one. I owned and drove a five speed, so I was a manual transmission pro.
Being unfamiliar with the Nova and a manual transmission, he stalled the car at every light, but that wasn't the worst of it. At dinner, he looked at the menu and announced how expensive it was. Yup, I ordered a salad instead of the halibut, what I really wanted.
Then when we left for the prom (besides being jolted once again at every shift and stop), when we arrived at the prom (a ball room at the Hilton on Shelter Island), he didn't have enough money to pay for parking at the venue. It was a good thing my dad gave me fifty bucks – just in case. I paid for parking, and then once we were inside, he didn't have enough money to purchase photos. Yeah, I paid for that, too.
By the time we were on the dance floor and he tried to kiss me, I was so disgusted, that I pulled away and told him that I didn't want him to smear my lip gloss. I also refused to go to any after party with him, using the excuse that I couldn't be out after two o'clock a.m., and when he dropped me off at home, I gave him a quick kiss and a thank you, pulling away when he tried to stick his tongue in my mouth.
After that night, I never talked to Jason again. He never called me, probably knowing I wouldn't want him to (based on my actions that night), and I was glad. We just didn't click, and the date was too awkward to try and repeat another one under different circumstances. I spent over two hundred dollars on that dress, and it didn't pay off for me.
Of course, I never saw the prom pictures from that dreaded night, but now as an adult when I look back on that event, I realize that Jason was just an inexperienced teenager who was trying to make the best out of prom night.
I have no idea what ever happened to Jason. I don't remember his last name, so I can't even look him up on Facebook. But even though that was my worst date of my life, I wish him well, and I can only hope that he is a happy, successful husband and father who owns a car with an automatic transmission.
 ABOUT KALLI:
Kalli Lanford, a native of San Diego, California, grew up hanging out at the beach, playing sports, and eventually attending San Diego State University where she earned her bachelor's degree in English and master's degree in education.  When she's not nerding out at San Diego Comic-Con or watching Star Wars and The Lord of the Ring's movies for the umpteenth time, she can be seen doing normal people stuff like cooking delicious meals for her family (she attributes all of her culinary skills to the Food Network) and attending her son's football games.  In her spare time, she writes new adult fiction, her biggest passion, and loves listening to hard rock music and going to concerts.  She hopes to live long and prosper, and that you will, too.
Email Address: authorkallilanford@gmail.com
Website: www.authorkallilanford.com
Facebook: www.facebook.com/authorkallilanford?ref=hl
Twitter: @KalliLanford
Instagram: authorkalli
FAVORITE QUOTE:
"When you talk, I forget that you're not human."
– Excerpt from Gamma Rift
 LATEST RELEASE:
GAMMA RIFT: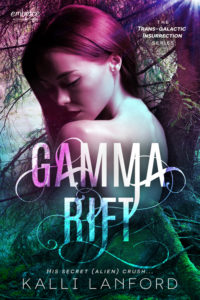 His secret (alien) crush…
I may be a Prince, but there are things that trouble me about my father's royal rule—the forced abduction, experimentation, and torture of alien creatures. The king has a new prisoner who's a carefully kept secret…
There's a young female who belongs to a little-known civilization I have been studying extensively. They are human, belonging to a small, undeveloped planet called Earth. She is pretty in a way I find unusual and compelling. Sometimes I sneak into the adjoining cell and we talk about everything and nothing, even as I find myself yearning to touch her strange, soft skin.
Skin that is being subjected to invasive tests and experiments. A body that's scheduled for a live dissection in fifteen days. And a life that will be terminated unless I risk my future and life to help her escape…