Guest Blogger-Cathy Skendrovich
Hi all! I'm Charly, Rebecca's assistant. We thought it'd be fun to do a 'Romance: The Good, the Bad, and the Disastrous' theme with guest bloggers throughout the summer months. Every Monday and Thursday, we'll have a guest blogger talk about fun stuff like horrible dates, good dates, etc. Some bloggers will have a contest, and some won't – it's totally up to them. If there is a contest, I'll randomly draw a winner from the post comments, send the winner's email address to the guest blogger, and they'll take it from there. Rebecca will jump in and blog when she can. For now, enjoy as we play!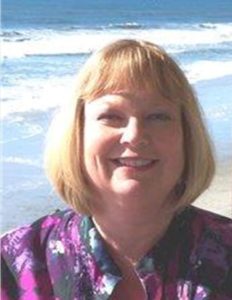 You know those people who sleep on planes? I'm not one of them. I have to stay awake and help the pilot fly the plane. Flying has never been my thing. Rocketing through the air at over 500 miles per hour, thirty-five thousand feet above the earth, is not my idea of fun.
You can guess I wasn't that thrilled when my husband and I decided to take our two sons to Washington, D.C. for vacation about ten years ago. But I really wanted them to have that experience, so we went ahead and booked the trip. Flying from the west coast to the east is not cheap. To counter the cost, my husband had the bright idea to use connecting flights for less expense. Salt Lake, Atlanta, and Richmond.
In Salt Lake we didn't have too far to go to our next gate, but in Atlanta we had a full-out run to reach our plane. Imagine herding two boys through a crowded airport in a tight time-frame. I was already having doubts about air travel. The turbulence we encountered in Atlanta sealed the deal, as did the moment we taxied down the runway to Richmond and saw our luggage still waiting on the tarmac. I was thoroughly done with air travel by then.
The trip was fun, but afterwards I told my husband that if we couldn't afford non-stop, I wasn't flying anymore. And I held to that promise for several years. Until my husband tricked me into the most romantic weekend trip I've ever experienced.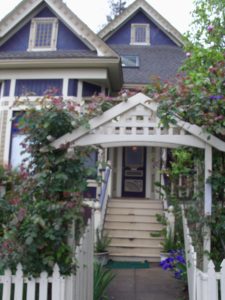 Once the boys were old enough to stay home with their grandpa, we started taking short trips over Spring Break, just the two of us. Car trips. Except that one April my husband laid out two carry-on bags and said we were flying to San Francisco. Of course I balked, but he assured me it was a non-stop flight. I was still jittery, but since there isn't much air turbulence over California, I sucked it up.
It was a short, smooth flight. We landed in San Francisco, but that wasn't our destination. I was surprised when he picked up a rental car. We drove north, over the Golden Gate Bridge, in the rain, and I was excited and curious. I'd made it through the plane flight unscathed, and now could enjoy the rest of our trip. I had no clue where we were going until we pulled off into a little wine country town called Healdsburg, and then I figured it out. He was taking me to the bed and breakfast inn we stayed at on our first wedding anniversary!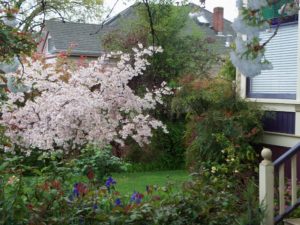 Oh, it was beautiful, and exactly as it had been twenty-five years before, just with more mature vegetation. We had a different room, though just as sweetly furnished, with a lovely pear tree in bloom outside our window. The bathroom sported a Jacuzzi tub, just like our first room had had.
My husband had chocolate covered strawberries waiting for us as well, and sparkling cider, since neither of us drink. He'd set the stage for a romantic getaway, and had blown me away in the process.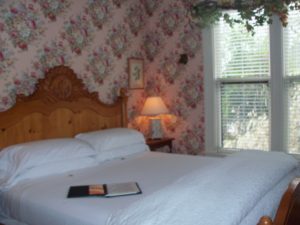 That weekend stands out in my memory as one of the most romantic "dates" I've ever been on. He planned and executed it all on his own, and hit it out of the park. We sight-seed in San Francisco, walked through Healdsburg, saw a movie, and generally reconnected as a couple. That trip was the start of many more lovingly planned ones.
When readers ask why I write romance, it's never a hard question for me to answer. I married a man who has a romantic soul. He may swear and complain and tailgate on freeways (much like Jake in Prisoner of Love), but I never need to question his love for me. The longer we've been together, the more that becomes apparent. Of course I write romance; I'm living one.
ABOUT CATHY:
Cathy has always loved writing, but that pesky thing called Real Life cast writing into the backseat for years. Now she has reunited with her creative passion, and devotes every moment she can to all the plots and characters milling about in her imagination. She admits she finds story plotlines in everyday occurrences going on around her.
When she's not writing her special mixture of romance and humor, she likes to travel, read, and take long walks with her husband (the inspiration for her happily-ever-afters). Cathy looks forward to many years of writing for readers' enjoyment.
FAVORITE QUOTE:
What did you say to a man you'd allowed to stick his tongue down your throat, as well as grope your body?
LATEST RELEASE:
Prisoner of Love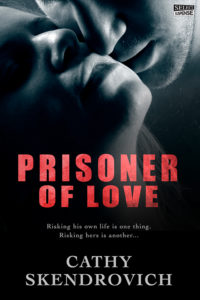 Risking his own life is one thing. Risking hers is another…
It was supposed to be a girls-only weekend in the California mountains. But when Lucy Parker is carjacked by an escaped prisoner, her fun weekend takes a nighmarish turn. Now she's caught up in a dangerous world of stolen money, vicious drug dealers, and murder, and the only thing keeping her alive is her oh-so-hot captor.
Imprisoned for a crime he didn't commit, undercover cop Jake Dalton wants answers-now. Worse, he's dragged Lucy into the mix, and she's now guilty by association. With their lives on the line, the race is on to get to Las Vegas before they're killed…and they're running out of time.