Guest Blogger-Mari Manning
Hi all! I'm Charly, Rebecca's assistant. We thought it'd be fun to do a 'Romance: The Good, the Bad, and the Disastrous' theme with guest bloggers. Every Friday, we'll have a guest blogger talk about fun stuff like horrible dates, good dates, etc. Some bloggers will have a contest, and some won't – it's totally up to them. If there is a contest, I'll randomly draw a winner from the post comments, send the winner's email address to the guest blogger, and they'll take it from there. Rebecca will jump in and blog when she can. For now, enjoy as we play!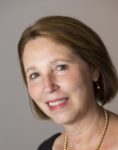 It's been "awhile" since anyone's asked me out. As I've been married for a long, long time, that's a good thing. Fortunately I'm at the stage where short-term memories have a half-life of less than a month while those long-ago moments still ring clear as a bell. Bad simile, but you know what I mean.
So dates …
My first date was to homecoming when I was fifteen. His name was Tim, and he was nice guy, which in fifteen-year-old speak means he wasn't hot. As the oldest of six children, this inaugural date was really the family's "first date," so when the doorbell rang, a cry went up throughout the house, "He's here!" By the time I opened the door (I had to fight my father for the knob), seven people and two cats were standing in the front hall to greet poor Tim. Sheesh.
The worse part about this first romantic experience was that I dumped Tim the Monday after homecoming when he showed up at school wearing yellow socks. It's safe to say he should count himself fortunate.
It was downhill from there …
There was the guy who studied me across the table at dinner, then said, "Did you know the two sides of your face don't match?"
I do now.
One guy, who'd been a friend, decided to dispense with the niceties (since we knew each other, I guess) and get right to the nitty-gritty. "I want you to be my girlfriend, but you have to sleep with me if you say yes." I said no.
Not that it mattered. Once a sentence like that is out, even the most clueless of guys realize they've laid an extra-large, hard-boiled egg.
Dating mystified me. Mostly I wondered what the guy saw in me. Why me? Why not my best friend or my roommate? What do they want me to say? How should I act?
A boyfriend in college wrote a poem about me (at least that's what he said) and published it in the literary magazine. It was all about how I was his source of strength, his comfort when times were tough, etc. Two months later he dumped me when his old girlfriend came back. Not very cool, but neither was I. For the next two-and-a-half years of college, I refused to talk to him. It felt good at the time.
The best date: The guy who took me to a jazz club on our first date. That was amazing. Then we talked. Then … well, he turned out to be the one. I breathed a sigh of relief. No more dating.
ABOUT MARI:
Let's start with the fun stuff. I love small towns, mysteries, quiet men, laughter, old-fashioned spaghetti dinners. I love boots and shopping and jokes and Hershey's dark chocolate and white wine. I love lots of things. But my first love is reading.
I love to read. Just about anything, but it has to be well-written. I go through periods where I am into historical novels or romance or mystery or history or biography. I never know when my desires will suddenly change.
Now for the writer-ish, official stuff: Mari Manning is the author of several contemporary romances and three romantic suspense novels set in the Texas Hill Country. Stranger at My Door is the first in her A Murder in Teas series. The second, Stranger in My House will be published by Entangled later this year. The third book in the series is Stranger in My Bed. Currently Mari is working on a series of cozy mysteries.
She and her husband live in Chicago.
FAVORITE QUOTE:
"He studied her as he summoned up an appropriate apology. She wore cut-offs and a white T-shirt. His eyes swept down her slim legs to her bare feet and red toenails before he could stop himself. Why were pain-in-the-ass women always hot?"
Quote from Stranger at My Door
LATEST RELEASE: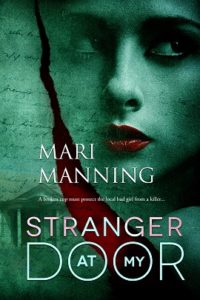 Stranger at My Door
The only thing standing between her and disaster is a man she can't trust …
As far as Dinah Pittman is concerned, men can't be trusted. Especially cops. Her own father was a cop and a convicted felon who stole a small fortune before dying in prison. The best part? No one knows where the money is…and someone is willing to kill off everyone who knows anything about it.
And Dinah is next.
Rafe Morales left the Dallas police force to settle down to a simpler life in the small Texas town of El Royo. Instead, he finds himself protecting an infuriating, tough-as-nails, oh-so-sexy victim—and driving himself crazy with a thoroughly unprofessional desire.
But as the body count rises, Rafe and Dinah must find a way to trust each other…before they both end up dead.