Guest Blogger-Julie Mulhern
Hi all! I'm Charly, Rebecca's assistant. We thought it'd be fun to do a 'Romance: The Good, the Bad, and the Disastrous' theme with guest bloggers throughout the summer months. Every Monday and Thursday, we'll have a guest blogger talk about fun stuff like horrible dates, good dates, etc. Some bloggers will have a contest, and some won't – it's totally up to them. If there is a contest, I'll randomly draw a winner from the post comments, send the winner's email address to the guest blogger, and they'll take it from there. Rebecca will jump in and blog when she can. For now, enjoy as we play!


In the mid-nineties I was in my mid-twenties, and I was, to put it mildly, tired of kissing frogs.
As most women can attest, frogs don't always look like frogs. So, I instigated a weed-out policy, three simple rules applied on the first date.
Manners were important. Did he open my car door? Did he eat like a gentleman or a pig at a trough? The thought process was that I wanted a man whose mamma had raised him right.
I looked at his shoes. I like shoes. A lot. If his were run-down and in need of replacement, he probably wasn't going to support my shoe habit. Deal-killer.
Finally, when he picked me up, had he taken the time to clean his car? I was stepping into his space for the first time. If it was filled with flotsam and jetsam—wrappers and cans and discarded mail—he wasn't thinking long-term. And if he was, did I want to be with a man who kept a sea of White Castle wrappers on his floorboards?
It was springtime and the weather was balmy. My date and I dined al fresco at a restaurant on the Country Club Plaza and watched teenagers dressed for prom pass by on the sidewalk. Beautiful young women tottered on high heels. Handsome young men looked miserable in rented tuxes. The kids looked so…hopeful.
My date and I lingered over drinks and talked about our own proms (probably a short discussion, since I can't remember my date or where the dance was—and not because of drinking—it was just that forgettable).
After dinner, we went to a party hosted by one of my customers (I was a banker at the time). My date earned points for going with me, since he knew no one there. We stayed long enough not to be rude, long enough for me to chat with my customer and sip a diet soda, long enough for "John" to have another drink, long enough to step out onto the balcony and admire the view.
We left and climbed into John's immaculate BMW. Or was it an Acura? I've forgotten. But the next part of the evening I remember well—perhaps from the adrenaline jolt that accompanies seeing police lights in the rearview mirror.
John pulled over and a police officer peered through the window. "Sir, would you step out of the car?"
"What's the problem, Officer?"
Did I mention that John was a lawyer?
"Please step out of the car."
John stepped out of the car.
John recited the alphabet.
John left out "W."
John failed additional tests and was loaded into the back of the police car.
"How much have you had to drink tonight?" the officer asked me.
"A glass of wine with dinner. That was several hours ago."
The officer instructed me to follow him to the police station in John's immaculate BMW (or Acura).
I sat in the waiting room for hours. In case you haven't spent hours in a police station 'round midnight, interesting people are there–people who probably have bad table manners, definitely have bad shoes, and most likely haven't cleaned out their cars since they bought them (if they bought them). Many of them don't smell good.
Finally, an officer came out to the waiting room and sat next to me. "Do you have any cash on you?" she asked.
"Thirty dollars." At the time, thirty dollars would get me a cab ride from anywhere in the city to home. I always had thirty dollars when I went on a date.
"Mr. Doe needs to make bail." She quoted me a four-figure sum.
"Can't he give you a credit card?"
"Mr. Doe is carrying an American Express card. We only take Visa or MasterCard. Do you have a Visa or MasterCard?"
Call me heartless, but I was disinclined to charge $1,000 on my Visa (already groaning under the weight of my shoe habit). "Um, no. This is our first date." And that cab money home was looking better and better.
The officer stared at me. "You're kidding."
I shook my head.
"What are you going to do for your next date? Rob a bank?"
At the time, it wasn't funny.
Working through an intermediary, John communicated that he kept a MasterCard in his dresser. I was to go to his house, rifle through his belongings and return with plastic the police would accept.
So I drove the immaculate BMW (or Acura) to John's immaculate house, turned on lights until I located his bedroom, opened his dresser drawer (filled with boxer shorts and a lifetime's supply of condoms) and found his credit card. I returned to the police department, handed over the card and asked them to call me a cab.
The police officer looked apologetic. "Mr. Doe is not allowed to drive."
It was three in the morning. Surely the gin he'd been drinking had worn off. Besides, he hadn't been that impaired. If he'd seemed at all drunk, I wouldn't have gotten in the car with him in the first place. "Pardon?"
"People arrested for DUIs can't drive away from the police station. You'll have to drive."
I was tired. My contacts felt as if they'd been glued to my eyes. I wanted to curl up in my bed and sleep until Monday morning. I plunked myself back into one of the uncomfortable molded plastic chairs in the waiting room and waited.
Thirty minutes later, John appeared. He didn't say much.
A police officer followed us outside to John's immaculate BMW (or Acura) and I climbed behind the wheel.
I drove myself home, parked, and handed John his keys.
The man with a drawer full of condoms glanced at my apartment building and a slow grin lit his face. "Should I come up?"
That question was the impetus for the fourth rule in my lexicon: "Don't date idiots."
 ABOUT JULIE:
Julie Mulhern has been married for twenty years to a man with impeccable table manners, Cole Haan loafers and a clean car. She is the author of the Country Club Murders, a 1970s set mystery series. Book two, Guaranteed to Bleed, releases on October 13th. She also writes the Haunting series, historicals that mix turn of the century New Orleans, voodoo, murder, and romance. The first book, A Haunting Desire, was a 2014 Golden Heart© finalist and was released July 28th.
Website: http://www.juliemulhern.com
Facebook: https://www.facebook.com/juliekmulhern?ref=hl
Twitter: https://twitter.com/JulieKMulhern
Pinterest: https://www.pinterest.com/juliemulhern/
FAVORITE QUOTE:
Trula took a deep, bracing breath of humid air then looked up at her house. Eulie Echo sat hunched on the front stoop looking like a pile of abandoned rags. Only her bony hands, moving back and forth, smoothing a thin layer of brick dust onto each step, gave her away. In the last moments of purple light, her wrinkled skin looked as dark as India ink, and the feathers and chicken bones tied in her hair rattled like black magic.
"The gentlemen will be here soon, Eulie. Are you almost finished?"
"Evil spirits walkin' the streets tonight, Miz Trula." Eulie's head bobbed with each word. Her sightless eyes settled on something beyond Trula's shoulder.
A slight breeze ruffled the thick air and Trula shivered. The blind woman was seldom wrong. "I know. I sense them, too."
~ Excerpt from Haunting Desire
LATEST RELEASE: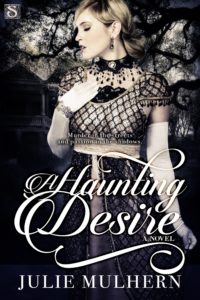 A Haunting Desire:
Murder in the streets. And passion in the shadows…
New Orleans, 1902
A killer walks the streets of New Orleans, eviscerating men and leaving them in the streets, and for madam Trula Boudreaux, it's bad for business. Trula needs help but she's not prepared for Zeke Barnes, the charming would-be savior who darkens her doorway-or the yearning he awakens. For while Trula knows well the delights of lust, she avoids love at all costs…
Investigating the killer was one thing, but Zeke can't help but be enchanted by the gorgeous mystery woman who runs an exclusive brothel. Caught between his duty to protect the city and his clear-as-day desire for Trula, Zeke sets about capturing Trula's heart-or at least a place in her bed. But with every moment Trula resists, Zeke falls into greater danger.
For his investigation into the haunted city and madam doesn't just risk his heart but both their lives.
GIVEAWAY:
What are your dating rules? Leave a comment for a chance to win a copy of A Haunting Desire.