Guest Blogger-Debra Elise
Hi all! I'm Charly, Rebecca's assistant. We thought it'd be fun to do a 'Romance: The Good, the Bad, and the Disastrous' theme with guest bloggers throughout the summer months. Every Monday and Thursday, we'll have a guest blogger talk about fun stuff like horrible dates, good dates, etc. Some bloggers will have a contest, and some won't – it's totally up to them. If there is a contest, I'll randomly draw a winner from the post comments, send the winner's email address to the guest blogger, and they'll take it from there. Rebecca will jump in and blog when she can. For now, enjoy as we play!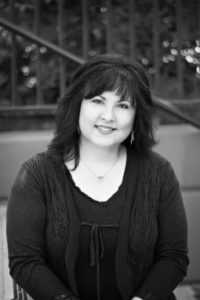 Do you believe in fate? Do you ever look back on a decision and think "If I'd said no instead of yes, what would have happened?" And of course the reverse is true. Saying yes to something doesn't guarantee you'll experience a life changing event, but that's exactly what happened to me 2 ½ years ago.
It was a dark and stormy night…well that's an exaggeration and no one ever uses that line anymore, so aaanyway it was a chilly night and it was dark. My husband and I were attending a local charity auction. My husband's boss' wife invited us (say that fast three times). We were a bit late, but we made it. We had just enough time to mingle, eat and get a glass of wine before the live auction went well, live.
Here we are in a dimly lit banquet room chatting with our tablemates and drinking another glass of wine (Hey, we were out and without the kids. It was celebration time!). So I'm looking through the program and reading the usual items you find at these fundraisers, golf packages, catered dinners and fantasy vacations there was no way hubby would let me bid on. I continue to flip through and staring back at me is the name of my new favorite author…yup, her! I go into a spasm of joy (for real!) and poke my husband in the arm, a little too hard but I got his attention as well as that of the three neighboring tables. I'm like "I know her" well not really, but I knew of her so I grabbed my phone and showed him and his boss' wife the proof. I had three of her books on my Kindle app.
At this point I was just so excited to see her name and I that I loved her books, that any thought of bidding on the item hadn't worked its way into my brain yet. (Hello, two glasses of wine.) I calm down, slightly, and squint and read the paragraph listing what the auction entails. It was to have your name used as a character name in one of her books. Holy cow, how awesome would that be, right? So I do some quick calculations in my head and figure out much we could afford, and it's for a good cause so I patiently wait until her item comes up. People, I'm telling you I was like a gambler with his last ten chips at a craps table. I was relentless in my bidding and just slightly obnoxious, but again, two glasses of wine and a shot of adrenaline running in my veins—I was winning this baby.
And I did! The rest of the evening passed in a blur until we made our way to the cashier to pay for my enthusiastically won item. My husband and I are standing in line and I feel a tap on my shoulder, no it not's her—yet. It turns out it was one of her friends who wanted to see if wanted to meet, you know HER! I'm like Oh. My. Lord. I'm usually calm and collected in most situations but all thoughts of social decorum went out the window as soon as I saw her. I think I said something like this, "Oh my I love your books. I've always wanted to write one. I can't believe you're here! Do you live here? Jeez let me wipe my spittle off your face." Okay, that's an exaggeration – sort of. But I do remember I hugged her and mumbled something about also wanting to write a book. I'm sure I scared her to the point that she'd never agree to be part of this event again. Poor thing, she was so nice to me and I fangirl'd all over her.
About a month later we met for coffee. She asked me a few questions, but mostly we talked about her books, how she got her start and where her ideas came from. It was a turning point for me. She was one of the most gracious people I've ever met. She told me all about the Romance Writers of America organization and that I should join the local chapter—it's fun, she said. She encouraged this stay-at-home-mom to take a leap. She gave me some swag and told me the book (SHADOWED) would be published in the fall. We left with the promise to keep in touch and I left there thinking what if?
Fast forward to the present. I did join the local writer's chapter, but it took me about six months to work up the courage to go to my first meeting. I've met some wonderful writers, gone to a handful of conferences and yes, I've written a couple books, start to finish! My first will be out next year. Oh, and Rebecca you ask? She has become a mentor, friend, and cheerleader in this crazy business of writing. I no longer fan girl her every time I see her because at this point that would be just too weird, maybe. But I will always read her books, sing her praises and think "what if I had said no?" and thank the fates I didn't.
Thank you Rebecca for your kindness in opening up your blog to writers no matter if they've published yet or not. You my girlfriend, ROCK!
 ABOUT DEBRA:
Debra Elise lives with her husband and their two sons in the beautiful Pacific Northwest. She loves to read, nap, write, and watches entirely too much reality T.V. She also enjoys a good nap (oops that's a repeat), hanging out with other author-type individuals and teasing her three 'boys' into displaying their killer smiles. Most days find her carpooling, avoiding laundry and daydreaming about her characters and how to make them come alive for her readers.
You can find Debra on the following sites:
GOODREADS
TWITTER
FACEBOOK
PINTEREST
INSTAGRAM: DebraEliseAuthor
TUMBLR: HappilyEverAfterWriter
FAVORITE QUOTE:
"Ah, the age old question. Can men and women be just friends? Is that what you're looking for Kelsey? Seems a shame don't you think? When two people meet and there's an intense, instant spark, not to test it out? See where it leads them?" Maverick asked.
– Excerpt from Saving Maverick
 UPCOMING RELEASE: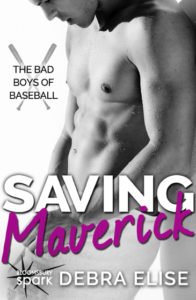 SAVING MAVERICK – Releases Early 2016:
Maverick Jansen, star pitcher with the Idaho Outlaws and resident bad boy of baseball, finds himself in deep trouble—again. Kelsey Sullivan, Media Consultant and childhood friend of the team's new owner, has her own issues—working with male athletes is at the top of her list.
Their worlds collide when a video goes viral and Mav and Kelsey fall into a complicated game of PR strategy by day and searing passion by night where both find a new meaning to fast and hard.
GIVEAWAY
I'll ask this again, do you believe in fate? Leave a comment below with your thoughts and/or fill out my Rafflecopter raffle for a chance to win a $10 Amazon Gift Card.