Guest Blogger-Rachel Harris
Hi all! I'm Charly, Rebecca's assistant. We thought it'd be fun to do a 'Romance: The Good, the Bad, and the Disastrous' theme with guest bloggers throughout the summer months. Every Monday and Thursday, we'll have a guest blogger talk about fun stuff like horrible dates, good dates, etc. Some bloggers will have a contest, and some won't – it's totally up to them. If there is a contest, I'll randomly draw a winner from the post comments, send the winner's email address to the guest blogger, and they'll take it from there. Rebecca will jump in and blog when she can. For now, enjoy as we play!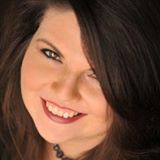 My name is Rachel Harris and I write love stories. I obsessively read love stories. I'm addicted to happily-ever-afters and the giddy moment when two flawed characters meet for the first time and you as the reader just know that a wild ride is set to begin. Here's a look at how my own true life "meet cute"….and how fate let it happen at just the right moment.
My husband and I met after 9/11. As a student at LSU, I'd been under the impression that everyone would skip classes that horrific day, glued to the television, huddling with friends and talking to loved ones, so imagine my surprise when I returned to class later that week to discover only two of us had skipped. Now, it was a senior level broadcast journalism course so in hindsight I guess it makes sense that people went to get that take on the unfolding events, but that was so not where my head was that day.
My teacher paired the two of us skippees together for an assignment, and that weekend I had to meet my partner to pick up the video camera we were sharing. He was eating dinner at a restaurant with his roommates and told me to meet him there, and apparently, after I left, one of them suggested he ask me out, which he later did, asking me to bring along a friend for his roommate.
A few days later, we met up….only pretty early on in the date, we switched dates 😉 His roommate and I just clicked. We were dancing in the living room (ahem, to an NSYNC CD I'd brought along with me, ha!) and laughing, and soon, I felt like I had known him for years. We stayed up all night talking and by the end, he told me he wanted us to be exclusive. I agreed, not wanting to see anyone else, and a couple was born.
Only, when we spoke the next day on the phone? He had to admit that he couldn't QUITE remember my name–was it Rebecca? I laughed and said no, it was Rachel….and, his was Danny, right? He laughed and said no, it was Gregg.
I found that hugely amusing, first that we were "going out" and didn't know each other's names—although we could've told you each other's childhoods and family histories—and also because I was a former Full House nut and instantly thought of Wake Up San Francisco.
Later on, we also learned that we had gone to the same elementary school for a year (we were a grade apart), that we'd lived in neighboring dorms for a year, and that we'd actually lived across from each other my sophomore year in an apartment complex. He and his roommate always held big parties, assuming everyone knew they were invited, and my roommate and I used to strut our stuff in front of his apartment, waiting for an invite that never came! Good thing, too, because quite honestly, neither of us were quite ready for each other at that point in time.
The best part though was that Gregg once carried groceries into that old apartment for my mom when I wasn't there. She'd had a key, since she paid the bills after all, and was stocking my fridge while I was in class. He saw her lugging groceries to and from the parking lot and stopped to help her out. He remembered all that after meeting her again….for what we'd thought would be the first time.
Now, Gregg and I are married with two beautiful daughters, and he inspires every one of my romance heroes. In particular, he inspired Tyler Blue in Accidentally Married on Purpose, not only because of the guitar playing (that was one of the tricks he used to woo me back in the day!), but because he leaves me Post-It note messages on my mirror…just like a certain country music super star hero.
ABOUT RACHEL:
New York Times bestselling author Rachel Harris writes humorous love stories about sassy girls-next-door and the hot guys that make them swoon. Emotion, vibrant settings, and strong relationships are a staple in each of her books…and kissing. Lots of kissing.
An admitted Diet Mountain Dew addict and homeschool mom, she gets through each day by laughing at herself, hugging her kids, and watching way too much Food Network with her husband. She writes young adult, new adult, and adult romances, and LOVES talking with readers!
FAVORITE QUOTE: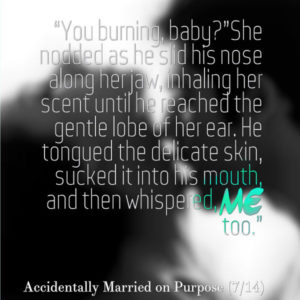 LATEST RELEASE:
ACCIDENTALLY MARRIED ON PURPOSE: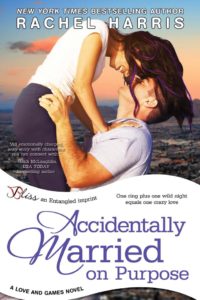 One ring plus one wild night equals one crazy love
Sherry Robicheaux loves men. She loves love. And she loves an adventure. So when she meets a mysterious man while working backstage at a country music concert in Vegas, she's all about what's happened in Vegas staying there.
Country music superstar Tyler Blue just wants a weekend of anonymity…though there's something about the spunky waitress with the streaks of purple hair that tempts him like no other. Until the next morning, when they both wake up with fuzzy memories…and rings on their fingers.
Convincing Sherry to maintain the ruse for his public image isn't the hardest part—it's reminding himself that their time spent playing husband and wife in her small town of Magnolia Springs can't last. Tyler's first love will always be music—and the road is no place for a sweet downhome girl.