Guest Blogger-Amber Belldene
Hi all! I'm Charly, Rebecca's assistant. We thought it'd be fun to do a 'Romance: The Good, the Bad, and the Disastrous' theme with guest bloggers throughout the summer months. Every Monday and Thursday, we'll have a guest blogger talk about fun stuff like horrible dates, good dates, etc. Some bloggers will have a contest, and some won't – it's totally up to them. If there is a contest, I'll randomly draw a winner from the post comments, send the winner's email address to the guest blogger, and they'll take it from there. Rebecca will jump in and blog when she can. For now, enjoy as we play!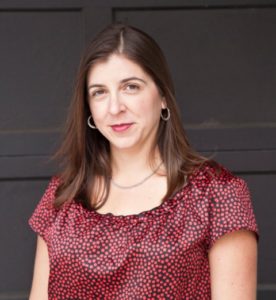 Thanks so much Rebecca for inviting me to visit your blog!
This year is my tenth wedding anniversary, and it's gotten me thinking about sixteen years ago, when I first met my husband Colin.
I was in college and pals with his younger brother. Over wine and a game of dominoes, I fell headfirst into a mega-crush. But I tried to play it cool with the hot older guy. After all, Colin lived about six hours away and he was twenty-two to my eighteen.
I didn't want to let it go, though. Impulsively, I sent him an email saying it was nice to meet him in a kind of flirty way. For a week, I obsessively checked my inbox and never got a reply. So I shored up my pride and carried on.
A couple months later, I wound up staying at his house with his brother and continued trying to play it cool (even though I planned my outfits meticulously). I was crazy about him, and feeling awkward about him ignoring my message. And most of all, I still didn't want to let it go. In an even more brilliantly impulsive move than my email, and while wearing my pajamas, I knocked on his bedroom door. He professed not to have received the message I sent, seeming puzzled and polite, but a little aloof. The next morning, my pal assured me Colin was just trying to spare my feelings. That time it was harder to shore up my pride.
About six months after that, the pal was turning 21, and I went to his apartment, where all of his friends from home and Colin had come from out of town to celebrate. There was a lot of drinking, which devolved into a silly romp across the college campus, and most of the guys running naked through the sprinklers after midnight.
A girl has to look, right? Even if she's trying to play it cool.
Needless to say, my mega-crush turned into insta-lust at the sight of him, lanky and wet under the moonlight (OK, and also some campus streetlights). I promptly struck up a conversation with someone else. But once he got dressed, my now-husband pulled me aside to ask why I was being so weird—I guess I wasn't playing it as cool as I thought.
I honestly don't remember what I replied, or how we ended up back in my dorm room naked. I do know someone named Colleen got my first "wink" email. I could fill in more details, but it would be my authorial imagination not my memory doing the work! We spent most of the next two days there in my room, and I tried to remain in the moment enjoying my very first naughty weekend, even though I knew it would soon end. But over brunch on Sunday, he asked me if I wanted to try to keep seeing each other long distance.
Without hesitating, I said yes.
In hindsight, it feels like the universe kept trying to shove us together in the way of all the best romance novels. Those long distance years were hard. I was young–only a sophomore. For six months I lived in England. He moved all the way to California. But three years later I moved in with him in San Francisco. We worked our asses off at being grown-ups and learning how to be together. But from the moment I first met him, I knew he was the one and it would be worth all the effort.
Our story is the inspiration for every romance novel I write, because I believe happily ever after is like that—even when we are perfect for each other, fated to be together, we still have to fight for it, sometimes over hundreds of miles and against all kinds of obstacles (both of us happen to be as stubborn as the most mulish romance heroes).
I don't know how I knew, at eighteen and over a game of dominoes, that Colin would be the husband and father he is now. This morning he left the house before 7a.m. to buy a new garbage disposal and install it before going in to work at his high-tech job. The whole time he mostly-patiently tolerated our four-year-old son trying to help him "fix the sink" with a plastic wrench. I bustled around doing the morning chores, my heart so full of gratitude for our life.
From that wet run through the sprinklers to the family we have become, I feel both enormously lucky we found each other, proud of how we have grown together, and like nothing else could have possibly happened, because we were clearly meant to be.
 ABOUT AMBER:
Even as a kid, romance writer Amber Belldene could never pull herself away from a book. She hid her Nancy Drew novels inside the church bulletin to read during sermons – an irony that is not lost on her when she preaches these days. Amber is an Episcopal priest who believes sexuality is vital to spirituality, love is beautifully messy, and stories are the best way to explore human truths. Evidence of these convictions can be found in Amber's steamy paranormals and quirky, hot contemporaries, which have been published by Omnific, Entangled, and Lyrical/Kensington. She lives with her husband and two children in San Francisco and can be found at www.amberbelldene.com.
FAVORITE QUOTE:
"She pressed her hand over his heart. He'd hardly known the damn thing was there until she'd showed up and insisted on touching it it all the time."
– Excerpt from The Siren's Touch
 LATEST RELEASE:
The Siren's Touch: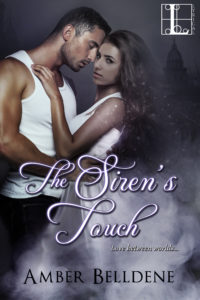 Hitman Dmitri Lisko is determined to avenge his father. Once he takes out the man he believes is responsible for his family's tragedies, he's done killing for good. But a mysterious woman may tempt Dmitri to change his plan.
Sonya Truss was murdered in a Ukrainian village in 1968. Now she's reappeared in San Francisco as a rusalka—the ghost of a wronged woman. And she's thirsty for the blood of her killer. But she has to make things right before she's trapped between worlds forever.
Sonya's enigmatic siren powers stir Dmitri's long-buried chivalry, and he finds himself compelled to help her. He also can't resist giving her a taste of the pleasures she never experienced while she was alive. Soon they discover that touch has surprising consequences. Yet when their shared mission comes to cross-purposes, they must choose between deadly sacrifice—or surrendering to the one act that can save them both.
Buy The Siren's Touch at these online retailers:
GIVEAWAY
Do you have a crazy college romance story? Leave a comment for a chance to win your choice of an eBook from Amber's catalogue. You can find the list here: https://www.goodreads.com/author/show/6537150.Amber_Belldene or here http://amberbelldene.com/books/