Guest Blogger-Avery Flynn
Hi all! I'm Charly, Rebecca's assistant. We thought it'd be fun to do a 'Romance: The Good, the Bad, and the Disastrous' theme with guest bloggers throughout the summer months. Every Monday and Thursday, we'll have a guest blogger talk about fun stuff like horrible dates, good dates, etc. Some bloggers will have a contest, and some won't – it's totally up to them. If there is a contest, I'll randomly draw a winner from the post comments, send the winner's email address to the guest blogger, and they'll take it from there. Rebecca will jump in and blog when she can. For now, enjoy as we play!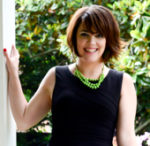 Hey all! *waves* I'm so excited to get to hang out with y'all today. When Rebecca said I could write about anything, my mind immediately went to two things: coffee and sex.Hey, I never said I was one of Rebecca's classy friends.
But then my doctor lost her mind when I honestly answered how much coffee I drink (Note to self: Never tell your doctor the truth about coffee again.) so I ended up cutting back to only a few cups a week. Let's have a moment of silence about that, shall we? *Silence. Thinks of hot dudes.*
Oh yeah, so that totally brings me to sex. *Insert dirty, dirty thoughts here.* But the e-mail about this guest post said it could be funny or sweet or heartwarming and well…sex didn't seem like the right topic so I was banging my head trying to think about what to write about because unless you want to talk about the wonders of yoga pants, I'm kinda boring (Read: Very boring).
Then I read a post at Jezebel asking if it was okay to have sex when you're an overnight guest at someone's house. Now I'm not talking about getting it on in the closet during a New Year's Eve party or getting some nookie while you're sharing a guest room with other people beyond those you are nookie-ing it up with, this is straight up in a guest room with the door locked and somewhat quietly giving each other the special hug. (Note to self: Writing hot sex scenes has ruined me for talking about sex and not using THE WORDS.)
I couldn't get over how many commenters at what I consider to be a pretty sex-positive website were adamant about a no sex in the guest room rule unless it is specifically okayed in advance by the home owner. I don't get this. They change the sheets after they visit, right? I'm assuming the couple (or more) boning are not trying to set a scream-a-thon record. I'm assuming these are all consenting adults behind a closed door. I just don't get it.
 ABOUT AVERY:
Avery Flynn is an award winning romance author. She has three slightly-wild children, loves a hockey-addicted husband and is desperately hoping someone invents the coffee IV drip. She loves to write about smartass alpha heroes who are as good with a quip as they are with their *ahem* other God-given talents. Her heroines are feisty, fierce and fantastic. Brainy and brave, these ladies know how to stand on their own two feet and knock the bad guys off theirs. She's all over social media talking about shoes, books and bizarre news stories. Contact her at avery@averyflynn.com. She'd love to hear from you!
LATEST RELEASE: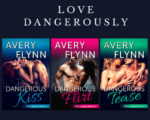 The Layton serIes by Avery Flynn Steamy Romance At Its Best! Three steamy stories full of Avery Flynn's signature sass and heart-pounding action. What's the danger in one little kiss? Clair Layton finds out in Dangerous Kiss. What's so hot about his little sister's best friend? Hank Layton finds out in Dangerous Flirt. Why is it always the quiet ones? Sam Layton finds out in Dangerous Tease.

CONTEST:
So what say you? Is sex in your guest room verboten or approved? Sound off in the comments (feel free to add in your own funny stories) and you'll be entered to win a digital book of your choice from my backlist. But don't read it if you're staying in someone's guest room. I don't want to be held responsible for you getting in trouble. 😉