A Peek Inside a Writer's Mind, Day, Life. Don't worry it's safe—mostly.
Hi, my name is Debra Elise and I'd like to begin by sending Rebecca a virtual hug for hosting me on her blog ? Today, I'm talking about the writer's life and I hope you enjoy this quick peek behind the covers.
Did you ever wonder what your favorite author's day, week or life is like? Are we different from our readers, friends or the average mom working to make a living and a better life for her children? Well, no and kinda. It's complicated. Authors are "mostly" normal (on the outside) and we of course have the same daily struggles as any other person. But, inside, where the creative juices flow, we deal with voices no one else hears; characters who battle with each other to have their stories heard NOW and we consume large amounts of coffee, tea, chocolate and wine. So maybe we're more like our readers than some may think.  LOL And maybe we're a little spacey as we walk among you. But that's because we're plotting or thinking about how we want to begin or end our next book. A lot of us are hyper aware of what's happening around us and are more likely to be the observer in a social situation rather than the leading lady. We use the energy of our surroundings, for better or worse, in our stories. We take inspiration from overheard snippets of conversation or the hot guy behind us in line waiting for coffee. But beware, if you piss us off, well—we just might make you a villain in our next book. 😉
Some of us become addicted, wait I mean inspired by T.V. shows and movies. We often binge watch our favorite shows in between writing. Sometimes it's a double-edged sword because when you write, you begin to view your shows with a more critical eye. But in the end, it's win-win so it's totally justified when you've just spent three hours of your life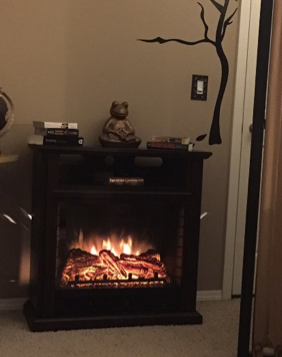 sobbing while watching THIS IS US. We also read our favorite authors (and yes, we fangirl over Nora, Rebecca, or whomever we love to read when we meet them in real life) But sadly, when you begin writing with the intent to publish or make it (fingers crossed) your full-time career, you have less time for reading.  As a writer, we need to read especially if we hit a wall with our own writing. We call it 'filling the well'. Someone else's creativity begets our own and we become inspired by the emotion invoked by our favorite books and authors. And sometimes we daydream (raises hand) and let the characters have conversations in our head which can lead to something we would never have thought of otherwise. In my case, I stare into the flames of my office fireplace and let scenes play out and then scramble to remember it, write it down and build upon it so you don't just end up with a great scene, but an awesome chapter. However, I need to be careful with the fire gazing, otherwise I'll end up nodding off. Which sometimes a short nap refreshes the idea factory we carry around with us, but can also derail precious writing time. The struggle is real when you love to nap like I do.
At the end of the day, or night, and after we've typed all the words or yelled at a blank screen, binged on our shows, or participated in a blog or Facebook event interacting with our fab readers, we still have to do the laundry (my nemesis), chauffer kids around, decide what to feed everyone for dinner (takeout if you're on deadline) and take the shower (hopefully) we didn't get a chance to have when the husband, partner, child, or fur baby couldn't find their (insert item here). Because you (me), of course, were the only one with the superpowers to locate it. Just another day in the glam life of a writer.
Thanks for reading! I would love to connect with you. You can find me on my website www.debraelise.com or on Facebook at www.facebook.com/debraeliseauthor
Debra Elise
In my spare time when I'm not herding kids or reading Rebecca's books, I write contemporary and paranormal romance novels. My newest release is CLAIMING CONNOR, Book 3 in my Outlaws of Baseball series and is available now.
Kindle: http://amzn.to/2k6QMmX
Nook: http://bit.ly/2k3sfk8
Kobo:  http://bit.ly/2oEEO3b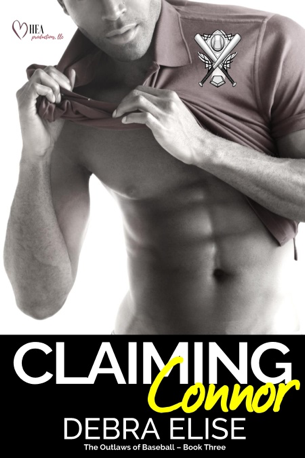 Her biggest regret shows up wanting a second chance. He's determined to regain her trust and win her love.

He never forgot her.
Once upon a time Connor Holt's best friend's sister was his childhood nemesis. Years pass and one night in college they became more. Much more. But then he messes up; confesses to his best friend, takes a right hook for his trouble and makes a promise—one he's now ready to break. He's done staying away from her. It's now four years after a night spent loving Reese, and he's traded to the Idaho Outlaws as the starting first baseman. He's right where he wants to be. In the backyard of the one woman he should never have let go. Connor faces an uphill battle but after a dare, and one helluva kiss, he's back in Reese's bed. She thinks all they have, all they need, is great sex, but he's ready to show her he's playing for keeps.
She tried to forget what could have been.
Reese Kincaid doesn't believe in fairy tales. She believes in hard work and has spent the last four years creating her dream. One she could control – not the one where he comes back and begs forgiveness. She soon realizes you need to be careful what you wish for because sometimes you get exactly what you don't want—but need. Her nightclub and restaurant, now successful, has become a second home for members of the Idaho Outlaw's baseball team. When Connor is traded to the team he soon appears and asks for another chance to win her hand. But can she overcome the crushed hopes of her past and believe that Connor wants more than just the grand slam chemistry they have, or will he show her they can create their own happily-ever-after?