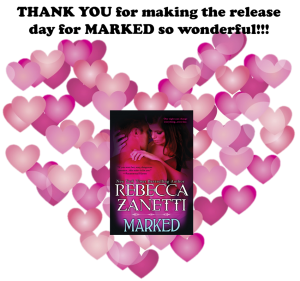 Hi all!  I hope you had a very Merry Christmas, or whatever holiday you celebrate!  We had a lot of fun with family and good cheer.  I wanted to pop by today to remind everyone that Marked is still available at the discounted price, and I'm not sure how much longer that will last.  We already have 114 five-starred reviews on Amazon, and the book hasn't been out a week yet.  I checked for highlights in Kindle books, and here are a couple:
"Hold on, and when we get to your home, stay out of the way when your father tries to kill me."  (Zane says this to Janie)
"At the end of these talks, regardless of books, science, and geographic boundaries, Janie becomes mine."  (Zane says this to a bunch of folks)
"When he kisses me, the world makes sense , and when he orders me around, I want to kick him in the balls." She plucked at a loose string on a pillow. "And more than anything, I want to be his everything."  (Janie says this)
"I've loved you every second of this life, and if I died, I'd love you every second of the next. That, my beautiful Janie Belle, is something neither fate , destiny , nor stubborn will change.  Ever."
So, if you received a gift card, and you'd like to buy Marked, now is the sales time.  (And this first week of sales goes toward the bestselling lists, just so you know.  🙂  )
Have a wonderful rest of the weekend!!!