Guest Blogger-Jodi Linton
Hi all! I'm Charly, Rebecca's assistant. We thought it'd be fun to do a 'Romance: The Good, the Bad, and the Disastrous' theme with guest bloggers throughout the summer months. Every Monday and Thursday, we'll have a guest blogger talk about fun stuff like horrible dates, good dates, etc. Some bloggers will have a contest, and some won't – it's totally up to them. If there is a contest, I'll randomly draw a winner from the post comments, send the winner's email address to the guest blogger, and they'll take it from there. Rebecca will jump in and blog when she can. For now, enjoy as we play!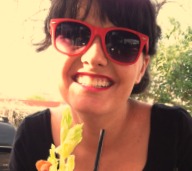 Hey y'all! I'm Jodi Linton, writer of sexy westerns and bad- boy biker contemporary romances. Now that summer is almost coming to an end, and I'm gearing up to send my youngest—a spunky, five year old daughter –to kindergarten, I thought it might be fun to tell a few motherly tales of my own.
Well, where do I start?
Okay, I posted my funky author picture, as my daughter calls it, because in her words, "It's good to be funky, mommy." (Translation: "You're such a thirty-something.") We also have a cat that she insists on believing is her best friend. Penelope, our ten year old Persian "first baby", would beg to differ and probably if she could talk spew a few choice words of her own. *cough* Duncan and Delores by Barbara Samuels is my daughter's relationship with said kitty cat.
But that is beside the point, because I love the fantasy land my daughter lives in. From her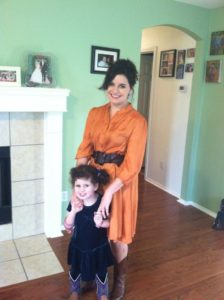 fascination with "Sugar", a.k.a. Adam Levine, (and yes we did have to buy her a fake wedding dress so she could act out the music video), to her knowing that across the street from her favorite taco hut is a tattoo parlor she's such a blast. And as I grow older I realize the amazing gift I've been given. I've been handed the keys to help my little girl grow into a bright, strong young lady. And as summer comes to a close I realize she'll no longer be considered a baby but a big kid. Still, I'll secretly call her my baby as she dreams up tall tales about cowgirls in red boots, and men in Jeeps riding down to the river bank, or when she decides to belt out all the words to a Taylor Swift song in the backseat while strapped into her booster seat.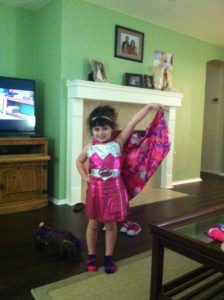 Most of all, I remember that the spunky little girl that liked to wear flower headbands and princess gowns to the store is the reason I write about strong females. The reason I chase after my own dreams even when on some days it seems I hit more road blocks than wishing wells. Because in the end it'll all be worth it to have her look at me on her graduation day and say, "I'm ready to start my adventure, mom."
Dream big, dream grande, and never forget that a new adventure is just around the bend.
Hugs,
Jodi Linton
 ABOUT JODI:
Jodi Linton is the author of the Deputy Laney Briggs Series and her upcoming The Original Sinners Motorcycle Club with Entangled Publishing. She lives in Texas with her husband and two kids. When she's not writing about sassy females and dirty talking heroes, she enjoys long walks and family time down at the river.
Join the Pink Pistol Readers!
FAVORITE QUOTE:
When it comes to a pair of narrow-hipped Wranglers, I give in quicker than my mother did to a slice of lemon pound cake back when she was doing the Atkins Diet.
~Laney Briggs from Pretty Lawless, A Deputy Laney Briggs Novel
LATEST RELEASE:
Pretty Lawless:
She's about to go vigilante on his ass…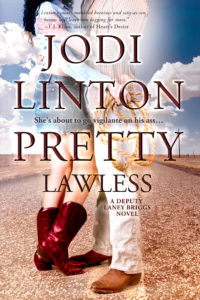 Laney Briggs was almost certain that her sexy-assed Texas Ranger, Gunner Wilson, was gonna pop the question. Instead, he went and pulled one helluva fast one – he arrested her best friend, Luke Wagner, and skipped out. Now Pistol Rock's firecracker deputy is ready to go Wild West on Gunner…if she can just keep that raw, sexual chemistry under control.
Gunner was planning to propose, and it all went to hell. Now he's boots-deep into an investigation with ties to the Dirty Southern Mafia and corrupt cops. Yep, Laney is definitely gonna have his hide. Especially when she finds out just how much he's been keeping from her…
But Laney has a weakness for Gunner's delectable cowboy hotness. And for him, she will break every rule in the book – including the ones she's sworn to uphold.