Guest Blogger-Cathryn Cade
Hi all! I'm Charly, Rebecca's assistant. We thought it'd be fun to do a 'Romance: The Good, the Bad, and the Disastrous' theme with guest bloggers throughout the summer months. Every Monday and Thursday, we'll have a guest blogger talk about fun stuff like horrible dates, good dates, etc. Some bloggers will have a contest, and some won't – it's totally up to them. If there is a contest, I'll randomly draw a winner from the post comments, send the winner's email address to the guest blogger, and they'll take it from there. Rebecca will jump in and blog when she can. For now, enjoy as we play!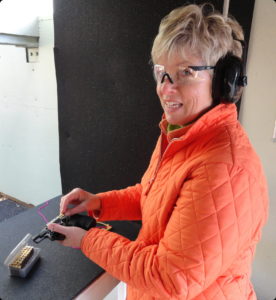 It is a truth universally acknowledged that kidnapping is not a great way to begin a relationship.
Unless the hero is a tall, buff alien/shifter/vampire/were-dude searching for a bride or baby-mama. Then this can work. The genre is sometimes called 'capture romance', and it's fun! Especially if you're the invading hero, because, y'know, sex.
Everyone knows Earth girls are easy, right? Heh. Not so much.
I get it, our buff alien/shifter/vamp/were-dude has gifts. He's fast, powerful, etc. But he can still make a bad choice.
For example, let's take your average woman up here in North Idaho, USA. She lives surrounded by forested mountains and meadows full of wild game, which means she's also surrounded by people (husbands, fathers & boyfriends) who enjoy stalking this wild game … with large weapons that go boom! and blow holes in things. She may even enjoy hunting herself.
And around here, as in all areas with good hunting, the more weapons the better.  Buy a firearm, and a strange mind-seduction begins. One is never enough. The firearm owner now needs another for a different type of wild game, and then for game birds, and then 'Ooooh, shiny, is that an antique firearm?' And so it goes.
Thus, surrounded by such a wealth of weaponry, a girl's naturally gonna learn how to use them. I speak from experience. When I travel alone, I do so with purse-size protection. And if my husband is gone and my dog growls at the sound of a nighttime intruder, I know how to cock, aim and fire the shotgun by the bed. Hard to miss with a scatter-gun, especially if the target is a very large, buff alien/shifter/vampire/were-dude.
And that's just the Inland NW. I have a cousin in California, where the girls are tan (oh, wait, that's a Beach Boys song). Great place to find that bride or baby-mama, right? Weeell, let me tell about my cousin. She lives on an almond orchard, and her husband is gone a great deal. So this petite, slender woman packs a concealed weapon as she goes about her daily business. She says, and I quote, 'Cathryn, there are a lot of nuts in California.'
And then there's my DIL in Seattle area. I've been to the shooting range with that girl, and she can lock and load her firearms faster than our hero can aim his seductive gaze. She would not be a good capture choice either—plus, my son saw her first! Hmm. Sounds to me like our capturing hero better be darn careful out there.
I'll continue to read and enjoy fantasy capture romance (including our own Rebecca Zanetti's fabulous vampire series!!) Hey, I even began my own latest book by having my hero Jack kidnap the heroine, right here in Coeur d'Alene. And I didn't let her blow a hole in his manliness, either.
Because it's romance! All a sexy fantasy, whether paranormal or contemporary.
But in real life, if you're a large, buff alien/shifter/vampire/were hero out to capture a bride or baby-mama … watch it. We Earth girls are armed, and when I say we're ready, that may mean something different than you're fantasizing, dude!
ABOUT CATHRYN:
I'm Cathryn Cade. I write red hot romance in the lake country of North Idaho. When I'm not writing, I usually have my nose in a book, or I'm chatting on Facebook. Outdoors, my handsome husband and I enjoy boating, bicycling and walking with Copper the golden retriever. If there's a new brew-pub in the area, we're out to try it.
Cathryn Cade
Author of red hot sci fi & contemporary romance
Sign up for My Newsletter for a chance to win goodies!
LATEST RELEASE: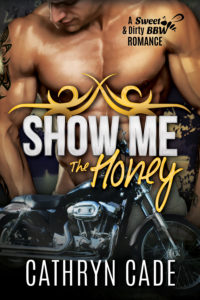 SHOW ME THE HONEY, Book 1 of the Sweet & Dirty BBW Romance Series:

When a small town cafe owner is grabbed by a rambling biker looking for stolen cash, she must convince him to let her go. But discovering he has the wrong woman only makes him more determined to hang onto her … this time for all the right reasons.
RT 4.5 Stars and Night Owl Reviews TOP PICK