Guest Blogger-Rebecca Yarros
Hi all! I'm Charly, Rebecca's assistant. We thought it'd be fun to do a 'Romance: The Good, the Bad, and the Disastrous' theme with guest bloggers throughout the summer months. Every Monday and Thursday, we'll have a guest blogger talk about fun stuff like horrible dates, good dates, etc. Some bloggers will have a contest, and some won't – it's totally up to them. If there is a contest, I'll randomly draw a winner from the post comments, send the winner's email address to the guest blogger, and they'll take it from there. Rebecca will jump in and blog when she can. For now, enjoy as we play!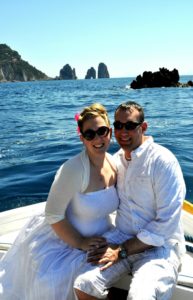 Hey guys! I'm Rebecca Yarros, and I write New Adult military romance with some pretty hot hockey players and Apache helicopter pilots. It helps that I'm married to one!
I've been in love with my soldier for fifteen years, and we've been married for thirteen of them. We got married super young, and just like a lot of newlyweds, we couldn't afford the honeymoon we'd dreamt of. So we vowed that on our 10 year anniversary, we would take a Mediterranean cruise, knowing that with his military career, nothing is ever certain.
The powers that be smiled on us, and between his 3rd and 4th deployment to Afghanistan, we snagged our cruise, 18 perfect days while our family juggled our kids back home state-side. But the best date? Our actual anniversary.
We found ourselves on the aisle of Capri, how perfect is that? My husband booked us a small sailboat, and we toured the island, exploring the grottos, and taking in the water that can only be sufficien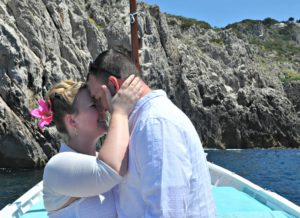 tly known as "Mediterranean Blue." But what nailed that most perfect date is when the sailboat threw an anchor off the coast, and we renewed our wedding vows, just us. It's so funny how vows change after ten years of marriage, how what you thought was difficult at twenty-one is now second nature, like thinking of your partner first. We'd been through three deployments, one where he was seriously wounded, four little boys, three military moves, and learned that in an eternally shifting world, there was one constant, each other. The funny thing, even though we both wrote our own vows, we used that exact phrase—One Constant.
The day was perfect, the kind that doesn't come around often, and it's one that I'll never forget. It was worth every dime we saved, every favor we pulled in to watch our kids, every second spent planning, lamenting that we didn't speak Italian. It was a reminder that even in our crazy, military-owned lifestyle, there are moments that we do get to control, and they make our lifestyle worth it.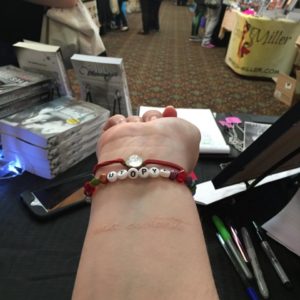 Since then I've signed an amazing agent, published a couple books, and now I'm the one leaving for signings in between his deployments. But even in a room full of readers, where my heart is racing, and I'm stumbling over my words, thanks to this little Italian tattoo I got this year, I'm reminded that none of this insanity is what life is really about. Nope, it's about love, and he's with me no matter where I'm signing, or where he's called away for duty.
One Constant.
 ABOUT REBECCA:
Rebecca is a coffee-seeking paleoholic who can usually be found seeking chocolate. She's a mom of six, four boys who play hockey, one young woman headed off to college, and one little girl in diapers, whom they foster and are madly in love with. She's been married thirteen years to her army aviator husband, and they're split between home in Colorado and New York while they wait for the foster system to determine their daughter's future. If you catch her at a quiet moment, chances are she's writing, playing guitar, or simply waiting for one of the kids to ask for another snack…
Come follow her!
Facebook: www.facebook.com/rebeccaElizabethYarros
Twitter: @rebeccayarros
FAVORITE QUOTE:
"The fire you have within you is impossible to kill. The first breath you take when you're free of all this, it will come roaring back. That's what's so impossibly beautiful about you."
~ Full Measures
LATEST RELEASE:
Eyes Turned Skyward: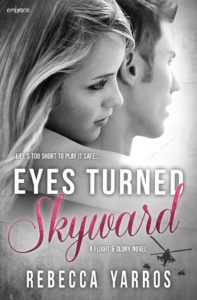 A 2015 Colorado Romance Writers Award of Excellence finalist in the New Adult category
Life's too short to play it safe…
Since her sister's death, twenty-year-old Paisley Donovan has been treated like delicate glass by her parents. She may share her sister's heart condition, but nothing will stop her from completing her Bucket List, even if it kills her. And it almost does, until Jagger Bateman pulls her from the ocean and breathes more than air into her lungs—he sets her soul on fire.
Jagger is enrolled in the country's toughest flight school. He's wickedly hot, reckless, and perfect for a girl looking to live life to the fullest. Except that Paisley is the commanding general's daughter, and her boyfriend is Jagger's biggest rival. Now Paisley must decide just how much to risk for a guy who makes her heart pound a little too hard.
They're flying through dangerous territory—and one wrong move could make them crash and burn…
 GIVEAWAY!
What was your best date? Leave a comment for a chance to win  a $5 Amazon gift card. One winner will be randomly picked.